Chinese search engine giant and artificial intelligence champion Baidu said on Tuesday that it has completed construction of what it claims to be the world's largest testing ground for autonomous driving and vehicle-to-infrastructure communication.
The 13,500-square-meter Apollo Park in Beijing's Yizhuang Economic Development Zone houses more than 200 self-driving vehicles and is equipped with facilities to support the full autonomous vehicle development process from research to testing, Baidu said in a statement on Tuesday.
At the park, Baidu will be collecting and storing data from the daily operations of its fleet of Apollo self-driving cars and testing out controlling vehicles remotely via the cloud, it said.
Baidu said that it is also testing applications that support vehicle-to-infrastructure communication at Apollo Park. Such technologies, which are also being tested by other Chinese tech giants such as Huawei, can remotely connect vehicles with a variety of road traffic elements such as traffic lights, cameras, and speed limit signs.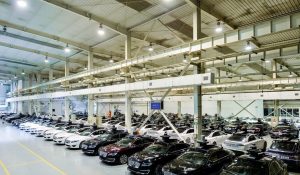 Autonomous cars are high on the development agenda for both the US and China, but the technology has been hard to perfect as navigating busy, real-world environments is difficult.
Baidu started development of self-driving technologies in 2013. Its self-driving unit Apollo has tested autonomous driving cars in 24 cities around the world and completed more than 100,000 passenger trips, the company said.
In the past year or so, Baidu has been scaling up its self-driving ambitions, announcing plans to build testing grounds and pilot operation zones for autonomous vehicles in cities including Chongqing, Shanxi province's Yangquan city, and Anhui province's Hefei city.
Earlier this year, the Beijing-based company jumped into the top five autonomous driving technology companies in Navigant Research's annual survey for the first time, trailing only Google's self-driving unit Waymo, Ford, and Cruise.
However, it faces stiff competition in its home market too. Last month, competing Chinese self-driving startup AutoX launched an 80,000-square-foot "gigafactory" in Shanghai, which it said was the largest data hub for self-driving car data in China and the biggest robotaxi operations center in Asia.
Guangzhou-based Pony.ai, another leading Chinese autonomous driving company, announced a partnership with Japanese car giant Toyota last year on research and deployment for next-generation mobility services. Both Pony.ai and Didi Chuxing, China's largest ride-hailing platform, have received approval to operate self-driving cars in Jiading, with the launch of the two companies' fleets in Shanghai expected to mark the first time robotaxis are deployed in Chinese cities on a large scale.
This article was originally published by South China Morning Post.