Chinese artificial intelligence (AI) start-ups have been securing a greater share of funding deals in the industry in recent years, but the total value of these investments has actually been dropping amid a cooling venture capital landscape and political uncertainty about the ongoing tech and trade war with the US.
Last year, Chinese AI start-ups closed 13% of global funding deals, up from 4% in 2014. In comparison, their US counterparts still had the greatest share of deals worldwide but their share has been declining in the last five years, from 71% in 2014 to 39% in 2019, according to a report by tech-market intelligence firm CB Insights published on Wednesday.
However, the amount raised by Chinese start-ups accounted for only 11% of total funds raised by AI start-ups worldwide in 2019, down from 21% the previous year. Meanwhile, AI start-ups in the US accounted for 64% last year, a slight increase from 60% the previous year.
The global AI sector had a record year in 2019, with USD 26.6 billion being poured into the sector across 2,235 deals, up from USD 22.1 billion across 1,940 deals the year before, according to CB Insights.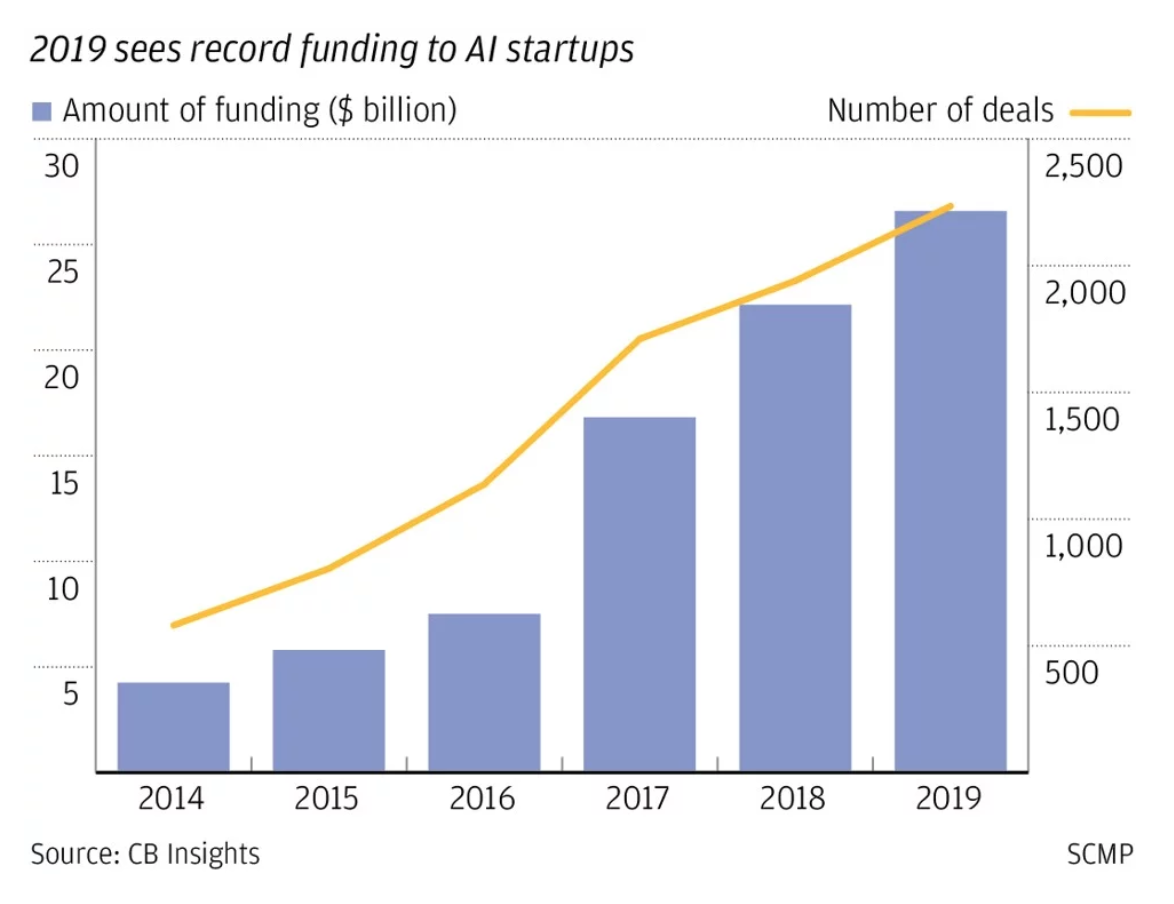 This means that Chinese AI start-ups raised slightly more than USD 2.9 billion in 2019, compared to about USD 4.7 billion the year before, while US AI start-ups raised USD 17 billion last year, compared to roughly USD 13.3 billion the year before.
The fall in funding for China's AI start-ups comes as a technology rift between the world's two largest economies rips apart early-stage deals, with a separate report this month predicting that US venture investment in China for 2019 would plunge to a six-year low.
After a peak in 2017, when Chinese AI start-ups overtook US companies according to CB Insights numbers — accounting for 48% of the total funds raised compared to the latter's 38% — investor interest in the sector has also been cooling.
"Investors are much more cautious now, especially after the second half of 2018 as we sensed a bubble – most AI projects haven't produced strong performance," Chris Lai, a partner at Beijing-based Shunwei Capital, said. "We haven't seen many AI applications that are beyond imagination, most are used in surveillance cameras."
Still, some Chinese AI start-ups are gaining prominence, giving hope to the country's ambitions to become a world leader in the field by 2030. Beijing-based chip designer Horizon Robotics, for example, was one of 24 AI startups worldwide to reach unicorn status last year, joining the ranks of privately held companies valued at over USD 1 billion.
The USD 750-million financing raised in May by China's Megvii, more commonly known for its facial recognition brand Face++, and Horizon's USD 600 million funding were the second- and third-largest funding rounds among AI start-ups last year. Still, most companies that had raised more than USD 100 million in mega fundraising rounds were from the US, according to the CB Insights report.
Going forward, investor interest in China is likely to shift from research-and-development stage projects to the application and commercialization of the technology, Lai said, adding that one of the most watched areas will be the integration of AI with vision and hearing applications, such as smart home appliances.
This article first appeared on the South China Morning Post.