China's AI-powered edtech (education technology) startup Liulishuo debuts Thursday on the NYSE under the ticker symbol "LAIX", becoming the fifth Chinese education companies to list in the U.S. after OneSmart, Puxin, Sunlands, and Ambow.
The English learning platform operator saw its share surge up by 28% from its opening price of $12.50 apiece to $16 per share as soon as it hits the market. However, the share price soon started to fall, trading at $13.67 per share by midday to end the day at $12.65 apiece.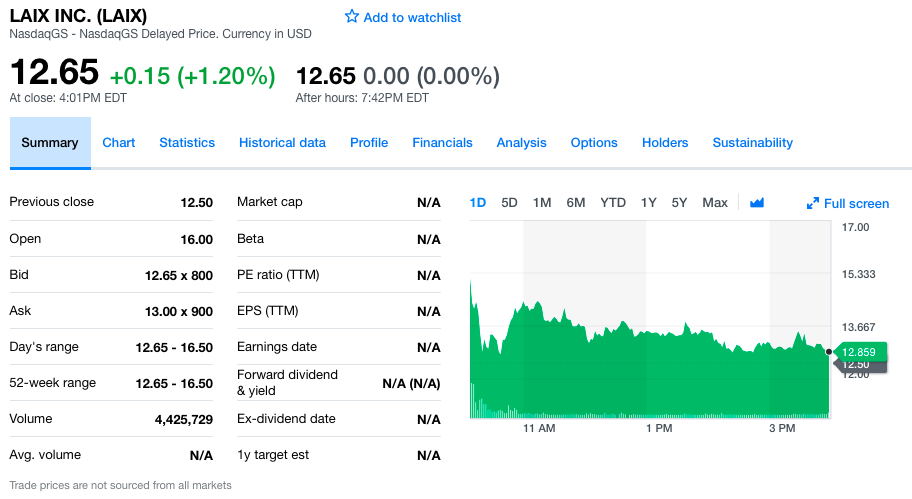 Overall, Liuishuo issued around 5,750,000 American depositary shares at $12.50 apiece to raise up to $71.9 million. However, the proceeds fall behind its original target we earlier reported, when the company planned to raise $300 million at a valuation of $2 billion.
It looks like the "AI plus education" is not enough to bolster up its original $2 billion valuation ambition.
Founded in 2013, Liulishuo, roughly means speaking fluently, began by offering artificial intelligence-backed products and services to help Chinese with speaking English.
According to its prospectus, this Shanghai-based firm incurred a net loss of around $26 million due mostly to marketing and R&D expenditures. The firm claimed it'd keep losing money as a result of continued input into these two areas.
But Wang Yi, the company's founder, believed that Liulishuo's gross profit margin, which is 75.9%, would further rise thanks to its business model which counts on artificial intelligent technology to serve as English tutors, as compared to traditional education companies that have to hire human mentors.
Wang once said that "Currently 99% of the education companies are adopting the WalMart model, their core competency lies at operations. They need to work strenuously to turn a profit with significant human capital input." While Liulishuo, according to Wang, goes with the Amazon model of the data, tech and product triangle.
Liulishuo also claims to amass up to a total of 83.8 million cumulative registered users as of June 30, 2018, out of which around 1 million are paid users.
This NYSE public listing will serve to put the company into the world map, helping to make it more international so as to attract customers across the globe. Proceeds will be used mainly for research and development (R&D), selling & marketing expenses, and general corporate purpose.
Takeaways

– Securing only 24% of its initial intended amount could be a major roadblock for Liulisuo's future plans, amidst a fiercely competitive edtech market. Hujiang, Koolearn.com, Park New Education, and Sunlands Online Education Group are just some cases in point for the other players.

– China's AI-powered online education market size is US$537 million, and is expected to grow to $25 billion by 2022.
Editor: Ben Jiang