China grows its unicorns count from last year's 120 to today's 181, a 50% increase
China's unicorns now are worth an aggregated $700 billion
Ant Financial and Toutiao, together account for one third of the Chinese unicorn market in terms of valuation
Beijing is home to more than 41% of the unicorns in China
Internet services, online finance and e-commerce have the most unicorns
Alibaba backs 11 unicorns versus Tencent's 28
The disarray in the global public markets that has caused a drastic drop in market valuations of Chinese overseas listed companies did not appear to impact much on the private funding scene for Chinese tech startups.
According to a recent report on Chinese unicorns by Hurun Research Institute, over the past 9 months, Greater China has posted a 50% growth in the number of tech unicorns  – companies with a minimum valuation of US$1 billion – from last year's 120 compiled in the 2017 Hurun unicorn report to today's 181.
AntFin and Toutiao worth 1/3 of the market
Overall, the 181 unicorns have an aggregated valuation of over US$700 billion, a 61% growth from last year-end's US$433 billion spread across 120 unicorns.
Those who stayed on the list, also saw their valuation increase significantly over the past nine months. For instance, Alibaba's Ant Financial, not only held on to the top spot, but also managed to more than double its valuation, from the previous US$60 billion to over US$150 billion at present, thanks to the US$12 billion pre-IPO funding round it raised in the middle of this year.
On the other hand, Jinri Toutiao made one of the largest valuation strides compared with other startups on the latest. The Beijing-based company hiked up its valuation from the previous US$15 billion to today's around US$75 billion after a much-hyped most recent funding round we wrote earlier.
Interestingly, Ant Financial and Toutiao, the most and second-most valued Chinese unicorns on the list, have a combined US$225 billion price tag that means together they account for 30% of the unicorn market in terms of valuation.
Beijing is home to 41% unicorns
Beijing has long been hailed as the oriental silicon valley, and there's a reason. It's home to 76 out of 181, or 41%, of the total unicorns in China per the Hurun report. With an over US$286 billion aggregated valuation, Beijing unicorns account for 41% of Chinese unicorns' overall valuation.
Shanghai, Hangzhou and Shenzhen have 41, 20 and 16 unicorns call them home respectively.

Internet service sector has the most unicorns
The top 3 industries with the most unicorns are internet services (24.9%), online finance (11.6%), and e-commerce (11%).
If there is one telling sign about the recent valuation report, it would be that the online finance industry is becoming more important and the valuations of such startups have been rising. Almost half of the top 10 Chinese tech unicorns offer some form of online financial services.
All in all, the private market that funds startups seemed to be bucking trends and investors' appetite for larger financing rounds looked unaffected amidst the backdrop of crumbling market cap of the recently listed Chinese tech unicorns like Xiaomi, Pinduoduo, Meituan-Dianping etc. Another shift to be aware of would be the new funding focus in technologies like big data & computing, artificial intelligence.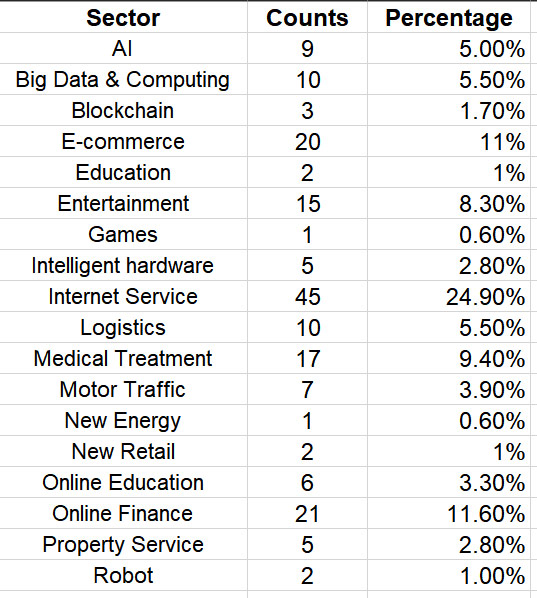 Alibaba backs 11 against Tencent's 28
The report also shows that Sequoia Capital remains very much vested in China's tech ecosystem, having increased its number of investments from 27 in end-2017 to as many as 49 by Q3 2018 per the list. It also has a stake in all of the Top 3 most valued unicorns, namely, Ant Financial, Jinri Toutiao, and Didi Chuxing.
Additionally, Alibaba appears to be backing 11 unicorns on the list, same as last year; whilst Tencent jumps to 28 from last year's 21.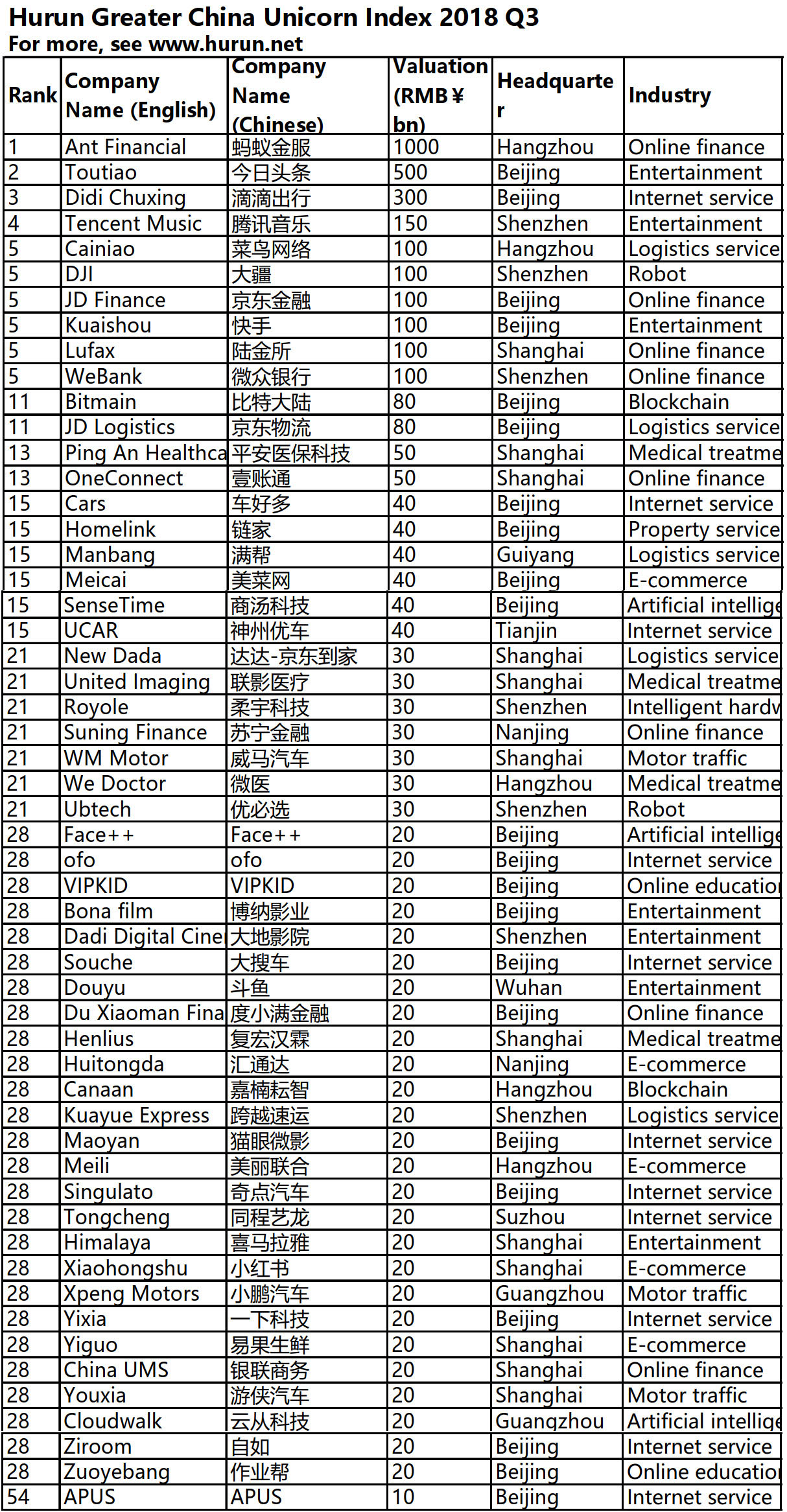 Robin Moh also contributed to this piece.
Editor: Ben Jiang