Three months after it was first introduced in June, Gojek has officially launched its new on-demand video streaming platform called GoPlay, today at its headquarters in Jakarta.
The platform offers a selection of popular Indonesian movies and tv shows, and GoJek will also produce exclusive content known as GoPlay Originals, in partnership with Indonesian filmmakers, show-runners, and production houses. Gojek previously gave GoPlay's access to 20,000 users to study its customer behaviour and preferences towards content, the company said.
GoPlay is launched as a separate app, and the company's promises quick upgrades in its content and functions. This is Gojek's second standalone app spin-off after GoLife, which bundles several on-demand services such as house cleaning and beauty treatments.
"GoPlay serves as a means to expand the local film exhibition as now millions of smartphone users will have access to a wide range of high-quality local content in this platform. Gojek is all about creating impact, and we believe that good quality films are very powerful for spread positivity in society," Edy Sulistyo, CEO of GoPlay, told KrASIA.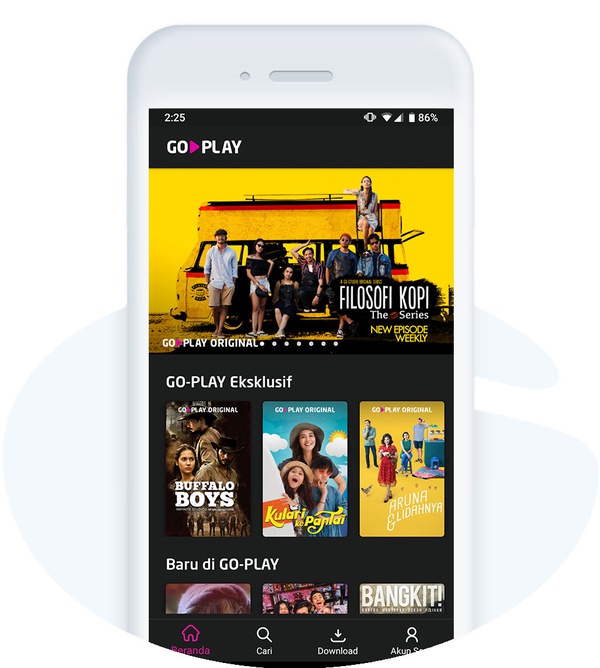 According to a Gojek's internal study, consumer interest for local content can be seen from the growing number of viewers of Indonesian films, which has increased from 36 million in 2016 to 46 million in 2018.
GoPlay arrives after a number of on-demand video streaming platforms, like the U.S-based Netflix and Malaysia's iFlix, gained attention and subscribers in the country.
Earlier this year, Gojek's rival Grab launched an on-demand video content feature through a collaboration with Southeast Asian video-streaming platform Hooq. Not long ago, Indonesia's largest media conglomerate MNC signed an agreement to set up a joint venture with the Baidu-backed Chinese video streaming platform iQiyi.
However, Sulistyo doesn't worry about competition as he believes that the market for over-the-top (OTT) platforms in Indonesia is booming.
"The middle-class group in Indonesia is currently the highest in the country's history and it will continue to increase. This is a group of people who're willing to spend money on entertainment and experience. Nonetheless, their needs for consuming high-quality films have not been fulfilled well due to the limited number of cinemas in Indonesia, especially in small cities. We want to address this issue as this is in line with Gojek's mission to solve users' daily frictions," Sulistyo continued.
GoPlay is currently available for Android users only, while the service for iOs will be launched in the future. The platform is currently focusing on local content although Sulistyo didn't rule out the possibility to display international films and tv shows in the future.
The service basic plan value is IDR 89,000 (USD 6,2) per month with unlimited access to GoPlay's content library. Users can also download content to their mobile devices in high definition for offline viewing.