Electric vehicles are gaining popularity, but some potential adopters are hesitant to make the buy-in. There are various reasons behind their hesitance, but one of the main ones is the slow charging speeds of EVs.
Depending on factors like the battery's size and specifications, and the power rating of the charging station, an EV may take 30 minutes or more to reach a sufficient charge. This pales in comparison to the average amount of time that drivers are accustomed to spend to fill their gas tank: five minutes.
Addressing this discrepancy is key to promoting widespread adoption of EVs, and that's what Chinese battery technology company Contemporary Amperex Technology (CATL) has done. On August 16, CATL introduced Shenxing, a new lithium iron phosphate (LFP) battery technology that promises to deliver 400 kilometers of driving range with a 10-minute charge, and a range of over 700 kilometers when fully charged.
To put this in context, the total time taken by a Shenxing-equipped EV to recharge on a road trip from Beijing to Jinan, or Shanghai to Hefei, will be similar to the average duration of two songs, closely rivaling that of gasoline vehicles without compromising on range.
According to CATL, Shenxing is "the world's first 4C super fast-charging LFP battery."
A crash course on batteries and charge rates
In general, the C-rate, synonymous with the C rating, is the unit used to measure the speed at which a battery is fully charged or discharged. For example, a 1C battery takes about an hour to charge from 0–100%. A 2C battery would charge twice as fast, achieving a full charge in 30 minutes. Likewise, batteries with lower C-rates charge proportionally slower.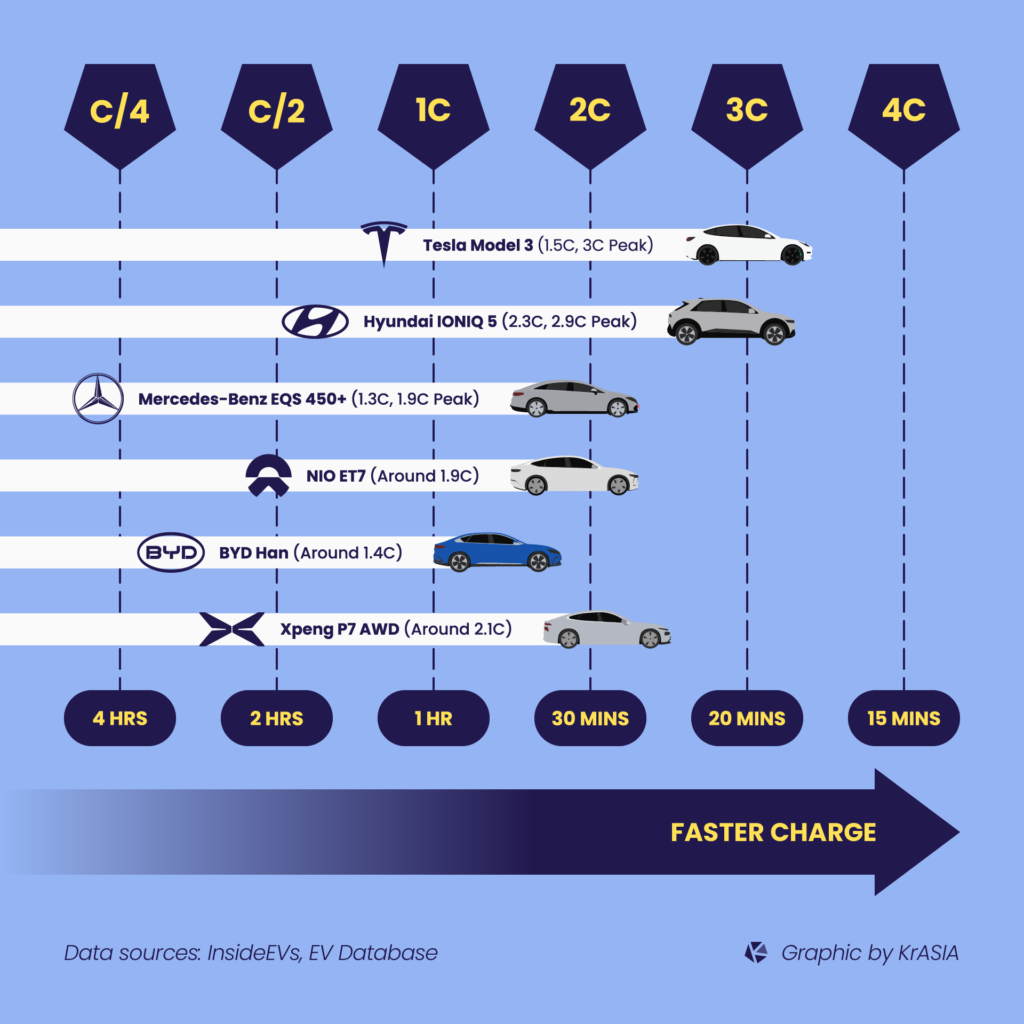 Batteries with higher C-rates will always perform better in an ideal world. But that's not true in reality. According to QuantumScape, a battery is, analogically speaking, similar to a Jenga tower, with each of its layers resembling a block. Just as a hastily placed Jenga block can destabilize the entire tower structure, the same logic applies to batteries. Charging them too fast could degrade them quicker, potentially reducing their range and shortening their lifespan, and in some extreme cases, lead to cell failure or even cause fires.
As a result, companies typically refrain from producing batteries and battery chargers that sustain charging rates higher than 2C. In cases where this threshold is exceeded, the technology is likely designed to hold the charge only for a few minutes before it's reduced to avoid causing damage to the battery. Therefore, most EV-compatible batteries hitherto developed charge relatively slower than the time it takes to fill a full tank of fuel.
C-rate isn't the only thing that decides a battery's performance. Another factor to consider is the thickness of the cathode.
The batteries that EVs utilize generally comprise thousands of lithium-ion cells. Each cell consists of two electrodes separated by a liquid electrolyte, and can store and release energy thousands of times. A battery is charged by the movement of lithium ions between the two electrodes—the cathode and anode—through its structural layers. The density of these layers, which is determined by the cathode's thickness, is therefore an important factor.
Other aspects, such as the cathode's material and the desired energy density, may also have an effect on the performance of EV batteries.
What's special about Shenxing?
CATL has developed Shenxing with the aim of improving three key aspects of EV batteries: charging speed, range, and safety.
To achieve these improvements, the composition and components of Shenxing batteries have been designed differently from existing varieties:
Cathode: Shenxing's cathodes are built of fully nano-crystallized LFP material, and leverages "super electronic network" technology to facilitate the movement of lithium ions, thereby improving charging speeds.
Anode: CATL has utilized its latest second-generation "fast ion ring" technology to augment the surface properties of Shenxing's graphite anodes, increasing intercalation channels while shortening the intercalation distance for lithium ions. Think of this as an expressway for the ions to move between the electrodes, further improving charging speeds.
Electrolyte: Shenxing's electrolyte is developed from a brand new formula, lowering its viscosity and improving its conductivity. CATL has also improved the battery's solid electrolyte interphase (SEI) film, making it "ultra-thin" to reduce resistance against the movement of lithium ions.
Separator: CATL has improved the porosity of the separator, lowering resistance against lithium-ion movement in Shenxing batteries. The separator is a porous material that physically separates the electrodes while enabling the movement of lithium ions. It prevents short circuits and maintains the cell's integrity.
System: Shenxing can achieve an 80% state of charge in ten minutes, and will leverage cell temperature control technology to ensure that cells heat up to the optimal operating temperature range quickly, enabling a 0–80% charge in 30 minutes even at temperatures as low as -10°C. CATL will also utilize a real-time fault testing system and battery grouping technology to further optimize the safety and performance of Shenxing batteries.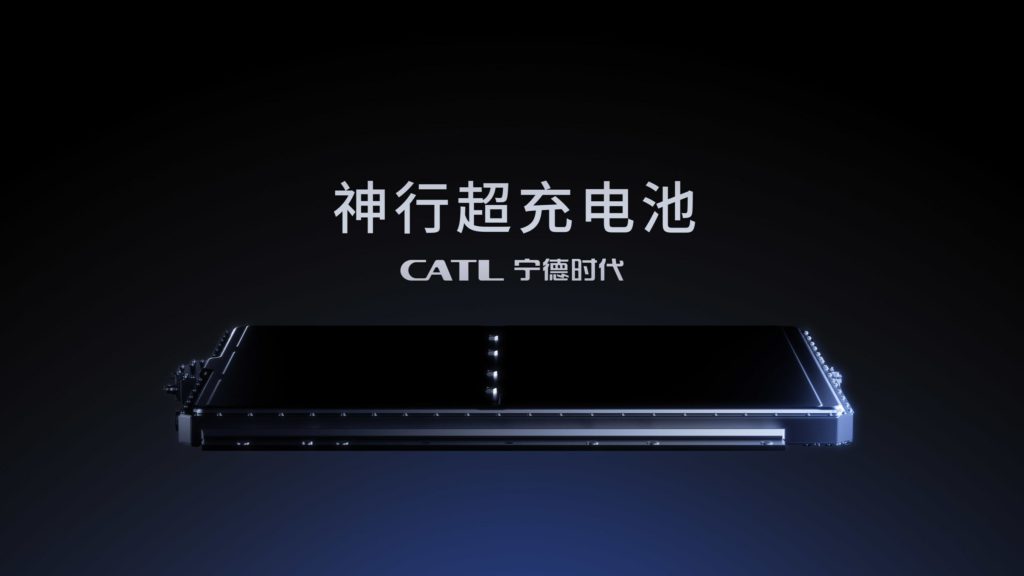 A new era of fast-charging EVs
Speaking at the launch event of the Shenxing battery, Wu Kai, chief scientist of CATL, highlighted the significance of the new technology in making EVs and advanced technology accessible for all.
"The future of the EV battery technology must remain steadfastly anchored at the global technology frontier as well as the economic benefits. … As EV consumers shift from pioneering users to ordinary users, we should make advanced technology accessible for all and enable everyone to savor the fruits of innovation," Wu said.
By tapping into its expertise in battery manufacturing and development, CATL has managed to rapidly transfer its technology from lab to market, enabling the commercialization of the Shenxing battery. According to Gao Huan, CTO of CATL's EV business in China, mass production of Shenxing batteries will begin by the end of this year, and Shenxing-equipped EVs could be available on the market as soon as the first quarter of 2024.
Avatr, a Chinese EV company co-created by CATL with Chang'an Automobile and Huawei, has officially confirmed its plan to introduce vehicles equipped with the Shenxing battery.
CATL may leverage existing tie-ups to expedite the new technology's entry to market. The company accounts for over a third of global battery sales and counts BMW, Ford, Hyundai, Volkswagen, and Tesla among its clients. In China, nearly all EV makers, including Nio, Xpeng, Li Auto, Geely, and GAC Group, source batteries from the company.
As of May 2023, CATL does not have any production facilities in Southeast Asia. However, discussions are ongoing to establish its operations in countries like Indonesia and Thailand. This aligns with the trend of Chinese companies investing in the battery manufacturing and EV sectors of these countries, as demonstrated by the likes of Great Wall Motors and BYD.
CATL could also benefit from its role as a signatory in various memorandums of understanding, accelerating the rollout of the Shenxing battery technology.
In November 2022, CATL signed an MoU with the Indonesia Investment Authority and Hong Kong's CMB International Capital to create a green fund targeting the development of an end-to-end value chain in Indonesia. A month prior, it reached a similar agreement with Singapore-based automotive company VinFast, to explore collaborations in battery innovation, electric mobility, and more.
Shenxing to amp up competition
The introduction of Shenxing holds much significance for the future outlook of CATL. While the company remains the largest supplier of EV batteries in the world, it has no shortage of competitors wanting to weaken its foothold in the industry.
In 2020, when multiple Aion S vehicles produced by GAC Group caught fire, the subsequent revelation of CATL's batteries as the cause drew attention to the potential safety issues of the company's ternary lithium batteries. The general impression of CALB, a direct competitor that produced comparatively safer LFP batteries, improved, contributing to a nine-fold increase in the usage of its batteries between 2018 and 2021.
Chinese EV company BYD also sought to capitalize on the controversy by launching a blade-shaped battery in March 2020. BYD's alternative had the same capacity as a ternary lithium battery—like the ones associated with the fire incidents—but managed to pass the nail penetration test, a safety evaluation that places batteries under extreme physical conditions to determine whether they will catch fire or burst.
CATL's introduction of the Shenxing battery technology coincides aptly with the stabilizing prices of battery materials such as lithium, as well as the increasing demand for affordably priced EVs that can cater to the masses.
While Shenxing is anticipated to debut at a slightly higher price than available alternatives, LFP batteries are generally more cost-effective than options like nickel manganese cobalt (NMC) or manganese-rich lithium-ion (M3P) batteries due to differences in raw material costs.
Combined with its substantial enhancement of the LFP battery design, as well as the efficiency and dependability of CATL's production operations, Shenxing could prove a compelling option for EV manufacturers aiming to attract budget-conscious customers.
Few comparable alternatives are currently on the market. Coming closest to Shenxing is the "extreme fast-charging technology" unveiled in 2022 by Greater Bay Technology, a spin-off from GAC Group, which can ostensibly achieve a full charge in 15 minutes.
Meanwhile, some companies have sought to alleviate concerns about long charging times by shifting their focus away from battery build. In China, Nio had been offering complimentary battery swapping services to vehicle owners, but stopped providing them for free as of June this year. Doubts loom over the scalability and profitability of such services in the long term, with Tesla describing the practice as "riddled with problems and not suitable for wide-scale use."
The introduction of Shenxing is poised to contribute to broader EV adoption. However, the persistent question remains: will it generate enough momentum to propel electric vehicles into the mainstream?