The tiniest changes in your heart rate, temperature, and sleeping patterns could help give forewarning for the next big pandemic.
That's according to researchers from the wearables company Huami after collecting data from 1.3 million users in Europe and China. The researchers hope their prediction model could eventually be used to alert health authorities of future infectious disease outbreaks.
Huami may not be as well known as Fitbit in much of the world, but it's one of the largest wearables makers in the world. The Xiaomi-backed company is known for the cheap Mi Band line of fitness trackers and Amazifit smartwatches.
The company took a dive into nearly three years of data to see if it could create an algorithm to detect the rise of physiological anomalies, including higher body temperature, shorter sleep cycles, and increased heart rate. The scientists then combined the data with official records on COVID-19 infections. The researchers found that more anomalies correlated with more reported infections.
In Wuhan, the epicenter of the outbreak, the rate of infections predicted by Huami's data peaked around January 28, five days after the city-wide shutdown designed to fight the spread of the coronavirus. The officially reported peak was February 8. (Data after February 12 was omitted because of a change in diagnostic criteria that resulted in a jump in the number of cases.)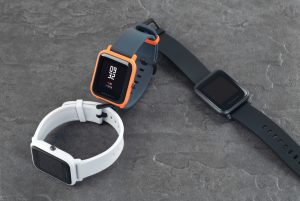 Wuhan also had the highest predicted peak among the cities studied. In addition to other cities in China, researchers also looked at cities in Italy, Spain, France, and Germany.
Huami's researchers see one big benefit in using wearables for forecasting the spread of infectious disease: speed. Models that predict when infections are going to peak rely on reported statistics. A lack of tests, and therefore a lack of data, or waiting for test results can affect the timeliness of the models.
Huami isn't the first to try to use wearables for insights into COVID-19. A group of researchers at Stanford started a study using Fitbits to see if they could train algorithms to show when a user's body is fighting an infection.
Michael Snyder, professor and chair of genetics at the Stanford School of Medicine, explained that his lab wants to harness data to identify who is becoming ill as early as possible—potentially before they even know they're sick.
Other researchers, including those from University of California San Francisco and the non-profit Scripps Research Institute, are trying out similar approaches. And over in Europe, the Liechtenstein government started trialing physiological data collection by handing out bracelets originally made to track women's fertility. The second stage of the study should include the small nation's entire 38,000-strong population.
Huami, however, was careful to avoid talking about the next steps. The company declined to comment on how the findings might be practically utilized by health authorities.
"We all know data sharing is a sensitive topic in the industry," a Huami representative said, adding that there are benefits to the research in addition to privacy concerns.
Debates about privacy and technological surveillance related to tracking COVID-19 have been going on across the world, including in China, where data leaks have become a problem. Talking about the virus in China has also become increasingly politicized.
Huami's research was published in the open-source journal Hindawi. The company previously worked with a team at the Guangzhou Institute of Respiratory Health led by China's leading respiratory disease expert Zhong Nanshan. In Guangzhou, Huami has also been involved with a volunteer-based tracking program for recovered COVID-19 patients.
The research team points out wearables data has limitations. One obvious problem is that not everyone wears fitness trackers or smartwatches. The rate of anomalies used to create predictions is based on statistics that may not include enough people or a diverse enough sample. The elderly population, for instance, is the most vulnerable to infectious diseases but the least likely to be trying new gadgets.
Another interesting problem is holiday libations. The COVID-19 outbreak overlapped with China's week-long Spring Festival holiday, when heavy drinking is more common, possibly affecting physiological data.
But the researchers seem optimistic. According to the report, the results show that the model could help shape a nationwide solution for infectious disease surveillance systems. And with more data such as age, gender, and body weight, wearables could also be used in the future to make predictions for individuals.
This article was originally published by Abacus News.