In the field of new energy, Chery is said to be "early to rise, but late to gather momentum." These words aren't from critics of the Chinese state-owned automobile manufacturer, but from Yin Tongyue, who is chairman of the company.
Headquartered in the city of Wuhu, Chery has been a notable player in the Chinese automobile market, having made a name for itself with its line of traditional gasoline-powered cars. However, it has now found itself struggling in the new energy vehicle industry.
According to data from the China Association of Automobile Manufacturers (CAAM), companies like Chang'an Automobile, Great Wall Motor (GWM), Geely, SAIC Motors, and GAC Group all ranked among the top companies for the period between August 2022 and January 2023 in terms of new energy vehicle (NEV) sales. Even newcomers to the automobile industry, like Nio and Xpeng Motors, secured positions on the list. But Chery was conspicuously absent.
New energy vehicles refer to various types of vehicles that are powered by alternative energy sources, including electric vehicles. EVs specifically refers to vehicles that utilize electricity, typically stored in rechargeable batteries. EVs can be considered a subset of NEVs.
Chery's entry into the new energy sector commenced with the establishment of Chery New Energy in April 2010, marking an early foray. However, the company hasn't gained as much traction in the NEV market as initially anticipated. Notably, Chery has been sluggish in introducing new NEV models, with an average five-year gap between each release, starting with the Chery E5, followed by the Chery Little Ant, and then the Chery QQ Ice Cream.
Furthermore, Chery's NEV sales are primarily centered around smaller models such as the QQ Ice Cream, which belong in a market facing fierce competition, declining consumer interest, and mounting sales pressure (to turn a profit).
Chery's reliance on its smaller NEV models is well-documented in its sales figures. According to data from Autohome, the company sold a total of 67,534 NEVs between January and September 2023. More than 61,000 of the NEVs sold were either Little Ant or QQ Ice Cream units, accounting for over 90% of the total sales volume.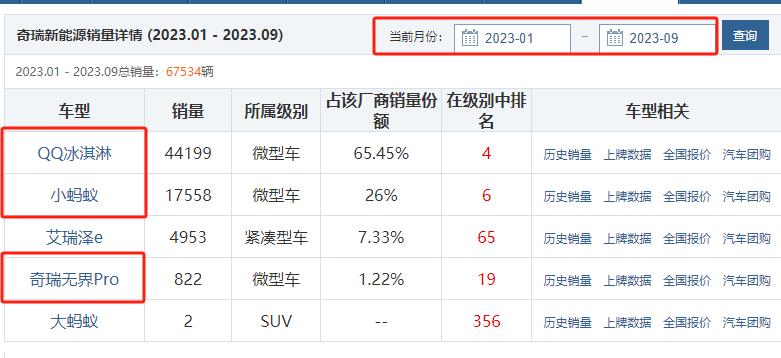 Chery's overall NEV sales haven't been promising either.
According to official statistics provided by Chery, the company sold a total of 1,253,237 vehicles in the same period spanning January and September 2023, marking a 40.2% year-on-year increase. It also sold 171,262 vehicles in the month of August, which is a record for single-month sales and 20.8% higher compared to the same month the previous year. Of the 1.2 million-odd vehicles sold by Chery, however, its NEV sales accounted for only around 5.38% of its total sales volume, underlining its lack of traction.
It's also worth noting that companies like Chang'an Automobile and GWM list their NEV sales separately in their production and sales reports to highlight their milestones in the new energy sector. In Chery's case, however, information about its NEV sales is scarce in its reports, if not, non-existent.
According to data from the CAAM, Chery sold 13,400 NEV units via wholesale in September, compared to its total wholesale volume of 180,000 units during the same period. This calculates to a meager 7.44% share for its NEV models, which lags behind its competitors. For example, Geely sold around 53,700 NEVs in the same month, accounting for over 31% of all vehicles it sold during that period. Chang'an Automobile and GWM sold 51,000 and 21,900 NEV units respectively in September, accounting for around 20.32% and 18% of total sales respectively.
Data from Dongchedi also shows that, in September, Chery's best-selling NEV model was the QQ Ice Cream, with 7,235 units sold. Following closely is the Little Ant, with 2,684 units sold, while the Arrizo E and Wujie Pro models recorded sales of 1,035 and 12 units respectively.
The QQ Ice Cream and Little Ant, Chery's top performers in September, fall into the category of microcars. These microcars are known for their compact size, affordability, and are often considered ideal for budget-conscious consumers. Collectively, these two models contribute significantly to the company's overall NEV sales. This underscores their strong appeal in the new energy microcar segment. However, it also suggests that Chery's other NEV models, not only within the Chery brand but also under subsidiary brands like Exeed and Jetour, have struggled to achieve commercial success.
The market for these two NEV models are also beginning to cool off, with monthly sales persistently hovering around 2,000 units, which is significantly lower than previous months.
Suppose Chery manages to secure its foothold in the new energy microcar segment by capitalizing on the appeal of these two models and their iterations. The best case scenario would be Chery effectively trapping itself in the segment, competing mainly based on price to try and turn a profit.
That is however quite unlikely to occur. Should circumstances stay laissez-faire, the more probable outcome is the gradual death of Chery's NEV business.
As the consumer landscape changes, the new energy microcar segment is no longer enjoying the rapid growth it once did, and is seemingly on the decline. In the first half of 2023, data from the CAAM estimates the cumulative retail sales of electric microcars in China to be 300,000 units, with a year-on-year decline of 42.1%. The decline was more strongly felt for Chery, which sold only 40,000 units in that period, 66% less than the same period last year.
Clearly, a wait-and-see approach isn't what Yin and his entourage will be considering to arrest this trend.
At various events organized by Chery this year, including the recently held Chery Tech Day, Yin has underlined several strategies the company will utilize to find its foot in the new energy sector:
Chery will allocate at least RMB 20 billion (USD 2.7 billion) to fund R&D annually, with its R&D investment expected to surpass RMB 100 billion (USD 13.6 billion) over the next five years. A portion of this investment will be used to finance the establishment of 300 "Yaoguang laboratories" around the world, which will focus on developing intelligent cabin and autonomous driving technologies. Chery is also poised to integrate artificial intelligence into its vehicles to enhance vehicle-user interactions, in a bid to differentiate itself from competitors. To date, Chery has already applied for and accumulated over 26,000 patents.
The company will build a broader portfolio of vehicle models. In Q4 2023, Chery will release five "super hybrid" vehicle models and four high-end EV models based on its E0X platform. It plans to introduce up to 24 hybrid vehicle models and 15 EV models on the E0X platform over the next two years, totaling 39 models. These new models will encompass a wide range of categories, extending beyond the current focus on microcars to include sedans, sports utility vehicles (SUVs), multi-purpose vehicles (MPVs), and sports cars. Some examples of the upcoming models include the Sterra ES sedan, the iCar 03 SUV, and the Fengyun T9, a plug-in hybrid version of the Tiggo 9 SUV.
Strategic partnerships will play an increasingly prominent role in Chery's NEV business. For example, the company is collaborating with Huawei to develop the Luxeed S7, which will ostensibly surpass the Tesla Model S in every specification. It has also partnered with Contemporary Amperex Technology (CATL) to utilize its Shenxing "super fast-charging" lithium iron phosphate (LFP) battery in its Exeed vehicle models. Another noteworthy collaboration is its partnership with iFlytek to integrate the latter's Spark large language model into the Sterra ES.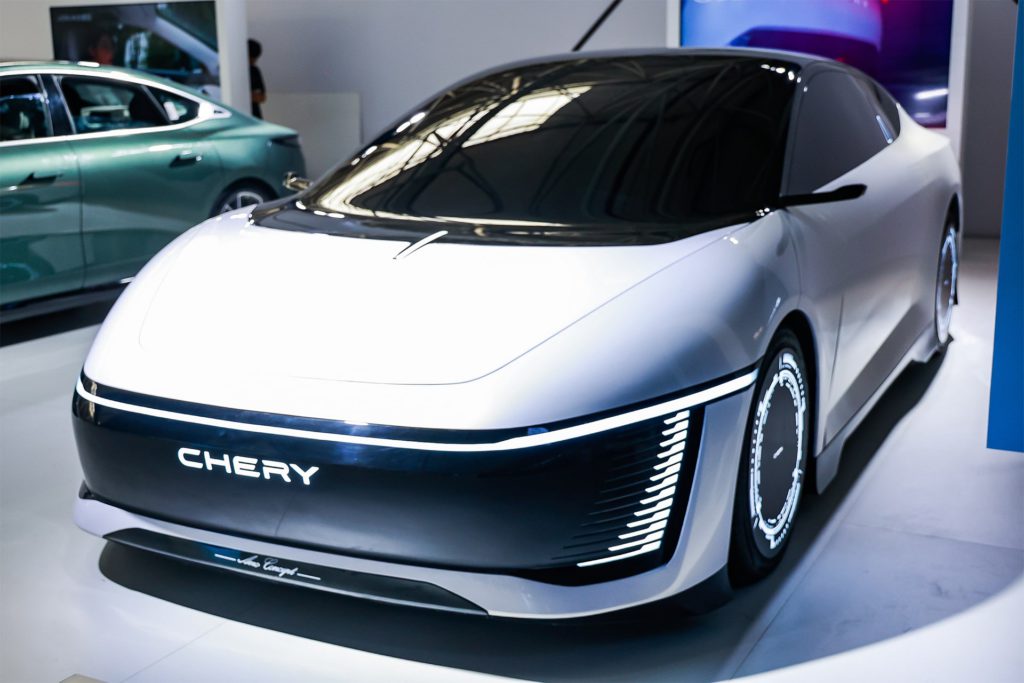 Chery's results have been far from stellar, yet the company has nonetheless decided to make a determined push and try to secure a leading position. Its comeback plan is comprehensive, involving a significant financial investment, an extensive range of new vehicle models, and strategic partnerships. The ambition is therefore clear: Chery aspires to establish itself as the top player in China's new energy vehicle industry.
With its strategies in place, the question of whether Chery gains momentum later, or not at all, now depends on the passage of time.