Shopee has managed to surpass Tokopedia as the e-commerce platform with most active monthly users in the fourth quarter of 2019, according to a report released by iPrice Group in collaboration with App Annie and Similar Web.
For the entirety of 2019, Shopee was consistently the most downloaded e-commerce app in Indonesia, but never managed to surpass the Indonesian unicorn Tokopedia in terms of monthly visits until the last three months of the year. According to the report, Shopee's success lies in maximizing engagements during sale events such as the Single's Day campaign in November and the platform's Birthday Sale in December.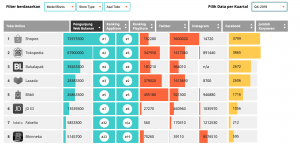 However, Tokopedia maintained its position as the most visited e-commerce app in Indonesia, with more than 75 million visits from Indonesian customers.
Bukalapak trailed behind in the third slot, as it has for three consecutive quarters.
A new entrant among the top ten e-commerce sites in Indonesia is Wish, a mobile shopping app offering bargain items mostly from Chinese wholesalers. Its app was the seventh most downloaded, and ninth in terms of active monthly users in the last three months of 2019.
According to a report by Google, Temasek, and Bain & Company, e-commerce is the prime driving force in Indonesia's internet economy. The sector is expected to be worth USD 82 billion in 2025, seeing a 48% leap from 2015. The report also stated that the ubiquity of online promotions is the main reason why the market will continue to see growth. In recent years, Southeast Asia's online shopping festivals have multiplied.