To wrap up the decade, video streaming platform Bilibili hosted a New Year's Eve concert dubbed "The Most Beautiful Night of 2019." It was the first time a Chinese video-streaming platform hosted such a major event, and unlike most annual galas, which are focused on a wide swath of Chinese viewers, Bilibili set its sights uniquely on its core demographic: the Gen Z.  
For those who tuned in, the gala was a short-course on Gen Z celebrities such as rappers Kris Wu and Gai, french pianist Richard Clayderman, and rock band Mayday, among others.
The pre-recorded 3.5-hour countdown show opened with a World of Warcraft-themed dance performance, and singing along to traditional folk tunes was virtual idol Luo Tianyi. Live-streaming star Feng Timo, who just signed an exclusivity contract with Bilibili for a reported RMB 80 million after leaving Tencent-backed entertainment platform Douyu behind, also participated.
The show reached up to 82 million live viewers, and was then re-watched 79 million times within one week. Most of the viewers were Gen Z, or those born after 1995, and, if their feedback is any indication, the event reinforced the company's reputation for being uniquely in touch with this demographic.
"It's dope. Every performance has some connections with B-site," said 24-year-old Freya Zhang, a video editor and Bilibili user. "For example, Richard Clayderman's show was about Hedwig's theme from the Harry Potter series, whose streaming rights recently have been obtained by Bilibili. It's one of the movies that we were most crazy about when we were younger," she said.
"Only Bilibili knows what we Gen-Z like," reads one danmu—or real-time bullet comments overlaid across the screen. "It's much better than New Year's Eve galas produced by TV networks," reads another. Bilibili's show garnered over 1.36 million of these instant comments.
Just two days into the new year, on the first trading day after the holiday, Bilibili's stock price surged by 17.6% to USD 25 per share on Nasdaq. The jump was buoyed by the firm's newly announced partnership with Tencent Music Entertainment's QQ Music service to cross-promote singers and music content.
The video platform—called B-site by its fans—has clearly outgrown its original purpose as a niche fan-site. Launched in 2009 by a group of users as a back-up of the then-popular video platform AcFun, it has grown from a space for die-hard anime, comic book, and gaming fans to a staging ground for China's youth culture, with about 128 million monthly active users (MAUs).
Going forward, it has hopes to become much more.
Can Bilibili keep thriving? 
Bilibili currently hosts videos in 20 categories, including music, dance, technology, gaming, and movies, and is now heavily betting on live-streaming features. The platform relies on a solid userbase of original content creators in various fields, most of them post-95, for which is also popularly known as "China's YouTube."
"Bilibili is becoming more and more diverse and comprehensive," said Wen Yaman, a 23-year-old journalist and active Bilibili user. She recalls that seven or eight years ago she first logged on the platform looking for Japanese anime. Last year, there were only about 44 days when she did not watch videos on the site, she says.
Bilibili operates on a unique free premium model. Everyone can browse the site, but only "official members" can comment and upload videos. To ensure a high-quality community, users need to pass a 100-question test about the site's rules and geek factoids, such as guessing the name of popular anime movies, comics, or questions related to the Harry Potter saga, among others.
Youngsters used to need almost 120 minutes to complete the exam, although the test has been recently simplified to drive more users to the platform. The premium membership includes access to more exclusive content and higher video resolution. Paid plans start at RMB 12 (USD 1.75) per month. 
The site's cool fanbase has allowed it to become a platform where trends are set. For example, Bilibili became the hotbed of guichu videos, which is one of Wen's favorite sections. The category features quirky and comedic music videos made by users, combining, repeating, and auto-tuning clips, to sync with lyrics and melodies. 
Clips of hip-pop singer Kris Wu, who was one of the most acclaimed artists in the countdown gala, have been some of the most popular guichu content in recent years.
Wu improvised a freestyle song about noodles during a variety show in 2017 that went viral, as several Bilibili creators produced thousands of mash-ups, leading him to release the self-deprecating single "Big Bowl, Thick Noodles." What started as a joke among Bilibili users, turned out to be one of China's top 2019 rap hits.
"It's a way for us youngsters to deconstruct seriousness," Wen said.
At the beginning of 2018, the platform launched a content creator plan focusing on accounts with over 1,000 followers, to incentivize its users to upload more content. Bilibili also launched a series of vlogging competitions with themes such as "Be a vlogger" or "Ideal life" to encourage the production of more vlogs.
With 7.8 million followers, Old tomato is the most popular uploader on Bilibili. He started his digital career in 2013 when he was still a high school student. During his Bilibili's journey, he also concluded his bachelor's and master's degree, the same way as many of his followers.
"I followed him since he was in high school. I feel like I'm witnessing his growth," Zhang said.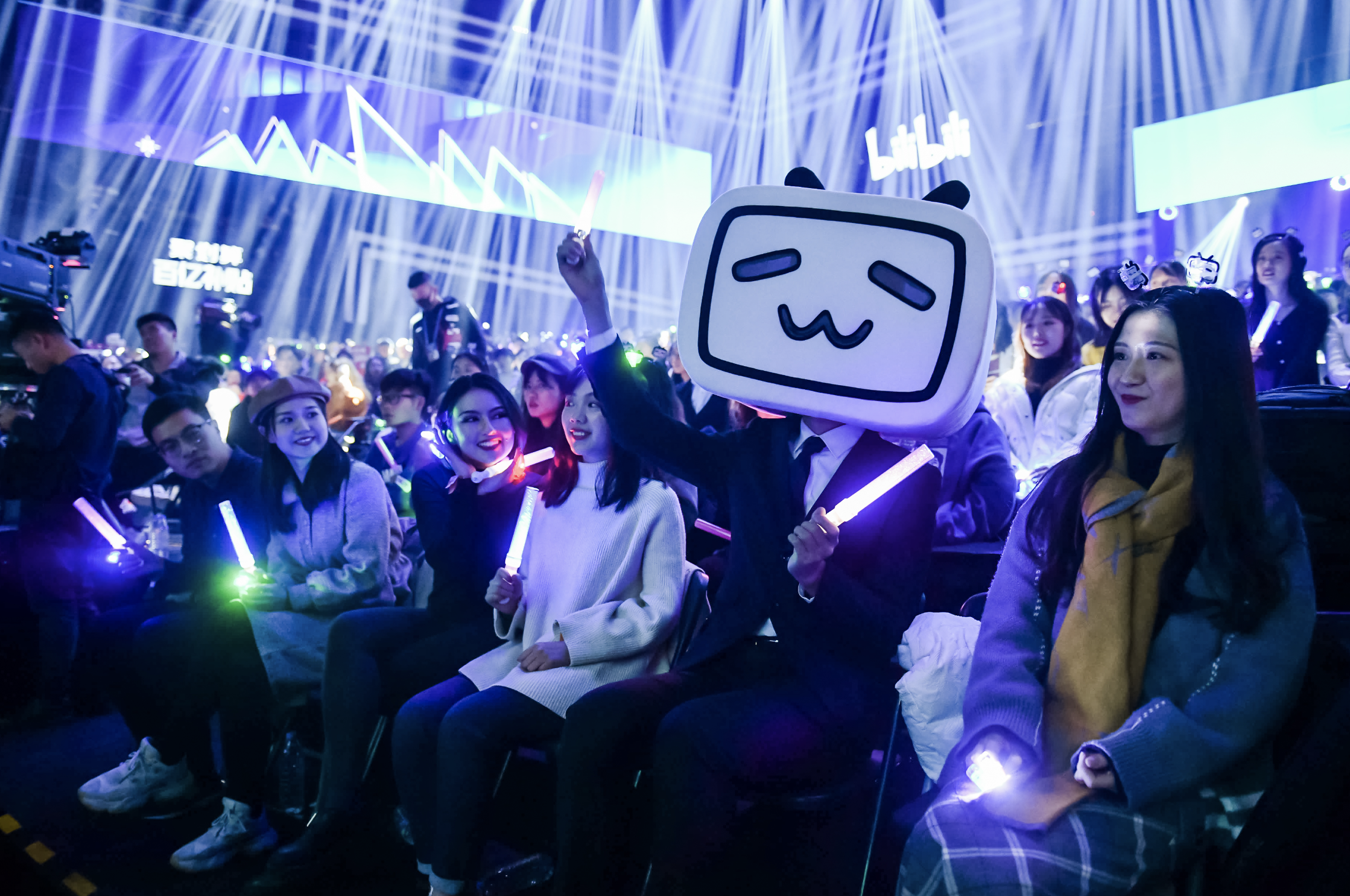 A platform of loyal users 
In its IPO filing, Bilibili reported a 12-month retention rate of 79% for members, while 60% of users who registered in 2009 are still active today. What's more, users between 18 and 35 years old accounted for 78% of the platform's overall user base. Bilibili's average users spend over 78 minutes per day on the platform, watching some of the 2.4 million videos that are uploaded monthly.
One crucial ingredient to the platform's success is the bullet chat feature—those danmu that filled the screen during the New Year's event. This feature differentiates Bilibili from rivals like Tencent-backed Huya or Baidu's iQiyi, allowing its users to comment over clips in real-time, making each video a mini-forum for thousands of members watching simultaneously. While it's sometimes chaotic and spammy, hilarity can also ensue, and young Chinese internet users seem to love it.
"I always keep the danmu open. When the League of Legends (LOL) tournament was being broadcasted on Bilibili and Huya, I chose Bilibili for watching danmu and share the moments of joy with other Bilibili viewers," she said. "That being said, the quality of live-streaming on Bilibili is obviously worse than that of Huya," she added.
Danmu are also responsible for a load of slang words that have become famous in China and have emerged alongside Bilibili. "AWSL" for instance, is the acronym of the Chinese expression "a, wo si le," meaning "I'm dying," usually employed in sentences denoting amusement or excitement.
Another advantage Bilibili has over competitors is its promise to never place pre, mid, or post-roll ads in videos. So far, they've kept the promise.
Becoming China's Disney
Bilibili's unique and active content community has led its user acquisitions to soar. It gained 35 million MAUs within 12 months since September 2018. However, some industry watchers have raised the question if whether this growth, which has attracted new users from all backgrounds, might eventually dilute the unique character of the community.
Still, the platform needs to continue to evolve to survive in China's hyper-competitive video segment.
"In the long term, in China, content platforms valued at under USD 10 billion will be eliminated," said Bilibili's CEO Chen Rui, formerly Bilibili's angel investor, during an interview with local media LatePost. "I will die if I couldn't pass that threshold."
Bilibili is currently valued at around USD 7.5 billion, and has been followed positively by China's biggest investors. Last February, Alibaba scooped up an 8% stake as part of its push into the "youth culture" business. The deal was announced a few months after Tencent invested nearly USD 320 million into the company for a 12.3% stake, becoming the firm's second-largest shareholder.
This puts Bilibili in the rare position of getting investment from both Alibaba and Tencent, the two archenemies in the Chinese tech world.
Like many other video streaming sites, Bilibili wants to speed up its monetization, although its earning performance keeps beating estimates. For the quarter ended on September 30, Bilibili booked USD 260.1 million in revenue, growing by 72% year-on-year. As a comparison, competitor iQiyi reported revenue of  USD 1.0 billion, but with a weakening year-on-year increase of just 4%, in the same quarter. However, Bilibili also reported a widening net loss of USD 56.8 million, nearly doubling 2018's level.
The company now generates half of its revenue from mobile games and has been trying to diversify its income channels. Live-broadcasting and value-added service segment, which includes live-streaming services and premium memberships, contributed to a quarter of Bilibili's overall revenue, up 165% at USD 63.3 million, while revenue from e-commerce and others accounted for USD 31.6 million, representing an increase of 703% year-on-year.
Bilibili also recently invested heavily—over USD 113 million—in China's growing e-sport market, gaining a three-year exclusive streaming right agreement for the LoL World Championship in China, beating out rivals as Kuaishou, Huya, and Douyu to secure the deal.
The company has loftier goals. While Bilibili is often called "China's YouTube," due to its vast amount of user-generated content, Chen said that the platform wants to go beyond just offering online services. "It will finally become a culture brand company, like Disney," he said to LatePost. 
As a regular user, Wen wants something else. "Will the quality of its live-streaming feature still be so bad at that time?" she asked, thinking of the next LoL World Championship game.