Indonesia's BCA Digital launched a digital banking app called Blu for Android users on Friday, making it the latest addition to a long list of digital banks that operate in the country. Officially called "Blu by BCA Digital," the new platform is integrated with all digital infrastructure owned by BCA, the parent company of BCA Digital.
BCA is the largest publicly listed private bank in Indonesia. Its move into digital banking started when it acquired a local lender, Bank Royal, in 2019 for nearly IDR 1 trillion (USD 68.6 million). Before it developed Blu, several other major banks formed their own digital bank subsidiaries, such as Jenius, by Bank BTPN; Digibank, by Bank DBS; TMRW under Bank UOB; and Wokee of Bank Bukopin. Other banks like BRI Agro and QNB Indonesia are also reportedly preparing similar transformations.
While conventional financial institutions build their web-based capabilities to retain existing clients and lure new customers, neobanks with tech origins offer financial services and tout the convenience that comes with banking without branches. A litany of players already operate in this manner, including Bank Neo Commerce, which was created after the acquisition of Bank Yudha Bakti by Alibaba-backed fintech firm Akulaku; Jago, a firm backed by Gojek; Sea Group's Seabank; and Line Bank by Hana Bank. Moreover, e-commerce unicorn Bukalapak is in the process of obtaining a license to launch a digital banking platform with Standard Chartered Bank.
Neobanks are typically established by tech companies that acquire or form partnerships with local lenders or commercial banks. Despite not having physical branches, Indonesians can still utilize their services. Bhima Yudhistira Adhinegara, a digital economy analyst at the Institute for Development of Economics and Finance (Indef), told KrASIA that digital banks like Blu have different segmentation from neobanks. While digital banks tend to stick to payment systems, interbank transfers, and investments, neobanks will concentrate on verticals like quick loans and "buy now, pay later" loans that are consumptive in nature and integrated with e-commerce.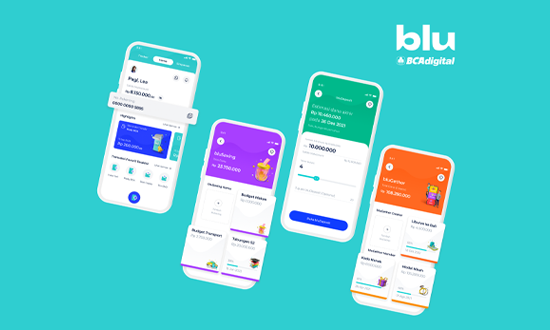 BCA has a large customer base. It counted 22 million clients in December 2019. Blu's release is a move to give its existing clientele services that are available to any Indonesian with a working internet connection.
Several traits make BCA a formidable contender as it adds new internet-based financial services. The institution has a long history and good track record, which makes it a draw for users, according to Adhinegara. "BCA is one of the first movers in the banking sector; it was the second bank that had ATMs in the 1980s, so digitization is not a new thing for the firm. It also has high trust from customers, so there is little doubt over security, which could be an issue for new players from non-major banks," he said.
Blu draws from its conventional financial lineage and makes it possible to open a savings deposit account without ever visiting a brick-and-mortar bank branch. These accounts can then be broken into ten sub-accounts for granular financial management, and some can function like joint accounts. An iOS version of the app is in the works.
Digital banks will reinforce financial inclusion by folding in unbanked communities. However, Adhinegara believes that digital banks and neobanks will still mostly operate in big cities in the near future. "When it comes to the rural population, people still prefer traditional banks. Uneven digital infrastructure is the main obstacle for digital banks to attract customers in rural areas, especially outside Java," he said.
A crowded, competitive field means it is tough to stand out, and swift adaptation is necessary to stay ahead. "Digital banks must offer services that are currently in demand, such as invoice financing for small businesses and mutual fund investment or gold savings for Gen Z and millennial investors. In addition, they must be agile in adapting to regulatory developments as authorities plan to launch new regulations for this sector in the near future," Adhinegara said.