Vietnam is slammed with its fourth wave of COVID-19 infections. The country's healthcare system is utilizing every resource possible to care for every person who requires care. An array of telehealth platforms have pitched in to offer free consultation services, enabling patients to consult with doctors without breaching the country's strict restrictions on movement that were a successful measure in curbing the pandemic last year.
Vietnam recorded a total of 170,512 cases and 2,071 deaths as of Wednesday morning, with 98% of the deaths occurring in the ongoing fourth wave which began in late April, per a local media report. In all, 19 active field hospitals are providing 45,000 beds as of mid-July, and doctors in Ho Chi Minh City are treating 82 to 92 patients per day, according to a local media report.
The tidal wave of deaths and infections is pushing Vietnam's healthcare system to the brink of collapse. "Ambulances that carry coronavirus patients line up in droves. The blaring sirens and loudspeakers pump out announcements all day and night," a doctor at one of the field hospitals told local media outlet VnExpress in mid-July.
Ho Chi Minh City-based startup Docosan, which enables patients to search for doctors and book appointments on its platform, is one of the Vietnamese telehealth startups pitching in to ease the pressure on the healthcare system. The startup offers free teleconsultation, according to co-founder and CEO Beth Ann Lopez.
"The demand for telehealth is huge and we decided to launch our online consultation service in June in response to the clinics' closure. Patients still need care during the lockdown, while the doctors also need income after closing down their physical clinics or hospitals," said Lopez, adding that the number of teleconsultation appointments booked on Docosan doubled in July.
Lopez founded the startup in January 2020, a time when the pandemic started to spread in Vietnam. Docosan has amassed a total of 141 telemedicine providers, including doctors from different specialties and COVID testing laboratories, with over 100,000 users across its website and app.
Docosan has recently seen a huge uptick in demand for COVID testing, registering a total of 2,000 tests since its founding as residents require a negative certificate to commute or work, according to Lopez.
Clinic chain goes digital
Med247 is another startup that has sprung up to meet the surging demand for online healthcare. The startup runs its own chain of family clinics and launched its telehealth services in December 2019. In light of the pandemic, the startup has offered one free teleconsultation to patients in need since the second wave started in July 2020.
"We are not closing our physical clinics during the pandemic. We use a rigid screening test for the incoming patients. Currently, there are over 30 doctors on our platform, while we currently handle around 400 consultations per day," Thao Nguyen, Med247's chief growth officer, told KrASIA.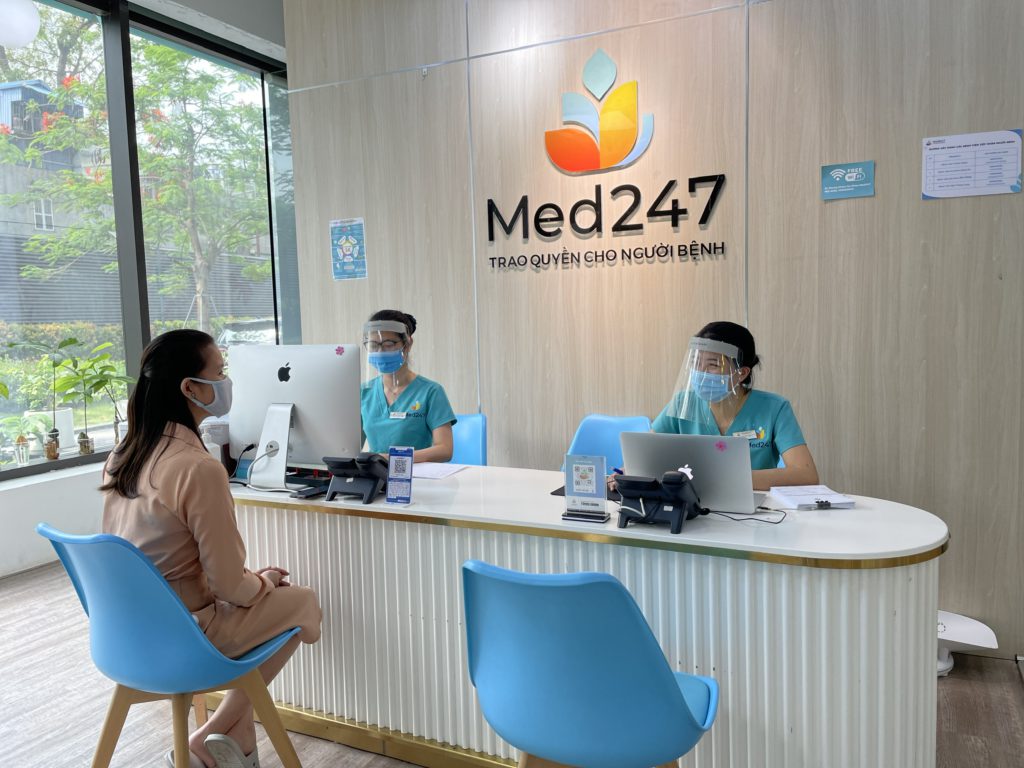 With a total of 38,000 active users on its platform, Med247 has recorded a 30% to 35% month-on-month increase in business volume since January 2020. Although the growth of Med247 typifies the digital shift of traditional healthcare providers in Vietnam, digital services only account for 30% of the firm's main revenue.
But telehealth startups still face significant challenges, like the lack of government support and the healthcare industry's general reluctance to go digital. "There are around 30,000 private clinics in Vietnam, and 80% still working manually. The healthcare industry is very fragmented and not all of the clinics meet the same international standard," Tuan Truong, founder and CEO of Med247, told KrASIA.
Thao Nguyen also said that the government does not offer sufficient financial support to health tech startups. "The policymakers and consumers have started to see the significance of telehealth, but the regulation remains ambiguous and not straightforward enough for the companies to adapt," Thao Nguyen said.
Lopez resonates with these comments about the challenges faced by digitized healthcare providers, but she remains sanguine towards the industry's growth. "Doctors used to focus on providing care and they didn't want to be burdened with learning how to use new tech. With the temporary closures of clinics and some hospitals, there are fears and anxieties about what COVID-19 means for the future. It prompts the industry to adopt new solutions. The attitude shift has enabled us to grow quickly," she explained, adding that rising incomes and aging demographics also contribute to the surging demand for high-quality healthcare services.
Other players have also emerged to improve access to healthcare in Vietnam, including online pharmacy marketplace Thuocsi.vn, which saw its monthly order volume jump from 3,500 to 26,000 last year, as well as telehealth platforms including Jio Health, eDoctor, and Doctor Anywhere.