On November 1, Luckin Coffee announced its Q3 2023 performance just before the US stock market opened. Overall, the company performed positively and met the expectations of analysts. Its revenue increased by 85%, and operating profit rose by 64%. However, there are still some notable gaps in comparison to earlier forecasts.
The key points from this financial report are as follows:
Ongoing store expansion: The number of stores is a direct indicator of Luckin's growth and a pivotal metric for market interest. By the end of Q3 2023, Luckin reached a total of 13,300 stores, with a net addition of 2,437 stores compared to the previous quarter. The pace of opening both self-operated and franchise stores has been accelerating each quarter. Luckin had set a year-end goal of 15,000 stores, which appears feasible at the current rate.
Popular products attracting users: Q3 2023 witnessed a net increase of 15.43 million average paying users, totaling 58.5 million. While Luckin has solidified its user base in tier-one and tier-two cities, a significant surge in paying users primarily stems from new stores, especially in lower-tier cities. The 133% growth in paying users versus a 69% increase in store expansion in Q3, compared to Q2, signifies the impact of the campaign with Kweichow Moutai, which brought new traffic to existing stores. The campaign launched a latte product that has a low alcohol content of 0.5% with a rich Chinese liquor scent, which proved to be popular among consumers.
Slowing growth in same-store revenue signals caution: Despite an overall 19.9% growth in Luckin's same-store total revenue in the third quarter, the average revenue growth per store has seen a decline of 6% after excluding new stores. This decline was larger than the 2.3% drop in the second quarter. This slowdown can mainly be attributed to two factors: intensifying competition and the potential effect of market saturation as the number of Luckin stores approaches a certain threshold, diverting customers from older stores. Either scenario might disrupt the company's subsequent pace of opening new stores.
Revenue is dependent on new store openings: On top of the popular campaign with Kweichow Moutai in the third quarter, Luckin's RMB 9.9 discount and intentionally lowered prices drove an 85% increase in total revenue. However, the core driver remains the 70% year-on-year increase from new store openings. By extension, if factors such as competition, market saturation, or other influences significantly affect new store openings, the company's future performance might weaken.
Low-price strategies affect profitability: Luckin's operating profit in Q3 2023 was RMB 962 million (USD 132.5 million), but its profit margin declined to 13.4% quarter-on-quarter. Apart from a significant 141% increase in sales expenses, other expenses did not rise substantially. This low-price strategy compressed the gross profit margin by almost 6% quarter-on-quarter.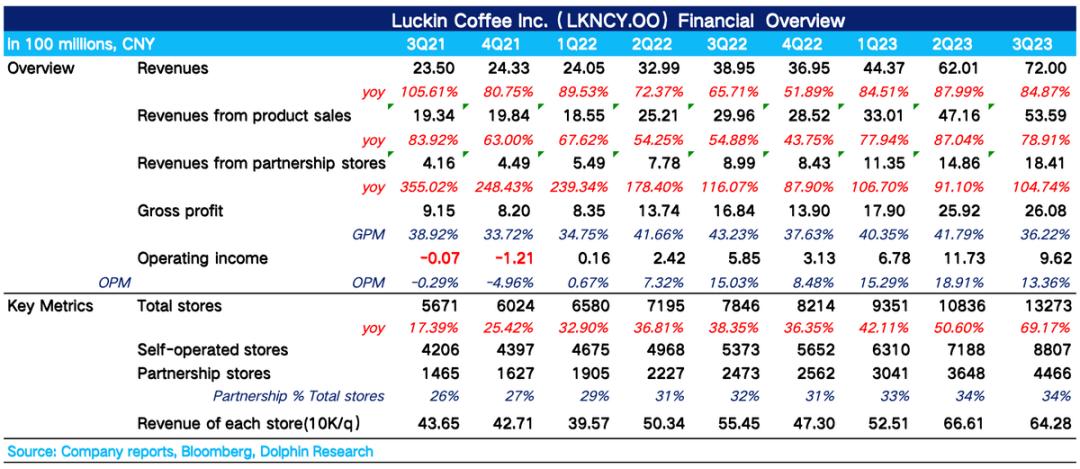 Analysis by Dolphin Research
At first glance, Luckin Coffee is seemingly still in the expansion phase even though it has amassed over 13,000 stores nationwide. Although Luckin showcased strong growth in the first half of this year, this initial success was marred by the poor performance of its new products while its popular products faded away in popularity. The collaboration with Kweichow Moutai is seemingly one of the more enduring and impactful campaigns.
At the current pace of new store openings, Luckin appears poised to enjoy a slightly higher valuation. With a current growth rate of around 80–90% and a slight premium, a post-tax profit of RMB 3.2 billion (USD 440.7 million) in 2023, matching a 30x price-earnings ratio, could reasonably value Luckin at RMB 96 billion (USD 13.2 billion). Even with a 20% discount due to low individual transaction liquidity, there's still room for a 20% increase compared to the current market value.
However, all good things come to an end, and the peak for restaurant stocks is transient. For Luckin, having crossed the midway mark of its rapid expansion phase (estimated to eventually stabilize at 20,000–25,000 stores), assessing an inflection point for valuation becomes critical. From a strategic standpoint, a decline in revenue from Luckin's older stores and a slump in its customer experience standards can indicate a phase of store saturation or intensifying competition. If this trend persists without improvement, the company might slow down its pace of new store openings, instead focusing on improving the profitability or sales volume of older stores.
A short-term analysis suggests that Luckin may still be undervalued, but the consistent decline in same-store revenue growth over two quarters requires vigilant observation.
A more detailed analysis is as follows:
Luckin is unambiguous with its store expansion ambitions
In 2023, Luckin's primary strategy remains focused on rapid store openings. With the successful execution of the "bring-your-own-store franchise model" and expansion into lower-tier cities, the year-end target of 10,000 stores was achieved by the first half of the year, with the target subsequently adjusted to 15,000 stores. In the third quarter, 2,437 new stores were opened, comprising 1,619 self-operated and 818 franchise stores, surpassing market expectations.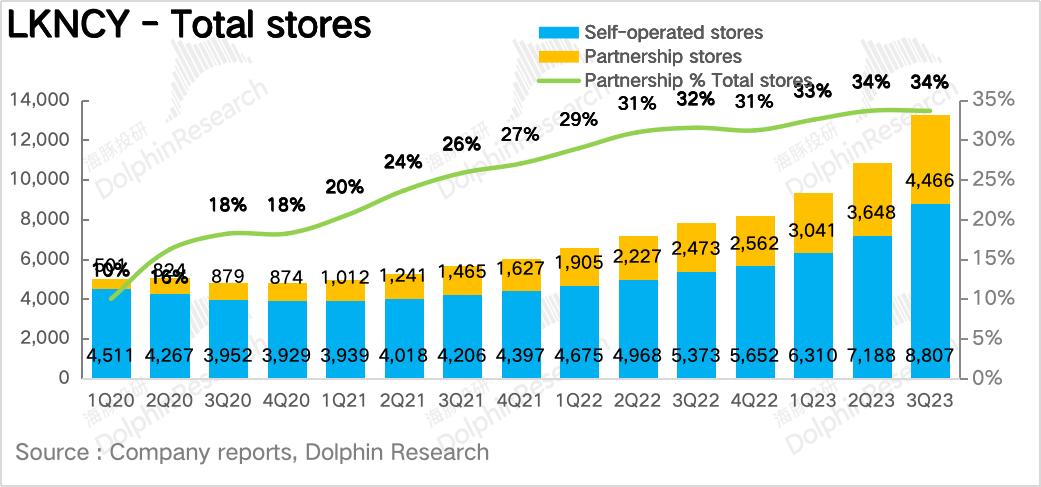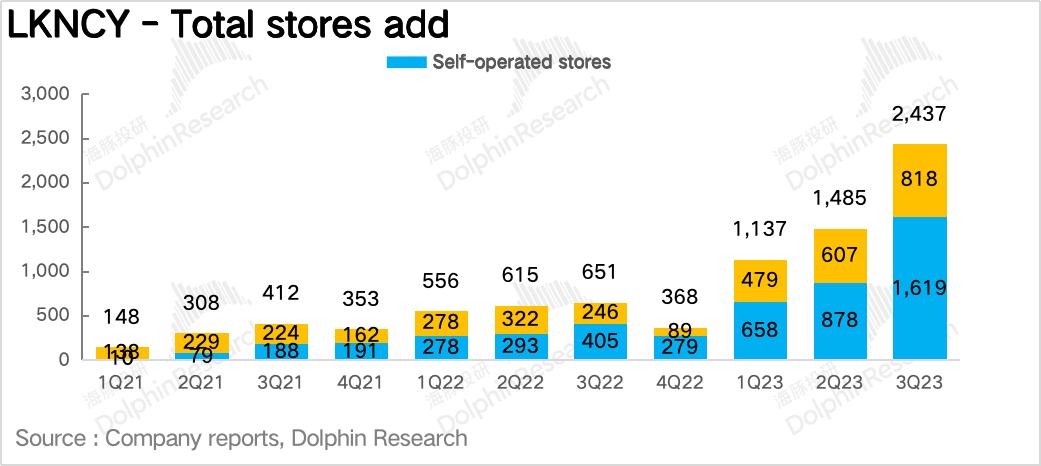 Luckin's popular products have attracted new customers
In the third quarter, the monthly average of paying users saw a net increase of 15.43 million, reaching 58.5 million people. Luckin, deeply rooted in tier-one and tier-two cities, has developed a relatively stable user base for its existing stores. Generally, if there is a substantial increase in the monthly average of paying users, the boost can typically be attributed to the opening of new stores, especially in the lower-tier market.
However, the ratio of third-quarter growth rate of paying users (133%) to the expansion of stores (69%) is significantly higher compared to the second quarter, indicating that, apart from the effect of the RMB 9.9 discount, the popularity of the campaign with Kweichow Moutai has likely drawn new customers to Luckin's existing stores.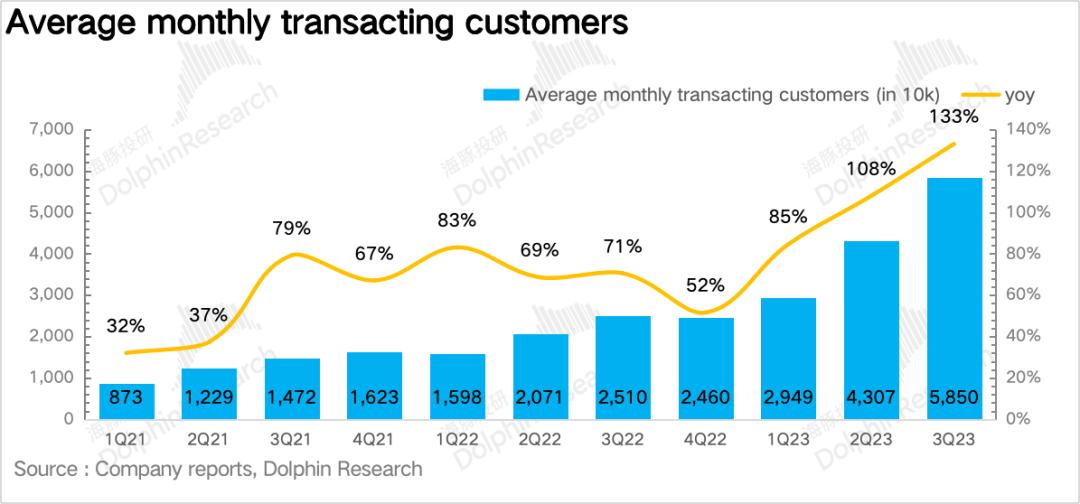 The declining performance of Luckin's existing stores warrants attention
Although the overall same-store sales growth of Luckin's older stores remained at 20% in the third quarter, the average performance of individual stores continued to decline by 6% compared to the same period.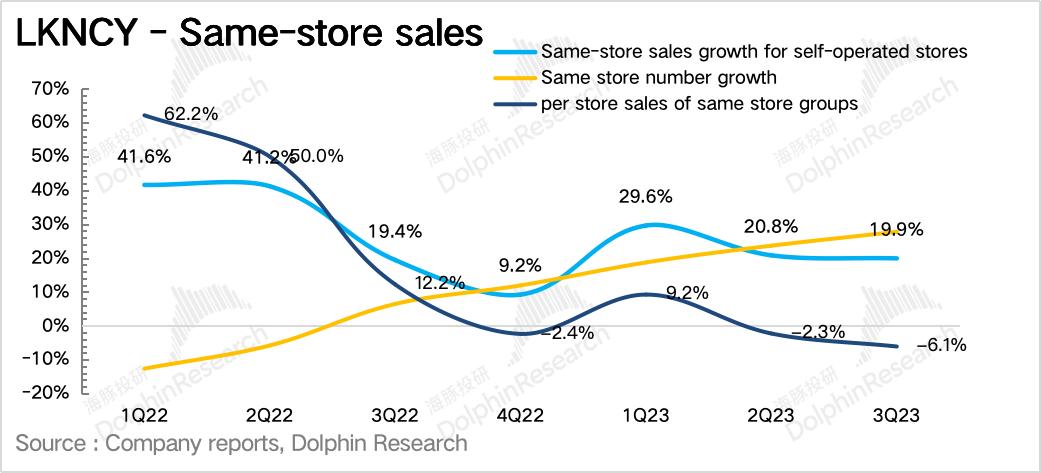 The declining performance of older stores is mainly due to intensifying competition or cannibalization. However, the 6.1% decline in Q3 isn't particularly substantial. Considering the diminishing threat of Cotti Coffee, the situation should not be overread and requires reevaluation in the fourth quarter. If the situation continues to worsen, it might be necessary to reexamine Luckin's store opening pace for the next year.
However, based on market predictions for Luckin to eventually expand to 20,000–25,000 stores, with its current store count at 13,000 and expected to reach 15,000 by year-end, it has already fulfilled a significant part of its growth potential. Even if competition continues to slow down, it's challenging for Luckin to maintain the same pace of store openings as seen this year. Where will the subsequent growth momentum come from? Can its user consumption frequency and average selling price be increased smoothly? These are the issues that Luckin's management needs to consider.
In the short term, Luckin is still in the sweet period of enjoying the dividends from store openings.
Opening new stores remains the core driver of Luckin's income growth
Luckin's total revenue in the third quarter was RMB 7.2 billion (USD 991.8 million), representing an 85% year-on-year increase and showing no apparent slowdown compared to the previous quarter. Notably, this is mainly driven by the 70% year-on-year increase in new stores.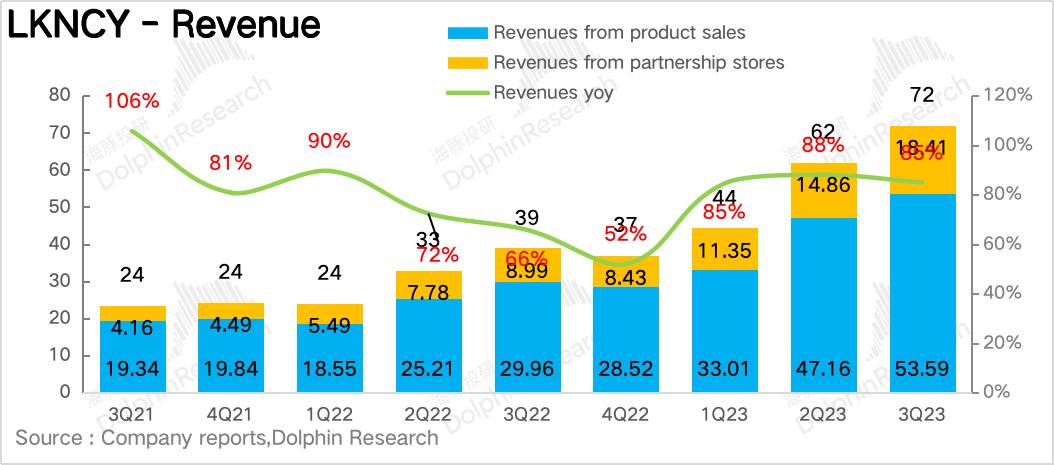 Specifically, due to Luckin's aggressive store expansion, its revenue growth from franchise stores is higher (105%), with self-operated store revenue growing 79%. At the end of May, Luckin introduced a new collaboration model for store franchising: bring_your-own-store. For store owners in the leasing phase or with possession of self-owned property, they are encouraged to join Luckin's franchise partner group in a cooperative manner, similar to the franchise approach utilized by convenience store chains. This model enables Luckin to penetrate the market at a faster pace.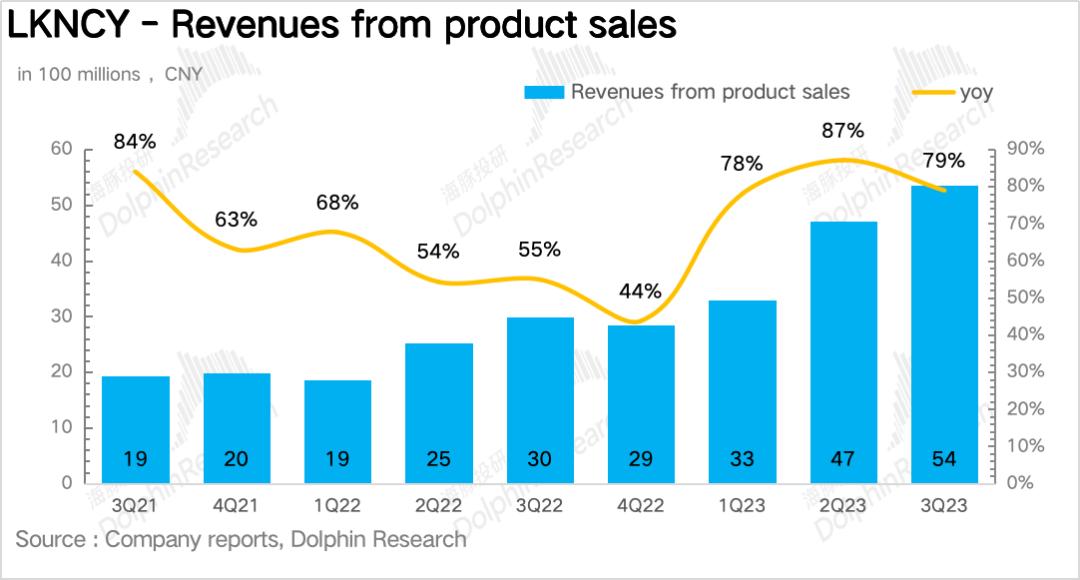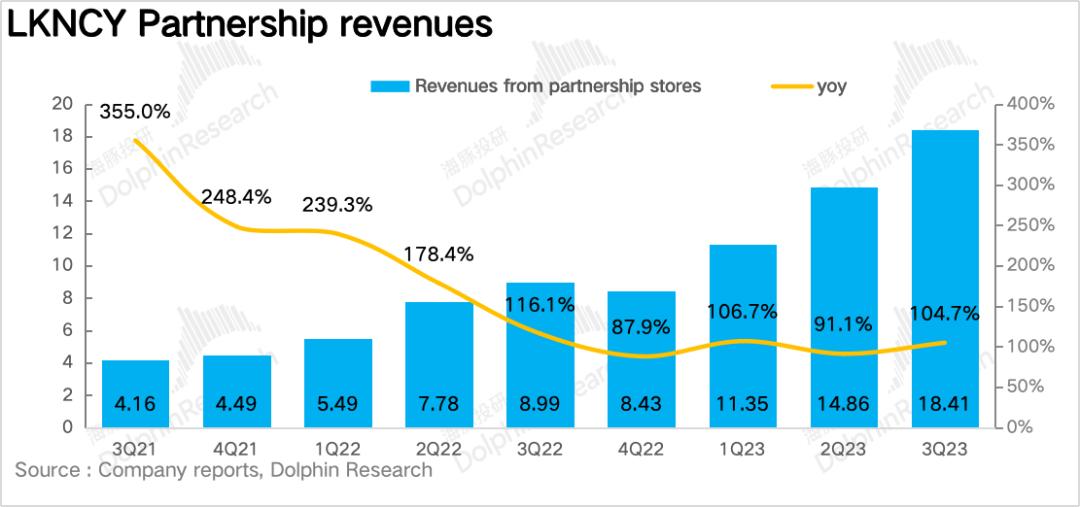 Luckin's low-price strategy weakens its short-term profitability
Q3 profitability for Luckin decreased quarter-on-quarter due to the low-price strategy it adopted to fend off competition. As material costs constitute a significant portion of its expenses and are inflexible, they inevitably compress the gross profit margin of its items. The overall gross profit margin for the third quarter was 36.2%, declining 5.6% compared to the previous quarter.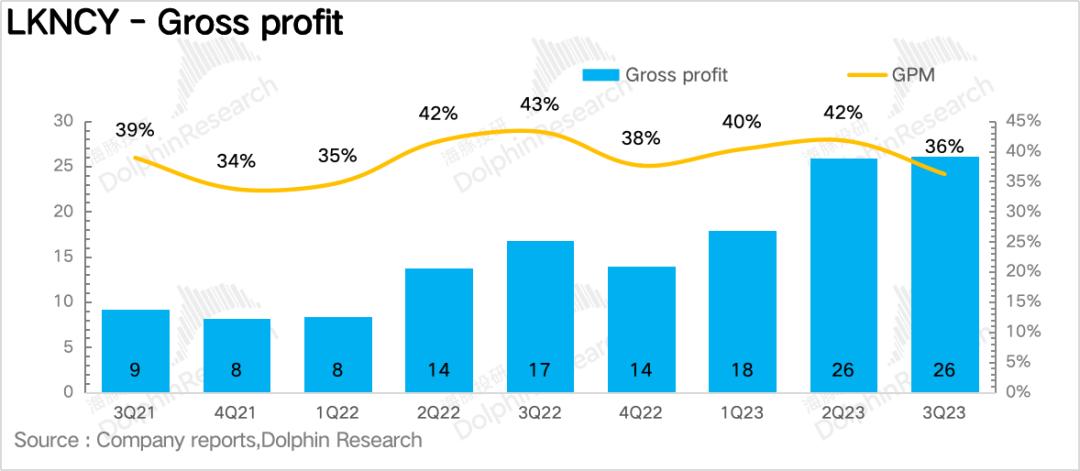 As Luckin can control pricing in all its stores, the impact of its low-price strategy is evident not only in self-operated stores but also in franchise stores. However, the sales volume of franchise stores is relatively lower, so the impact of the change in material costs is likely smaller.
According to Dolphin Research, Luckin's direct-operated gross profit margin for the third quarter was 39.5%, declining 6% quarter-on-quarter, while the franchise gross profit margin was 26.7%, dipping 3% quarter-on-quarter.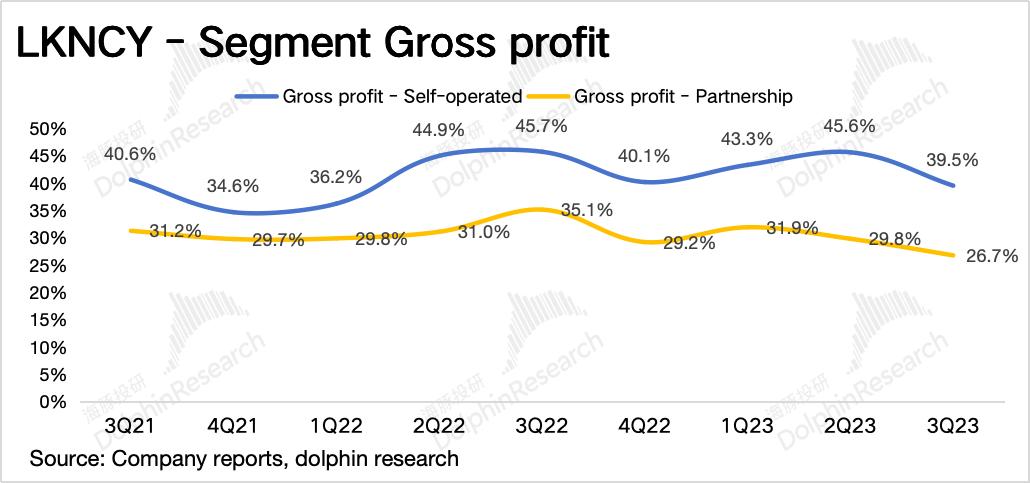 In terms of expenses, save for slightly higher marketing and promotion costs incurred this quarter, variations in other costs mostly align with income changes. Some areas still have room for improvement due to the scale of Luckin's expansion, such as management costs, which have seen a minor decline in the proportion to income this quarter. Therefore, the profitability of self-operated stores is basically consistent with the company's overall profitability, both weakening by the same number of percentage points quarter-on-quarter (6%).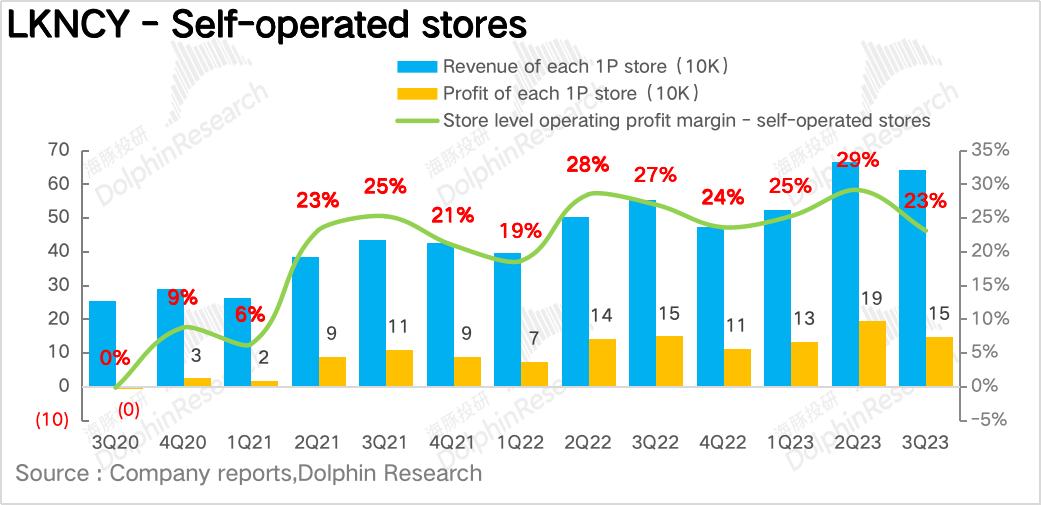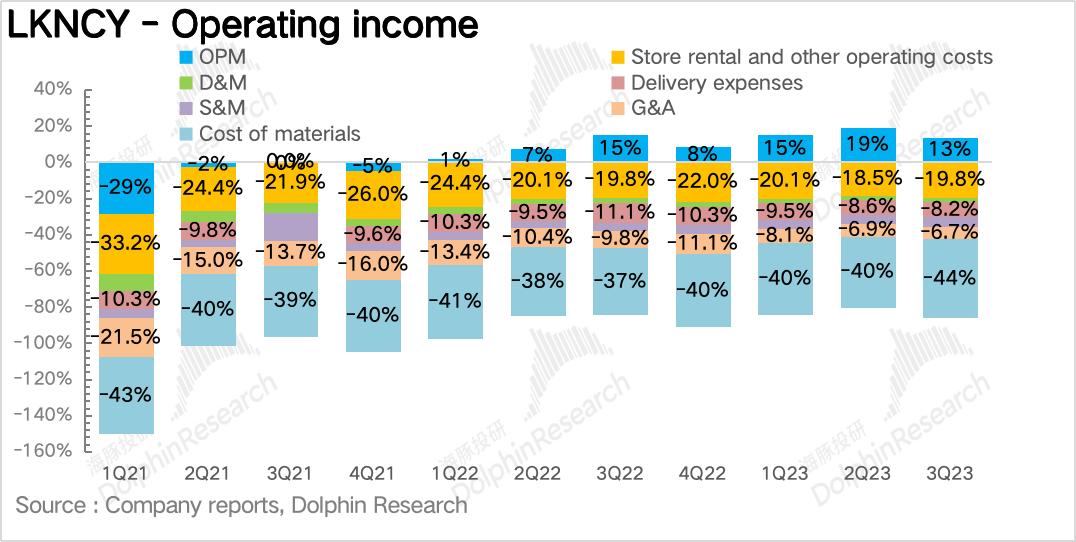 According to Dolphin Research, there is limited room for further optimization on the profit front. For Luckin, a company in the food and beverage industry, consistently achieving an operational profit margin of nearly 20% is already commendable. Any further improvements will likely depend on enhancing its product and brand quality, which could justify subsequent price increments. However, that would be an entirely different story with a distinct set of considerations.
This article was adapted based on a feature originally written by Haitun Jun and published on Dolphin Research (WeChat ID: haituntouyan). KrASIA is authorized to translate, adapt, and publish its contents.