E-commerce giant Amazon has begun the expansion of its food delivery service in the world's second-most-populous country.
The Seattle-headquartered company on Monday said that the service is now available across 62 neighborhoods of Bengaluru, where it had first kicked off the pilot in February 2020. It officially rolled the food delivery service in the city's select neighborhoods later in May.
Customers can order food from 2,500 hygiene-certified restaurants and cloud kitchens offering 48 different cuisines, Amazon said in a statement. Prime members get free delivery on all their orders, while other customers can pay a nominal delivery fee of INR 19 (USD 0.26) for their orders from Amazon Food, it added.
"Customers trust Amazon for all their unique shopping needs across categories. With the expansion of Amazon Food in Bengaluru, we continue in our endeavor to offer unmatched convenience and value while being a part of their everyday lives," said Sameer Khetarpal, director, Category Management, Amazon India.
Amazon had been planning to tap India's burgeoning food delivery market since 2019. At the time, it was exploring different avenues to enter this segment including building its own food delivery platform from the ground up and launching it through its own grocery delivery platform; partnering with existing services; investing in cloud kitchen firms.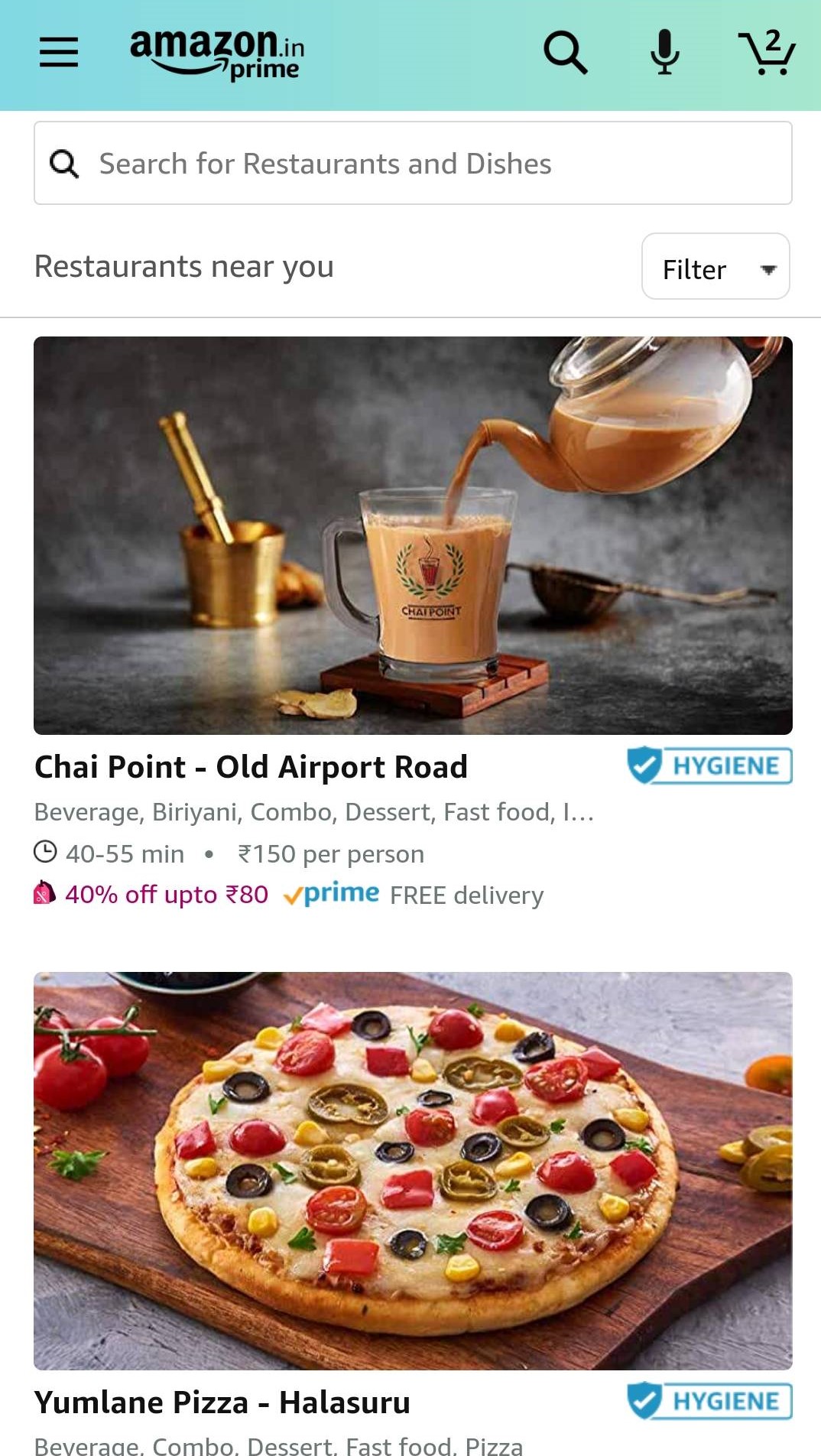 Initially, it was reportedly set to roll out the food delivery platform in late 2019, but those plans got delayed. In the meantime, the competitive landscape in the country changed, when homegrown mobility major Ola exited the food delivery business, and Alibaba-backed rival Zomato bought UberEats, the food delivery arm of cab-hailing titan Uber for USD 350 million. This made India's soon-to-be USD 12.53 billion online food delivery industry a duopoly, with Zomato-UberEats leading the space, closely followed by Naspers-backed Swiggy.
By the time it launched its first pilot in February last year, the pandemic scare had begun in the country. A month later, India went into a two-month lockdown to contain the COVID-19 spread, delaying the company's plans further to enter the food delivery space.
However, Amazon looked at it as an opportunity. It officially launched its food delivery platform in May last year when the incumbents' demand had nose-dived with people avoiding ordering food from outside.
To get leverage over the existing players, Amazon reportedly offered dirt cheap commission ranging between 10% to 15% from its restaurant partners to compete with the existing leaders—Swiggy and Zomato. To put this in perspective, Zomato and Swiggy's commission range between 18% to 40% of the order value depending on different parameters.
The demand for online food delivery bounced back later last year. Over the past few months, both Zomato and Swiggy have been trying hard to cut down on discounts and offers to chase profitability and positive unit economics. However, with a new deep-pocketed competitor in the market asking for a cut-throat commission rate, the duo might have to rely on discounts and other promotions to keep their customer base safe.