Alibaba Group Holding's shares rose in early trading on their Hong Kong market debut after the Chinese technology company completed the world's biggest stock offering this year.
The shares changed hands at HKD 188.10 (USD 24.03) at noon local time, a premium of 6.9% over its offer price of HKD 176. They earlier rose to as high as HKD 189.50. The increase follows a 2% rally in its New York-listed shares to USD 190.45 on Monday.
If sustained, the gain will rank among the best first-day performances involving the biggest IPOs in the city since 2005, after AIA Group (17.1% ), Bank of China (15.3%), Industrial and Commercial Bank of China (14.7%) and China Unicom (8.9%).
The Alibaba listing comes as a shot in the arm for Hong Kong at a time when the city is seeking to rebound from its worst political crisis in history, with the economy in a technical recession. The local bourse has recouped some of the losses since its worst drubbing in four years last quarter, and companies including Budweiser Brewing Company APAC have revived and completed their stock offerings to help the exchange climb to the top of global IPO league table this year.
Financial Secretary Paul Chan Mo-po and Hong Kong Exchanges and Clearing chairwoman Laura Cha Shih May-lung, attended the listing ceremony. Alibaba chairman and chief executive Daniel Zhang, executive vice-chairman Joe Tsai, and chief financial officer Maggie Wu were also present, while founder Jack Ma delivered a video message preceding the debut.
"The listing of Alibaba today is a milestone," Charles Li Xiaojia, HKEX's chief executive, said before the trading. "It is better late than never. It needed to wait for five years but finally, the company is listing here and we see a family member finally coming home."
Alibaba, which operates the Taobao and Tmall online trading platforms, made its primary listing in New York in September 2014 as HKEX's restrictions on companies with unconventional voting rights scuppered its plan. That USD 25 billion offering still stands as the largest IPO globally.
In the secondary listing in Hong Kong, Alibaba raised HKD 101.2 billion (USD 12.9 billion) by selling 575 million new shares to investors. The deal surpassed Uber Technologies' USD 8.1 billion offering in May, and represents the largest in Hong Kong since insurance group AIA's HKD 159 billion raised in 2010.
Mainland institutional investors and fund houses have emerged as a "buying force" by taking up about one-third of the international tranche in Alibaba's offering, according to a company official. The retail portion was oversubscribed by about 40 times, brokers said.
"I want to give a vote of thanks to our customers and I also want to give a vote of thanks to Hong Kong, which changed its listing rules so that we can return home to list here," Zhang said at the listing ceremony.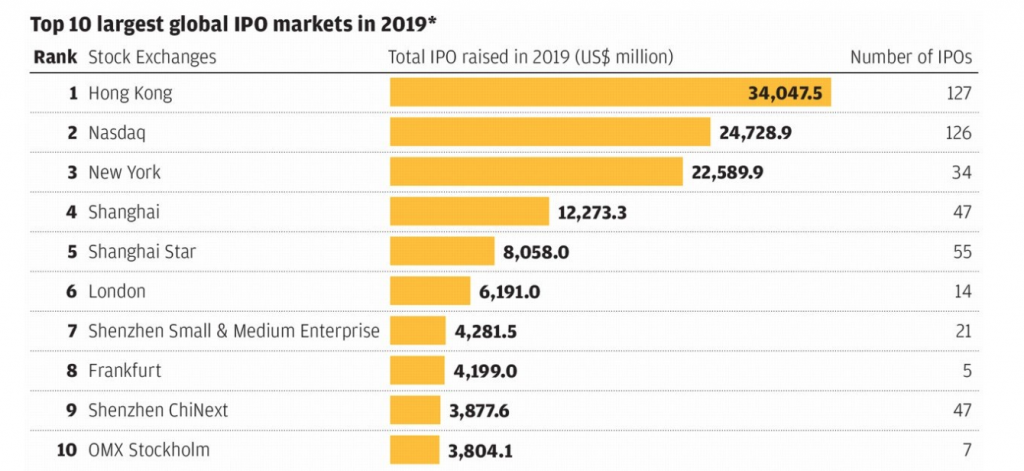 With the listing, the Hong Kong exchange has climbed to the top of the IPO league table. Companies have raised USD 34.05 billion from share sales this year through November 21, outpacing the volume on Nasdaq and the New York Stock Exchange, according to data from Refinitiv.
Alibaba's shares may have more upside if investors closer at home are willing to pay a higher valuation accorded to other technology companies, according to Eastspring Investments. Alibaba traded at 26 times current earnings in New York, versus 86 times for Amazon, according to Bloomberg data. In Hong Kong, Tencent Holdings traded at about 30 times.
"Alibaba might be hoping for a higher valuation multiple being given to the company as we have seen previously that mainland Chinese retail stock investors are more than willing to pay a higher premium to invest in stocks that they are bullish on," said Ken Wong, client portfolio manager for equities, wrote in a research note.
Louis Tse Ming-kwong, managing director of VC Asset Management, expects Alibaba's shares to trade in a range of HKD 170 to HKD 185 in the near term. The long term outlook will depend on whether it can become a constituent member of the benchmark Hang Seng Index, or join the Stock Connect schemes, he added.
Alibaba and other companies with so-called weighted voting rights will not be able to join the Hang Seng Index until at least May next year at the earliest, according to index compiler Hang Seng Indexes chief executive Vincent Kwan Wing-shing. Results from its first-quarter consultation on index membership are likely to be announced in May.
This article first appeared on the South China Morning Post.