Alibaba's chief executive officer (CEO) Daniel Zhang today announced to officially merge Ele.me and Koubei, creating a new on-demand life services platform under its wings as the e-commerce behemoth is pushing towards China's fast-growing on-demand market.
Wang Lei, a partner at the Alibaba Group and chief exec at Ele.me, has been appointed president of the new entity, while Fan Chi, Alibaba vice president and head of Koubei,  will continue to lead the business.
This new entity claims to operate in a combined 676 cities, serving up to 3.5 million merchants. Presently, the Ele.me business has a food delivery fleet of 667,000 while Koubei, on the other hand, has an MAU (monthly active users) of 167 million.
Counting backers like Alibaba and SoftBank, it has a pledged war chest of more than US$3 billion. Despite the merger, both Ele.me and Koubei will continue running their businesses independently. Wang told Chinese biztech media 36Kr – KrASIA's parent – that fundamentally Ele.me and Koubei are two different brands, but this merger is done primarily to explore possible synergies to boost user traffics.
Ele.me will focus on bringing food to users' doorsteps and Koubei is taking users to the offline stores.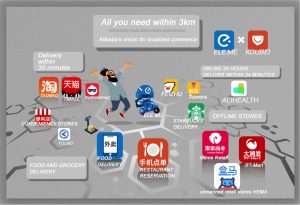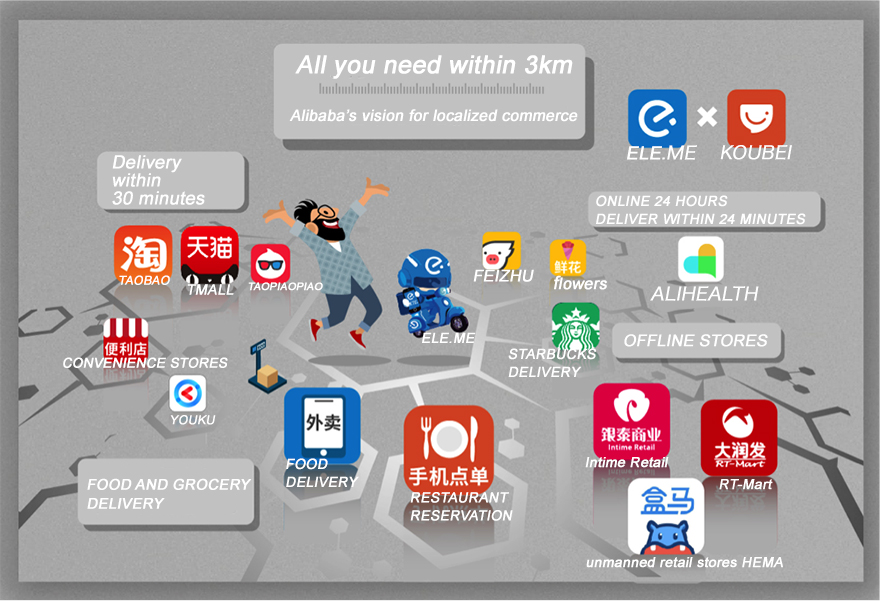 These synergies could be what Ele.me is after, even as it continues to play catchup in China's food delivery space. HK-listed Meituan-Dianping's success with China's food delivery, after all, began with a mashup of Groupon & Yelp-like services, and this strategy might just work out for this new entity.
One thing is certain: this new platform is out to compete with Meituan-Dianping who sees itself as a platform provider for people to eat better and live better.
Below is the internal letter that Alibaba CEO Daniel Zhang circulated to employees announcing this new entity.
Dear Aliren,

In the last 19 years, Alibaba Group has captured the enormous opportunity bestowed upon us by the Internet era, and created a unique, highly vibrant and innovative digital economy. This is a historical opportunity, one that everyone has contributed solid efforts towards a standard of excellence. Thank you everyone for your hard work and wisdom.

Today, we're welcoming an important moment. I am announcing that following the productive rewards reaped from 'new retail', we are putting together a new unit: Alibaba Group has decided to establish an local lifestyle and services company.

The local lifestyle and services Company was created from the merger of Ele.me and Koubei. Previously, the two firms revolved around food, specifically with regard to two main areas, takeaways and restaurants, servicing both consumers and merchants, and the results were apparent. Currently, Koubei and Ele.me are in 676 cities serving 3.5 million merchants. The establishment of 'Ali Local Lifestyle and Services Company' is the triumphant result of Ele.me and Koubei joining forces. It will build a leading local lifestyle and services platform — this is also an important milestone in Alibaba Group's strategy toward big consumption trends.

As today's society moves toward 'new retail', 'new finance', 'new technologies', 'new energy', and 'new manufacturing', fusing these things together to create a digital economy, the local lifestyle and services company's goal is not merely to expand on the food and beverage industry, but to carry an even greater mission — to redefine urban life, making life more wonderful and convenient.

In the future, the new entity will pull off more synergy with the Alibaba ecosystem companies. In 'new retail', membership systems, marketing, logistics, finance, and other areas, revolving around urban life, there will be endless possibilities to imagine, eventually bringing digitization to every facet of everyday life.

The new company will see Wang Lei as the President reporting directly to me. Fan Chi will continue to lead Koubei, reporting to Wang Lei.

It is our mission to make it easy to do business everywhere. Let us make the world an even more wonderful place. Let's work hard together!

Zhang Yong

CEO of Alibaba Group

October 12, 2018
Editor: Ben Jiang