At this year's World Artificial Intelligence Conference (WAIC) in Shanghai, Alibaba Group Holding founder Jack Ma spoke on stage at the opening ceremony. But not in person – he appeared as a holographic projection at the event on July 9, which took place mostly online amid the coronavirus pandemic.
The day after Ma's speech at the conference, shares for a relatively obscure Chinese company nearly quadrupled in price on the Nasdaq. Alibaba owns the South China Morning Post.
WiMi Hologram Cloud, which began trading in New York on April 1, closed at USD 14.63 per American Depositary Share on July 10, compared to USD 3.84 the day before. Prices peaked at USD 24.74 on July 13 before coming down to USD 17.99 on Thursday – still far higher than before the conference.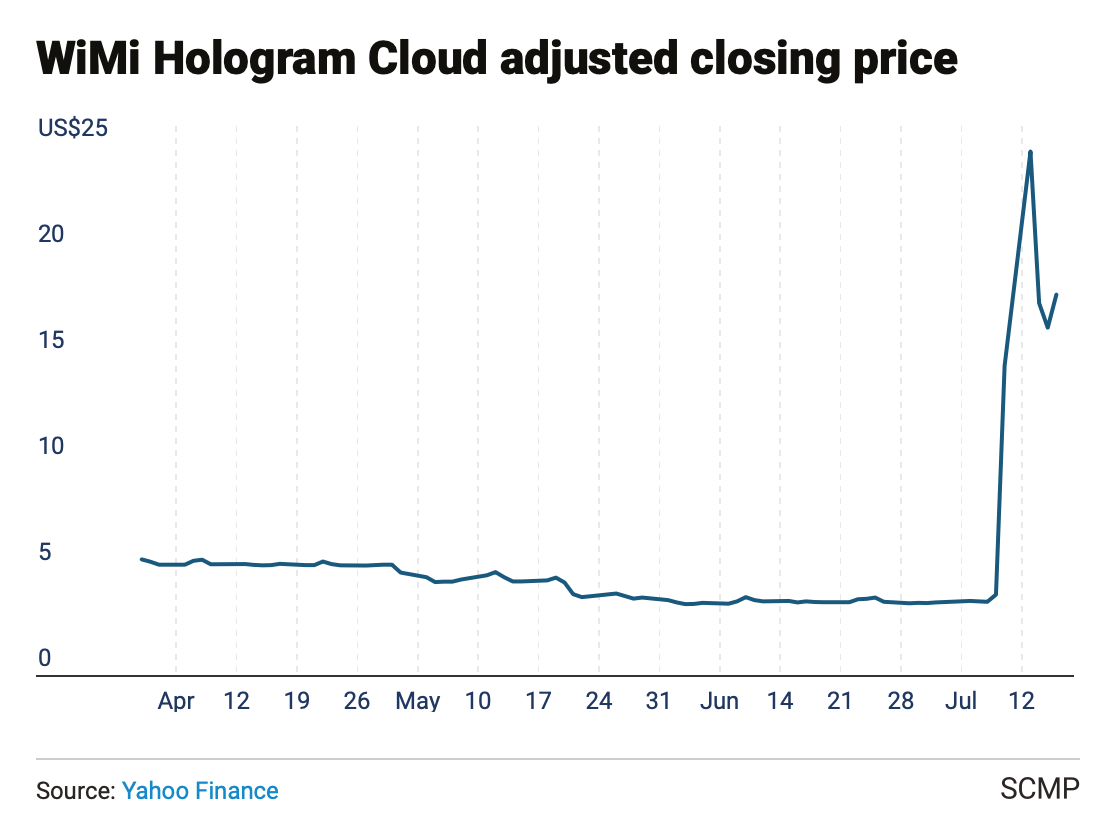 WiMi, a small company with just over a hundred employees, said it had no explanation for the sudden spike.
"We don't know the reason," chief financial officer Yang Yanghua told the Post in an interview at the company's Beijing office.
"Tech stocks in the capital markets of China and the United States have been appreciating recently, and we were just one of them," he said, adding that the company did not proactively seek to associate itself with the WAIC, and some of the conference's suppliers just happened to be using its technologies.
A press release attributed to WiMi and published online in the early hours of July 10, about the potential of holographic technologies in the age of 5G, appears to have contributed to the investor excitement.
The statement said that "Jack Ma, founder of Alibaba, and Elon Musk, co-founder and CEO of Tesla, held a conference via video link via holographic projection" at the WAIC. In fact, Ma appeared as a holographic projection but Musk delivered his speech in a video message.
Yang said the press release was not from WiMi, even though a search of the media contact listed on the release shows that it is associated with multiple press releases about the company. Calls by the Post to the contact number listed on the press release went unanswered.

Yicai – the WAIC's strategic media partner – developed the holographic technology itself, said a source from the Shanghai-based financial media outlet who did not want to be named.
Other speakers at the event such as Stephen Schwarzman, the CEO of investment firm Blackstone, and SAP chief executive Christian Klein also appeared via holographic projection.
"There's no news specific to WiMi to explain the drop, but then again, there wasn't much fundamental reason for the stock's previous rise, either," investor Jon Quast wrote in an article for Motley Fool about WiMi's price decline this week.
Beijing-based WiMi, founded in 2015, specializes in "computer vision holographic cloud services", according to its website. Most of its income comes from advertising, and the company said its holographic augmented reality (AR) advertising services accounted for 84% of its total revenue for 2019, bringing in USD 38 million in total.
But Yang stressed that WiMi was "not an ad company, but instead a software and technology service provider".
Holographic AR involves the projection of three-dimensional animations against real backdrops. For example, the technology can be used to embed holographic images in films to replace actual props during shooting.

Holographic imaging has been around for years. For example, iconic Taiwanese singer Teresa Teng, who passed away in 1995, was "revived" in a 2013 concert using technology by special effects studio Digital Domain.
Shares of the Hong Kong-listed company also gained as much as 26.5% on Monday, the first trading day after WAIC closed, indicating renewed interest in the technology.
The global AR market is projected to grow nearly 70% annually to reach RMB 287 billion (USD 41 billion) by 2024, according to Qianzhan Industry Research Institute. Chinese tech giants including Tencent Holdings, SenseTime, and Alibaba are among those developing products in the sector.
But real-world applications of AR have remained fairly limited, according to Liu Kuang, an angel investor who blogs about AI and investment on his WeChat page, Liukuang110.
"AR isn't like AI that extends neural functions, nor is it like cloud computing that is capable of data processing," Liu said, adding that applications for the technology remain mostly limited to entertainment and advertising.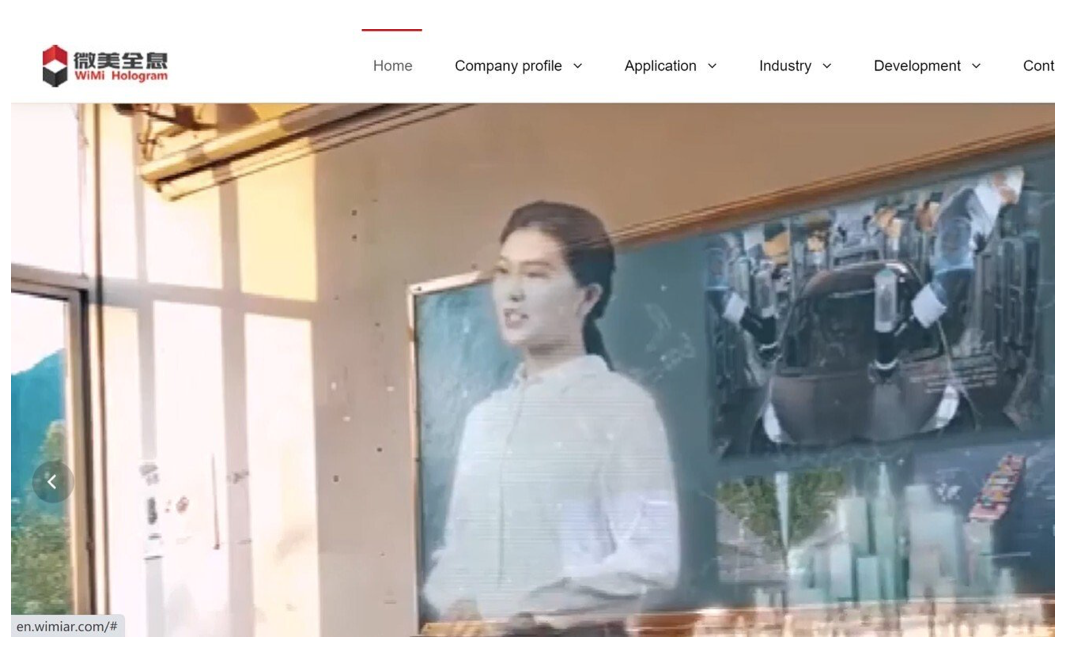 Still, WiMi chief executive Meng Fanhua told news portal Sina in April this year that he felt the technology had a long and promising future. Despite the company's listing happening during a global health crisis, "going public is just the beginning", he said in that interview.
Even though WiMi's market capitalization is now much higher than before, at USD 1.06 billion compared to USD 326 million on its first day of trading, CFO Yang said the company was not too concerned about its share price.
Holograms will be an important application of next-generation 5G networks, and WiMi's commercial value "will emerge in three to five years" when 5G technology matures, Yang said.
This article was originally published by the South China Morning Post.