The Singles' Day retail race has come a long way. It has evolved on multiple fronts to accommodate customer preferences and technical limitations. As the event is tweaked and redefined by China's e-commerce giants each year, the dash for marked-down goods demonstrates how consumers in the country are also changing their spending behaviors. This year, on Alibaba's platforms, RMB 498.2 billion (USD 74.1 billion) worth of goods were bought and shipped over an 11-day period that ended on November 11.
Here are five key trends for China's online shopping sector that emerged in 2020.
Double 11 GMV lags behind mid-year sales for the first time
While the annual Singles' Day sales bonanza—the brainchild of Alibaba (NYSE: BABA; HKEX: 9988)—is recognized as the largest online retail event in the world, this year's June 18 sales festival, also known as 6/18, racked up a higher gross merchandise volume (GMV).
There are several reasons that led to this outcome, chief among them June 18's sales lasting for a longer period. Alibaba's run lasted for 21 days, from May 29 to June 18. JD.com (NASDAQ: JD; HKEX: 9618), which created the June 18 festival to coincide with the company's founding date, kicked off its program on June 1 and carried it until June 18.
For November 11, however, both companies ran promos between November 1 and 11.
Read this: TECH PANO | Singles' Day signals China's post-pandemic economic recovery

The June 18 festival was the first major consumer retail event after lockdowns were lifted in mainland China. With international travel suspended—Chinese travelers spent USD 255 billion overseas in 2019—online merchants soaked up some of this cash at home. In particular, 73% of luxury purchases by Chinese consumers were made abroad in the past years.
Also, dozens of cities, including Beijing and Wuhan, gave out vouchers via e-commerce platforms like Taobao, JD.com, and Suning to stimulate consumption in the second quarter. Ahead of the June 18 mid-year sales, Alibaba released in total RMB 14 billion (USD 2.12 billion) worth of vouchers to boost the sale event on its online marketplace Tmall.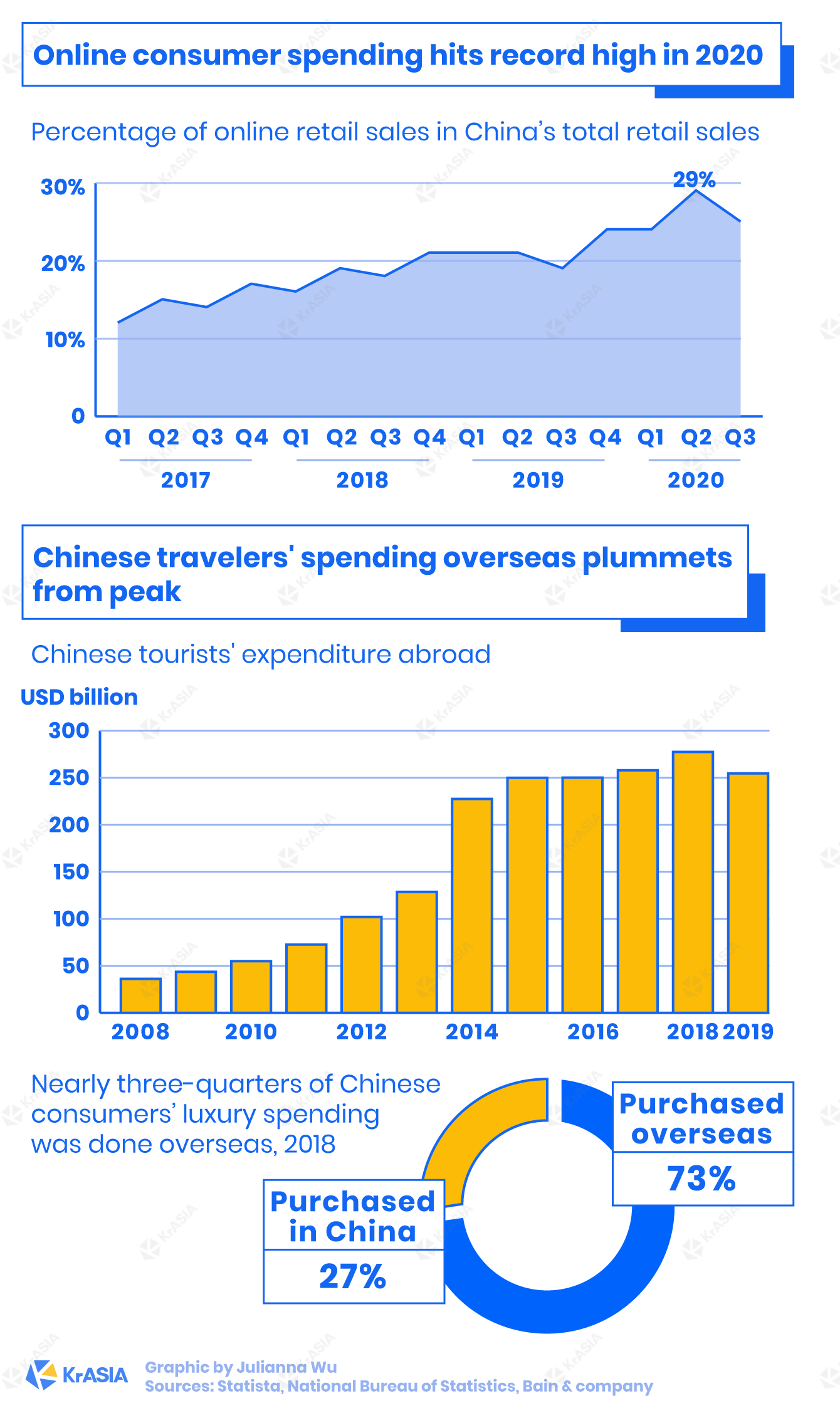 More platforms, and more days to shop
2020 has been a year where many merchants went online to buoy sales after lockdowns dragged down brick-and-mortar commerce. Jiang Fan, president of Taobao and Tmall, said that more than 5 million merchants participated in this years' shopping festival, marking a new high.
Companies aside from the mainstays like Alibaba, JD.com, and Pinduoduo hosted their own sales festivals in November. In particular, short-video platforms Douyin and Kuaishou, as well as question-and-answer site Zhihu went all in, each giving their own spin to the annual retail rush.
Alibaba extended its run from one day to 11 days this year, while newcomer Douyin's promotion started on October 25 and lasted until November 11, generating RMB 18.7 billion (USD 2.8 billion) in GMV.
Zhihu doubled its GMV from June 18, although the company did not reveal exact figures.
Alibaba outsells JD.com in June, but JD.com grows faster in November
Alibaba logged USD 99 billion in sales for its June 18 festival, stealing the thunder of the event's progenitor, JD.com, which hit USD 38 billion in GMV during its 18-day run.
JD.com saw a slight uptick for its 11-day Singles' Day sales, generating USD 40.9 billion in sales, about 34.6% more than in 2019. Alibaba's growth remained at a historical low of 26%.
Zhuang Shuai, founder and CEO of Beijing-based Bailian Consultancy, told KrASIA that JD.com has been closing the gap with Alibaba during Singles' Day by facilitating smoother logistics, alleviating the pressure to make purchases on a single day, and maintaining better customer satisfaction.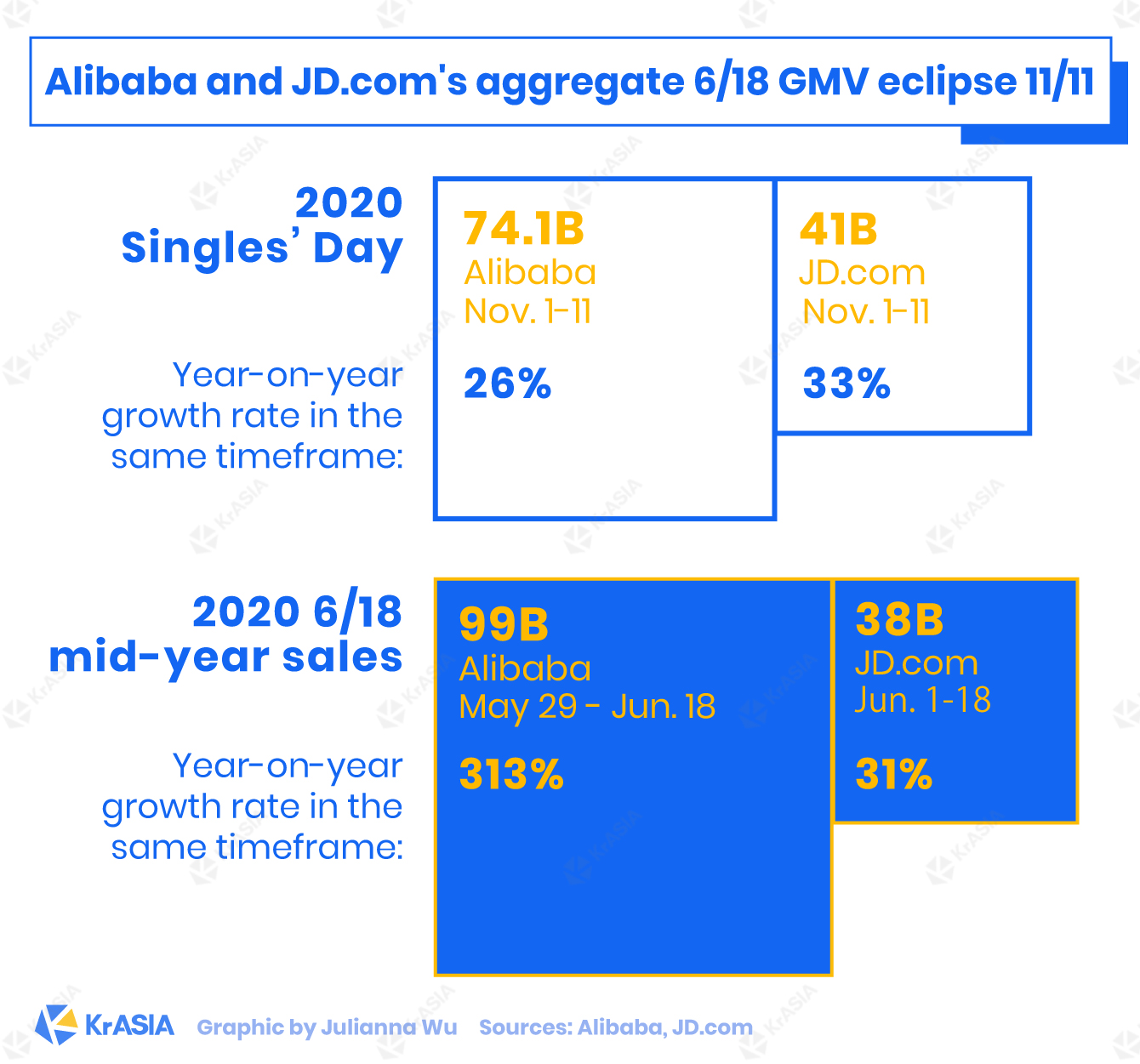 Livestreaming gains momentum, but some cast suspicions on sales numbers
Livestreaming e-commerce has been around for a while, but let's call 2020 the year when the format truly took off.
"Livestreaming has become an indispensable marketing tool, with over 30 livestreaming channels featured on Taobao Live that each generated more than RMB 100 million in GMV," said Alibaba in their press release. According to local media Caijing.com, there have been more than 60,000 livestreamers selling various products on Taobao Live each day since the Double 11 presale period in October.
China's top streamers, Li Jiaqi, and Viya, are estimated to have raked in sales worth nearly RMB 4 billion (USD 610 million) on the first day of their livestreaming shows for Singles' Day sales, according to the same media report.
However, some observers have cast doubt on claims of record-breaking performance by livestreamers, accusing some streamers of using bots to increase the viewer count and even faking sales numbers, according to findings from an investigation by the China Consumers' Association (CCA) conducted released last week.
"There's a pipeline for fake viewership numbers and sales data for livestreams," the association's report said. After Alibaba and JD.com's Double 11 events, the CCA received more than 330,000 complaints about livestreaming e-commerce, mainly covering fraudulent sales volume and poor after-sales service.
Shoppers are also concerned about poor customer service after making purchases from livestreamers: "A considerable number of businesses only focus on traffic accumulation and sales expansion, and do not have a corresponding after-sales service system," said the association's report. "The responsibilities of merchants and anchors are not clearly defined. When encountering after-sales problems, they 'kick the ball' to each other."
Overloaded couriers scrap door-to-door deliveries
Aside from JD.com's logistics arm and SF Express, most couriers no longer dropped off parcels at their intended destinations this November, drawing ire from some customers.
Many customers whose purchases were shipped through Cainiao, Alibaba's budget logistics service, had to line up at pick-up points to retrieve their packages. The reason for this arrangement remains unclear, although the low shipping fees and torrent of shipments may have contributed to this outcome.
In China, many online vendors sell their products with free shipping and cut costs by utilizing extremely cheap delivery services. Also, couriers had to handle more than double their usual workload to manage deliveries related to Double 11, according to data from the State Post Bureau.