The Jakarta Legal Aid Institute (LBH Jarkata), an NGO that supports citizens' rights, has filed a complaint with the Indonesian Financial Services Authority (OJK), signed by more than 1,300 people claiming that they have been the victims of unethical debt collecting methods.
Jeanny Sirait, a spokeswoman from the legal aid group, LBH, told KrAsia that consumer complaints include violations such as dissemination of personal data, intimidation, and even verbal sexual harassment.
According to Sirait, 1,330 complaints were submitted by the end of November, but new complaints are coming in every day.
The booming online lending industry in Indonesia has meant regulators had to spring into action to form a system for oversight and sanctions.
All online lenders must be registered with the OJK and adhere to a code of conduct prepared by the Indonesian Fintech Association. Companies which fail to register are blocked, and those in violation of the code of conduct will be subjected to fines.
OJK has already banned more than 400 platforms that failed to register, which means their websites and apps are no longer accessible. Some of these banned lenders did have shady debt collecting practices, as KrASIA and other media outlets have reported.
What makes the current situation messy is that of the 87 companies implicated by LBH, 25 are actually registered and legal and therefore supposed to be playing by the book.
The companies got called out include pioneers in the P2P lending space, as well as newcomers. According to an OJK document we obtained, the regulator is giving these 25 companies until December 19 to provide data on all outstanding debt collection processes: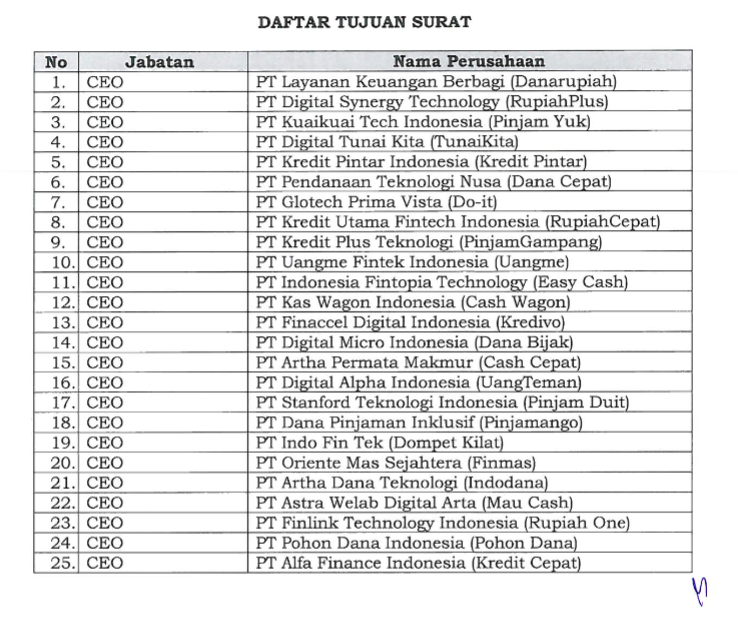 OJK says it's not responsible for following up on those firms not registered by it, and that LBH must report those to the police instead. LBH insists it does fall under OJK's responsibility to supervise all fintech firms, including unregistered ones, and that it would sue the regulator if it failed to live up to its duty; which means this dispute could turn into a protracted legal battle.
Indonesia's current administration and the OJK are keen to establish a flourishing online lending industry, as it's seen to be able to improve financial inclusion and address Indonesia's US$57 billion credit gap, which mostly affects small and medium businesses. Kuseransyah, the managing director of Indonesia's Fintech Association, recently told KrASIA that OJK wants to grow the number of registered online lenders from just over 70 now to 200 by the end of 2019.
On the flip side of P2P lending's potential to help small businesses and individuals in need, is that easy access to loans also gave rise to fraudulent borrowers and, no doubt, debt collection practices that are on the edge of what's considered ethical, if not downright illegal, as LBH claims.
Online lending practitioners have told KrASIA that Indonesia's young P2P lending space currently sees a high number of attempted fraud cases where people apply for multiple loans with different IDs. That's in part because the underlying technological infrastructure like digital ID and credit scoring are still underdeveloped.
Sirait points out that LBH's case is not about borrowers who are looking for convenient ways to weasel out of their debt.
"We (LBH) make sure that victims who come to us have good intentions to pay back their loans. These complaints don't invalidate their obligation to pay back the loan," she said.
With additional reporting by Khamila Mulia.
Editor: Ben Jiang
Updated on Wednesday, December 19 to include the names of all 25 OJK-registered companies implicated by LBH's complaint.