Like, a Singapore-headquartered short video app that lets you overlay video clips with music and effects is shooting to popularity in Indonesia.
It's now among the top ten apps in the Indonesian Play Store. The platform claims to have more than 50 million users in over 200 countries since it was founded in 2017.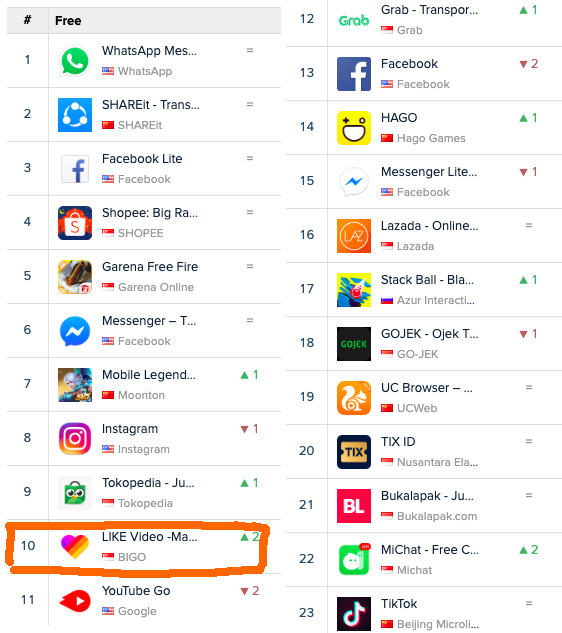 Its app rank in Indonesia has, for the moment, overtaken that of the much talked about TikTok, a very similar app whose global popularity is surging as well. (Play Store rank reflects a number of factors such as total downloads and download growth. They do fluctuate quite a bit but give a general sense about which apps are trending in one country.)
TikTok belongs to the Chinese firm ByteDance. With an enormous USD 75 billion valuation it's considered the most valuable startup in the world.
Like has Chinese parentage too–through its parent Bigo, which is owned by the Chinese social giant YY. YY debuted on Nasdaq in 2012, while ByteDance is still gearing up for its IPO.
YY's revenue shot up 36% to USD 2.3 billion in the last year and its outlook is considered to be strong, not least because it also owns a Twitch-like gaming platform, Huya, which is big in China but hasn't taken off in Southeast Asia yet.
ByteDance, with its IPO plans, tends gets more attention at the moment, but YY is a quiet force to be reckoned with. It has consistently proven its ability to create viral apps that take off in massive markets like Indonesia.
Bigo was all the rage in Indonesia and the rest of the region just a few years ago. However, the hype around it has worn off, and the live video format was prone to getting into trouble for sleazy content. But even before debuting the more vanilla short video format Like, YY had already put another workhorse in this market: Hago, a social gaming app that joined Bigo as one of the top-ranked apps in Indonesia's Play Store and managed to stay there for years. It's also one of the top money-making apps in the country.
In India, YY's apps are also among the top performers alongside ByteDance's. While ByetDance still has to prove that it can create apps that stay relevant for a long time in markets outside of China, YY has already done so.
Editor: Khamila Mulia