While Allen Mariano, a licensed engineer, waited to get a call back from the jobs he applied for in late 2020, he took advantage of his free time to learn a new skill—stock trading. Like millions who suddenly found themselves unemployed amid the pandemic, the 25-year-old saw the need to have an income-generating activity aside.
"I watched YouTube videos that taught stock investing, both from local and international trading platforms. I also read e-books," he said. In February, after months of study, Mariano traded through an online platform for the first time: "After a month, I earned 3% of the money I invested. I'd say it's not bad for a newbie."
Mariano is part of the young, tech-savvy crowd of millennial retail investors on the Philippine Stock Exchange (PSE), who have been holding the fort as it suffered from an exodus of foreign investors. Last year, locals accounted for 55% of the daily average trading volume totaling PHP 7.35 billion (USD 150 million), a 10% jump from 2019. At least a quarter of that volume, or PHP 1.08 billion (USD 22 million), was from retail investors like Mariano.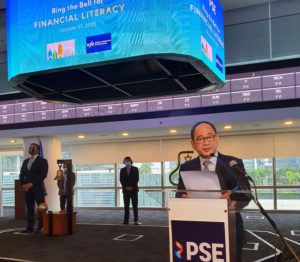 Since the start of 2021, the exchange recorded an even bigger increase. "Retail investors now make up 47% of the average local trading volume, or PHP 5.6 billion (USD 120 million)," said PSE president Ramon Monzon. "That's a fivefold jump." At least 90% of these retail investors trade online.
Jerome Javier is one of the thousands of Filipinos that are on board with the trend. Javier began trading during his senior year at university after his godmother told him about the potential to increase his savings. While he scoured clinics in the Philippines to finalize deals for a pharmaceutical company as a medical representative, he juggled buy and sell orders on his smartphone in between breaks. "There were times I'd be late to appointments just to finish a trade on my phone," he said.
Javier would do this for two years until he quit his lucrative corporate role to become a full-time trader in 2019. "It was a Eureka moment for me," Javier said, now 26. "I can earn with a single click, without having to work 9 to 5."
A new crop of traders
At COL Financial, the largest online trading app in the Philippines, the number of new accounts tripled in 2020, compared to the year before. The firm is cultivating a new crop of traders as one of the first platforms to allow Filipinos to start with as little as PHP 5,000 (USD 100) in initial capital. Founded in 2001, it now caters to over a quarter of the retail investors in the country.
More recently, a new player called Investa is attracting an entirely different audience. The app, founded in 2015 under the name of Investagrams by three stock enthusiasts in their 20s, only allows virtual trading. With the tool, users can experiment without risking actual money, create virtual portfolios and discuss them with like-minded people.
"My cofounders and I started trading when we were still in college and we know how hard it is to start without someone teaching you or tools that can help," said Investa's chief marketing officer John Michael Lapiña. "We also know that through consistent learning and discipline, the rewards the stock market offers are limitless."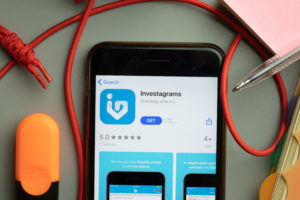 As of March, the platform has over 900,000 users. Whether they also place actual orders on other platforms is hard to say. But the approach makes it appealing—aspiring traders apply their trading skills without the worry of losing cash, making the practice almost game-like.
Users share pieces of advice and commentary about market news and transactions. On the home page, the top 10 most popular "analysts" are ranked on a weekly and monthly basis, providing incentives to keep sharing. In investment contests, participants who turn in the highest amount of virtual profits can win cash prizes.
The app is also one of the more advanced tools with real-time trading data. And opening an account is free of charge. "Investa is the bread and butter of Filipino traders, even professional fund managers use it," said Javier.
Stock market influencers have also started to crop up on YouTube. Channels like MoneyGrowers PH and Marvin Germo that regularly discuss news and stock tips have more than 200,000 subscribers. Their popularity may as well be due to a casual demeanor. The hosts are sporting t-shirts in makeshift offices at home, and interact with followers like it was just a chat between friends.
Beware of the hype
The rise of the retail investor is undeniable. COL Financial CEO Dino Bate said that in the past year, new account signups came from younger investors in their 20s, who are more confident in their knowledge and with a higher risk appetite. "They are digital natives who are self-taught and are very motivated to learn about the stock market," he added. Bate said that previously, it was more the people in their 30s and 40s.
Still, experts are wary that these platforms could create artificial hype around certain securities. "Unfortunately, some of them are promoting some stocks, and for me, that's not very healthy," Monzon said.
"What we want to avoid is for some individuals to get discouraged from investing in the stock market due to substantial losses which could have been, at least, mitigated if not avoided by a better understanding of the trade before getting into it," China Bank Securities director Rastine Mercado added.

If anything, the new wave of investors also forced the industry to innovate. The broker First Metro Securities has introduced a feature that allows to conduct "conditional trade orders," wherein investors can specify at what price they would want to sell a specific stock, to mitigate losses and ensure profits.
Monzon says the PSE is introducing "a data analytics platform that will enable an investor to look at complete and accurate data to help make decisions." Online trading platforms have added social media channels that are regularly updated with video seminars, many for free.
Amid the winds of change that have transpired in the local market, all sources KrASIA spoke with agree that there is still a lot of potential for growth. "A bigger investor volume is good for the stock exchange for sure, in the long term, as stocks are given a fairer value. This also allows the PSE to introduce more products," said Royce Aguilar, an equity research analyst with First Metro Securities.
Renewing the exchange
In 2020, the PSE introduced REITs, or real estate investment trusts, to allow investors to bet on income-generating projects. This year, at least four REITs are expected to list on the PSE, on top of three regular IPOs. This includes consumer food conglomerate Monde Nissin, which is expected to be the country's largest IPO with plans to raise as much as PHP 63 billion (USD 1.3 billion), according to Bloomberg.
This month, the PSE also announced a plan to allow some firms to sell preferred shares instead of common shares, which could pave the way for more securities on the bourse. Monzon believes that a lot of infrastructure firms may be enticed by the offer.
The bullish activity in the local bourse is an anomaly for the Southeast Asian economy worst-hit by the pandemic. In 2020, the Philippines' GDP dropped by 9.5%, the worst performance in almost three decades. The economy also still suffers from rising inflation and a high unemployment rate, at 4.7% and 8.7% respectively.
It is safe to say that participants in the stock market feel unscathed by the recession. After all, only 1% of the country's more than 100 million population are investing. "These people are those who can work from home, and have disposable income but cannot go out to spend," Monzon said.
What recession?
Aguilar of First Metro Securities said the market's drop at the beginning of the lockdown may have enticed existing traders to become more active and purchase stocks at a discount. "Certain events, like the entry of a third telco in the country, and local fintech activity, attracted retail investors," Aguilar added.
In fact, when local broadband operator Converge ICT Solutions went public in October, it beat the odds by raising PHP 25.3 billion (USD 520 million) amid the pandemic, the biggest IPO in four years.
The economic climate might also have left local investors with limited options. With the central bank dropping interest rates to an all-time low of 2%, many are just looking for a better place to grow their money. As the economy reopens, analysts are betting that the market will bounce back to previous highs. And then, it won't be just the institutional investors calling the shots.