When Lei Jun founded Xiaomi in 2010, he wanted to build a "cool" company that is in touch with its customers. Although Apple had long been his role model, Lei's goal was to surpass the Cupertino-based company in global smartphone shipments to become the world's largest smartphone manufacturer in just over a decade, he said during a panel discussion in 2014. Lei's statement was challenged by an Apple executive present right then and there.
Thanks to strong sales outside of China—in particular in Europe, Africa, and Latin America—during Q2 2021, while also eating into Huawei's slashed smartphone business, Xiaomi recorded an 83% year-on-year shipments increase to beat Apple for the first time, according to Counterpoint Research.
What's more, in June 2021, Xiaomi reached a 17.1% global market share after growing its monthly sales by 26%. The June performance makes Xiaomi the current number one smartphone brand in the world by phone sales, exceeding Samsung, whose production has been disrupted as factories hit by COVID-19 halted manufacturing in Vietnam.
Although Samsung is expected to recover its top position as its supply chain recovers from Vietnam's new coronavirus wave, the race between Xiaomi, Samsung, and Apple is tight, Counterpoint Research noted.
"Ever since the decline of Huawei commenced, Xiaomi has been making consistent and aggressive efforts to fill the gap created by Huawei's decline. Xiaomi has been expanding in Huawei's and Honor's legacy markets like China, Europe, Middle East, and Africa. In June, Xiaomi was further helped by China, Europe, and India's recovery from the pandemic, and Samsung's decline due to supply constraints," Varun Mishra, an analyst at Counterpoint Research, told KrASIA.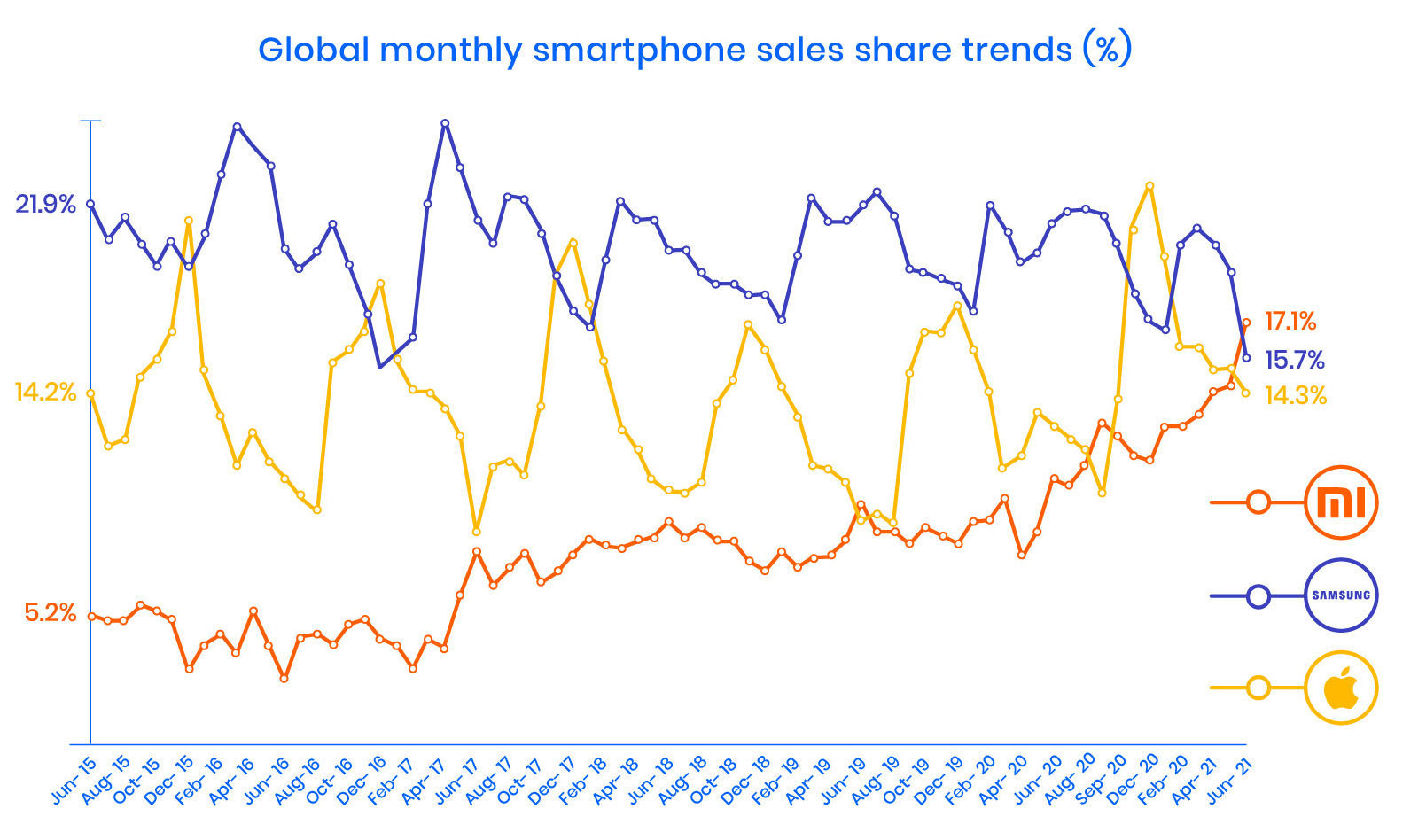 Xiaomi is not resting on its laurels. The company has already allocated RMB 13 billion for R&D this year as it looks to hit more milestones. At the same time, the firm is expanding into new sectors, committing USD 10 billion over the next ten years to the development of a new electric vehicle division.
On Tuesday 10, Lei restated his intentions to definitely "take the global no. 1 position in three years," during an event to mark the tenth anniversary of Xiaomi's first smartphone launch. As Xiaomi has just momentarily reached the world's top position as a smartphone brand, Lei's aspirations are not out of reach in the mid-term. Yet, how did Xiaomi manage to reach this status? Here are four ways the company disrupted the smartphone market while it built hype and a solid reputation around the world.
Humble beginnings, focus on customer loyalty
Xiaomi did not start as a smartphone manufacturer, but rather, it began offering—for free—its in-house developed MIUI in 2010, an Android skin that found great popularity among Chinese customers, perhaps thanks to its appearance that was somewhere between Apple's iOS and Samsung's TouchWiz. The team behind MIUI did something really well that other OEMs didn't—it consistently listened to users' feedback to improve the product, adding new updates and features. This has been a characteristic trait of Xiaomi from its beginning.
When Xiaomi released its first phone in August 2011, the Mi1, priced at RMB 1,999 (USD 308) and running MIUI, it was marketed as the fastest smartphone on the market, thanks to its 1.5 GHz dual-core chip, compared to other brands' flagships at that time—Apple's 1 GHz iPhone 4 and Samsung's 1.2 GHz dual-core Galaxy S2.
Soon, Xiaomi's Mi1 earned a reputation for being a "dark horse" in the industry, catching major interest from Chinese consumers and even some customers overseas that imported the device from China. The phone was sold exclusively online, and mainly targeted the company's "online fans," Lei once said, referring to Xiaomi's forum that had more than 500,000 members in 2011.
Some analysts, however, put little trust in Xiaomi's ambitions at that time. "The market for the device is very narrow, since it will only cater to customers in first-tier cities. I think the company is too naïve about the cellphone market," Kevin Wang, China Research director of iSuppli Asia Shanghai Ltd, told China Daily in 2011. "It is almost impossible to make money at such a low price. However, Xiaomi may have a chance if it can fully leverage its advantage in software services," Sun Peilin, an analyst at research company Analysys International, added in the same article.
The bulls beat the bears on this occasion, as Xiaomi received over 300,000 pre-orders in the first 34 hours. The success gave Xiaomi the momentum to present an even cheaper phone in 2013, the RedMi 1, under its RedMi sub-brand. Selling for under USD 180, the device also found major success.
While it was selling phones like hotcakes, Xiaomi also kept developing its online community of "Mi fans," regularly holding "Mi fans festivals" and other activities to keep the community engaged. The company checkout online forums to find out what their consumers thought about Xiaomi's phones, and used these comments to enhance its products and the user experience of Xiaomi devices. It is estimated that the Chinese Mi Community currently has more than 70 million members.
​​Xiaomi's approach to constant collaboration with its users has been one of the key factors underlying the company's successful growth, according to research published by the Harvard Business Review.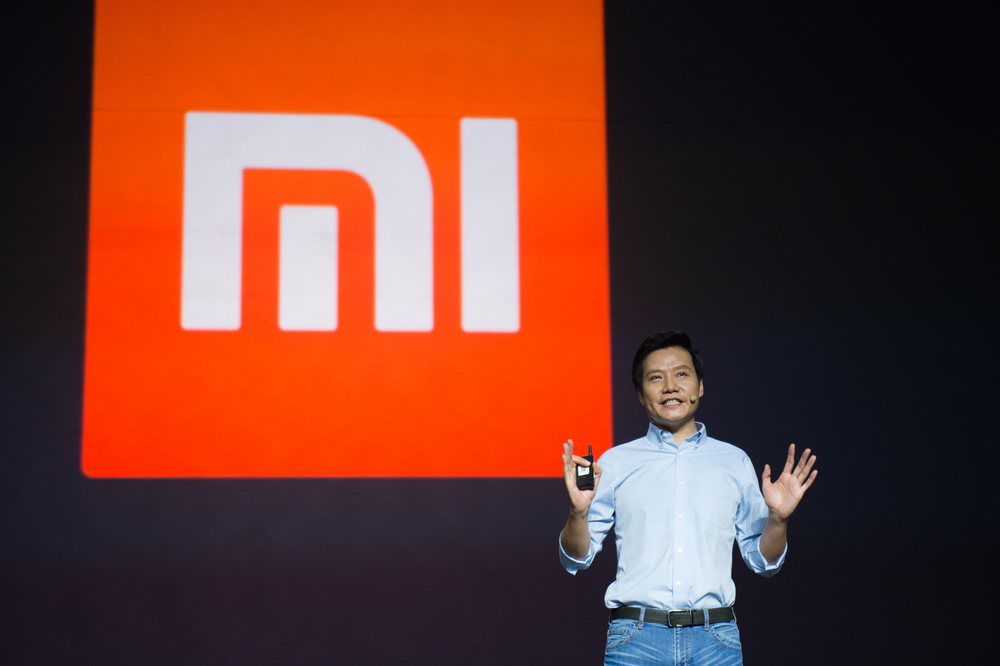 Quick international expansion
In 2013, Xiaomi hired Google's former vice president of product management for Android, Hugo Barra. The high-profile executive served as Xiaomi's vice president for five years, working to expand the company outside of mainland China, notably increasing the company's presence overseas.
In 2014, the company sold over 60 million devices, thanks in part to the success of its newer higher-end smartphone, the Mi4, breaking into the top five smartphone makers in the world for the first time, according to research firm IDC. Shipments were growing steadily, after selling 18.7 million phones in 2013 and 7.2 million in 2012. In 2014, Xiaomi also raised USD 1.1 billion from investors including All-Stars Investment, DST, GIC, Hopu Fund, and Yunfeng Capital, which took the firm's valuation to more than USD 46 billion.
With Barra leading Xiaomi's international expansion, the firm established its first international headquarters in Singapore in 2014, and then expanded to India the same year. Brazil followed in 2015, and Europe in 2016. In 2017, the company launched operations in Pakistan and Bangladesh.
From July 2018, Xiaomi became a publicly traded company on the Hong Kong Stock Exchange. The company's valuation stands at USD 88.7 billion as of August 12.
The quick and impressive international expansion has been worthwhile for Xiaomi. Since the onset of the COVID-19 pandemic in early 2020, the overseas market has been the main engine of Xiaomi's growth. The company's revenue from overseas markets increased 50.6% year-over-year in the first quarter of 2020, while in Europe, Xiaomi increased its smartphone shipments by 85.1%, according to the company's financial report. In emerging markets such as Africa, the firm reported an astonishing 191% YoY increase in shipments, followed by Latin America with a 161.7% YoY increment, and the Middle East, where its phone shipments rose 87.8% YoY.
Xiaomi's Mi Home stores
"Our biggest success story has been our offline journey, including setting up more preferred partners and more Mi Home stores," Manu Jain, global vice president of Xiaomi and also the company's managing director in India, told Gizmochina in a 2019 interview.
Counterpoint's Mishra also attributes a big part of Xiaomi's success to its global offline strategy, which started in 2016. "While Xiaomi has been dominant online, it has expanded into the offline segment in both China and the overseas market. Huawei had a strong distribution in smaller counties in China, and after its decline, Xiaomi is expanding its own offline channels to leverage the same strategy," he told KrASIA.
Xiaomi currently manages over 5,500 Mi Home offline stores in China, while the company's representatives have hinted at the ambitious goal of having a Mi Home store in every county of China by 2021. Internationally, the company has opened over 1,000 locations in Europe, Latin America, and Africa, while in India, Xiaomi established a Guinness World Record when it opened 500 Mi stores simultaneously in November 2018. Xiaomi currently operates over 3,000 locations in India alone.
At the Mi Stores, customers can find hundreds of products built by Xiaomi and its partners. More than just a phone producer, Xiaomi is becoming a lifestyle brand that sells tech products and other goods like luggage, umbrellas, and kitchen appliances. "Xiaomi was never meant to be just a smartphone vendor. We are aiming to offer consumers a wide range of products at affordable prices," Lei said in 2016 at the Summer Davos event in Tianjin, as reported by China Daily.
Mishra pointed out the importance of Xiaomi's offline strategy in growing its business in Africa. "In its new markets like Africa, over 95% of sales happen through offline channels. Offline presence is imperative for growth in these regions, and Xiaomi is investing there. Moreover, its own retail stores also help in showcasing the ecosystem of products that Xiaomi has been developing beyond smartphones. This is where we will see Xiaomi focusing in the future."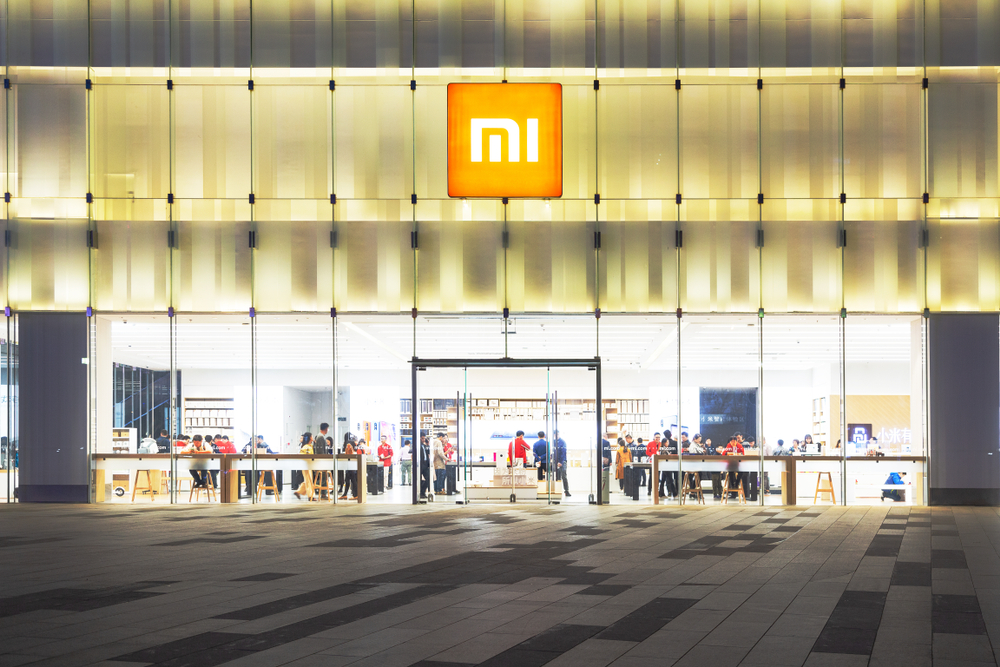 Following the right trends
When Huawei's business dived because of US sanctions, Xiaomi used the opportunity to shore up its own business, which proved essential to its recent rise, Mishra pointed out.
Xiaomi was also quick to benefit from Samsung's disruption in sales due to a recent wave of COVID-19 in Vietnam, which caused shortages across Samsung's channels. "Xiaomi, with its strong mid-range portfolio and wide market coverage, was the biggest beneficiary from the short-term gap left by Samsung's A series," Counterpoint said in a press release. The company was able to achieve a solid performance in phone shipments in developing markets thanks to devices released under its entry-level and mid-range sub-brand Redmi—in particular, the Redmi 9, Redmi Note 9, and the Redmi K series—Counterpoint added.
The company's accurate timing to address specific markets and verticals has been one of the main successful strategies of Lei. "Doing the right thing is much more important than doing the thing right," he mentioned in an interview with China.org.cn. 
Today, Xiaomi enjoys a global reputation for offering smartphones with a great price-performance ratio, but the company has also developed solid brand recognition that has allowed it to sell a broad ecosystem of products like TVs, electric scooters, laptops, and even rice cookers. Xiaomi has developed an ecosystem of internet-of-things connected devices, and now counts over 351.1 million smart devices connected to its platform, ranging from wall outlets to speakers, smart lights, as well as air and water purifiers. To reach this point, Xiaomi has invested in about 55 hardware manufacturers.
The push in the IoT and lifestyle products segments is yielding positive results. Xiaomi posted a first-quarter result with revenues up 13.6% YoY to touch RMB 49.7 billion (USD 7 billion), thanks to a 7.8% rise in revenues in the IoT and lifestyle division.
Xiaomi is now exploring EV production as its new frontier. "In March 2021, we unveiled our new branding identity, and also announced our official foray into the smart electric vehicle business, setting the course for an exciting journey that will ensure a bright future for the company in the coming decade," the company said in its financial report.
While the company now has bigger ambitions than ever before, Xiaomi has not forgotten its roots. To thank Mi1's first owners, Xiaomi will give them an RMB 1,999 (USD 300) coupon to use at Mi Stores, CEO Lei announced last week. In total, Xiaomi sold its first phone to 180,000 customers, meaning the company might hand out RMB 359 million (USD 55 million) worth of discounts.
Looking at the future, as major tech companies such as Apple and Huawei are also entering the EV sector, will Xiaomi also be able to outperform its competitors in this field? And will Xiaomi stay on top as the world's top smartphone producer? We'll find out in the next few years.