For more than a decade, 48-year-old Sachidanand Tripathi, a public servant in the North Indian city Varanasi, has not used the treadmill that he purchased on his general physician's advice. But when the pandemic started to spread in India last year, Tripathi found himself reconsidering that choice. The boredom of being cooped up at home and the hope that being fit would give him a better chance at beating the coronavirus should he ever become infected made him restart his workouts.
Tripathi's son also uses the treadmill, as his gym has been closed for more than a year. "This year, my son and I have started watching exercise videos on the laptop and taking turns on the treadmill to follow the trainer," Tripathi said.
As gyms and sports clubs remain off limits, the demand for at-home exercise equipment has gone up. French retailer Decathlon said the sales of cardio-related exercise machines in India between March and July 2020 jumped by 300% compared to the same period in 2019.
Recognizing a new trend in where and how people exercise, Pratik Sud, a serial entrepreneur in India's healthcare sector, decided to start an IoT-enabled fitness equipment startup called SynqFit in June 2020. "Between April and May last year, it occurred to me that the gym industry will go through a major change due to the lockdown, and people will have to adopt new ways to continue their exercise regimen like they had to with work from home arrangements. That is when we decided we should make a connected fitness platform," Sud said.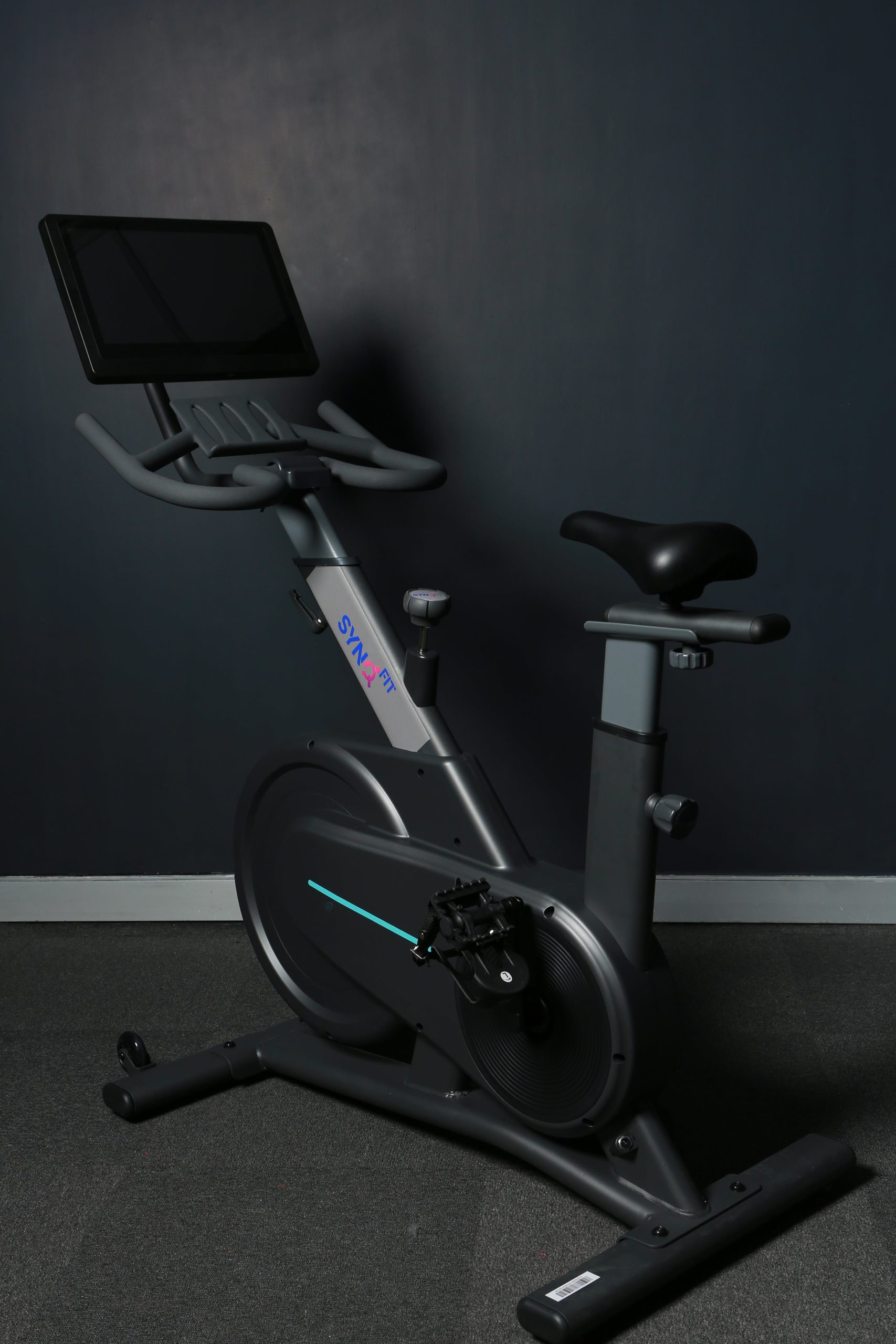 Started by Rajat Sahni, Sameer Joshi, and Sud, SynqFit manufactures immobile exercise bikes that come with an interactive 22-inch screen, much like the equipment made popular by Peloton, the American equipment maker that lets users stream content as they pedal away. SynqFit wants to offer its users the convenience of working out at home with access to hundreds of workout videos, but sustained access after the first six months means forking over monthly subscription fees.
The company has partnered with manufacturers in mainland China and Taiwan to source components for its bikes, which are then assembled in India. "We were at the peak of the pandemic when we started working on this. Due to the travel restrictions, we couldn't personally inspect the hardware to assess its quality, so it took us longer to decide which materials to use as well as negotiate their prices," Sud said.
While SynqFit's equipment works like any other stationary bike, Sud has put his weight behind creating a library of over 300 videos about health and exercise. The company has partnered with around ten trainers and health experts to create these pre-recorded videos as well as live sessions. "We understand that joining a trainer is very personal, and the choice would vary from person to person. Moreover, every person's health requirements are different. That's why we have fitness videos ranging from cycling, cardio, aerobics, to yoga," Sud said.
For a family of four—a common household headcount in India—residential square footage is often at a premium. The bike requires 5 feet by 4 feet of space for placement. In addition to this, users will have to make some more space next to the bike for an exercise mat to follow the trainers' instructions during live sessions.
"We envision SynqFit as a trainer-led product which fitness enthusiasts can use to work out under the supervision of trained professionals by accessing our wide variety of videos. The idea is to keep users engaged with quality content for the 30–60 minutes that they spend exercising," he said.
The bike and the first six months of access to SynqFit's content library costs INR 120,000 (USD 1,600). To keep users motivated, SynqFit keeps track of the distance each user rides on their bike, the number of calories they burned, and their frequency of exercise to issue rankings on a leaderboard. Sud said one device can record data of four members of a household and provide each person with their own account to track their development. These services cost INR 1,500 (USD 20) per month.

Because of the premium pricing—non-smart exercise bikes cost INR 8,000 to 20,000 (USD 108–270) on Amazon—the company has only been able to sell 160 bikes so far. Sud has partnered with financing companies to give customers the option to pay for their SynqFit bikes in installments. The three founders collectively pitched in USD 300,000 to start the company. Right now, they are seeking to raise USD 2 million for a pre-Series A round to fast-track production and meet the target of selling at least 1,000 bikes by the end of 2021.
Sud said the connected fitness device market is set to grow as gyms, dance studios, and yoga centers remain shut at a time when people are more conscious about staying healthy. "Even when they open up, people wouldn't be comfortable working out with others in a closed space." According to a London-based market research firm Technavio, the global market for the connected fitness sector is expected to reach USD 7.5 billion by 2024.
SynqFit competes with CultFit, a unicorn startup that runs a chain of gyms and yoga studios and provides live training sessions to users via its app. During the lockdown, CultFit had to shut down its branches and focus on creating training and workout content for its members. CultFit also acquired Tread, a company that makes smart stationary bikes.
"While the sector itself is very big, it's not very crowded. Our timing to start this company is bang-on, as now is the time when at-home alternatives to gyms will be more in demand than ever," Sud said.
This article is part of KrASIA's "Startup Stories" series, where the writers of KrASIA speak with founders of tech companies in South and Southeast Asia.