Nipun Mehra is no stranger to e-commerce and tech investment. Originally hailing from India, a series of developments in his career landed Mehra in Indonesia, where he found some conditions similar to what he was familiar with in his homeland. "India is very much like Indonesia, you have lots of mom-and-pop stores in the neighborhoods, and that's where you go to buy stuff," Mehra told KrASIA. Recognizing the potential to transform how these microbusinesses functioned, Mehra set out with three like-minded individuals to establish a B2B e-commerce platform called Ula in 2019. The goal? To help traditional retailers operate more efficiently and develop the means to increase revenue and perhaps even expand their scale.
Ula may not be a household name yet, but its formation was built upon Mehra's extensive experience in e-commerce. He was a software development engineer for Amazon after he graduated from Stanford University in 2004. The engineer returned to his homeland, India, in 2012, and joined Flipkart, which has grown into one of India's largest e-commerce companies. During his time at Flipkart, Mehra developed ways for the firm to partner with small kiosks. At the time, smartphone usage in this segment was very low. "While people like me might have had a smartphone, mom-and-pop store owners did not, so there was nothing you could do."
Mehra's tech journey continued at Sequoia Capital, where he was part of the team behind numerous investments in Indonesia, including in the country's biggest tech companies, like Gojek, Tokopedia, and Traveloka. "I started getting a lot of exposure to Indonesia from the outside. I came to the country in 2019 and spent five months just roaming around the markets. I hired a translator, and we talked to different retailers. Indonesia was at a point where technology was significantly impacting retail, and this sector was ready for massive improvement and change," Mehra said.
When he was ready to establish Ula, Mehra teamed up with people he met along the way as a technologist and investor. His co-founders include Derry Sakti, who spent ten years overseeing P&G's operations in Indonesia; Riky Tenggara, a former executive at Lazada and aCommerce; and Alan Wong, who previously worked with Mehra at Amazon. "We all have the same passion and vision. Luckily for us, maybe because of our track record, we were able to attract some solid investors right from the get-go," he said.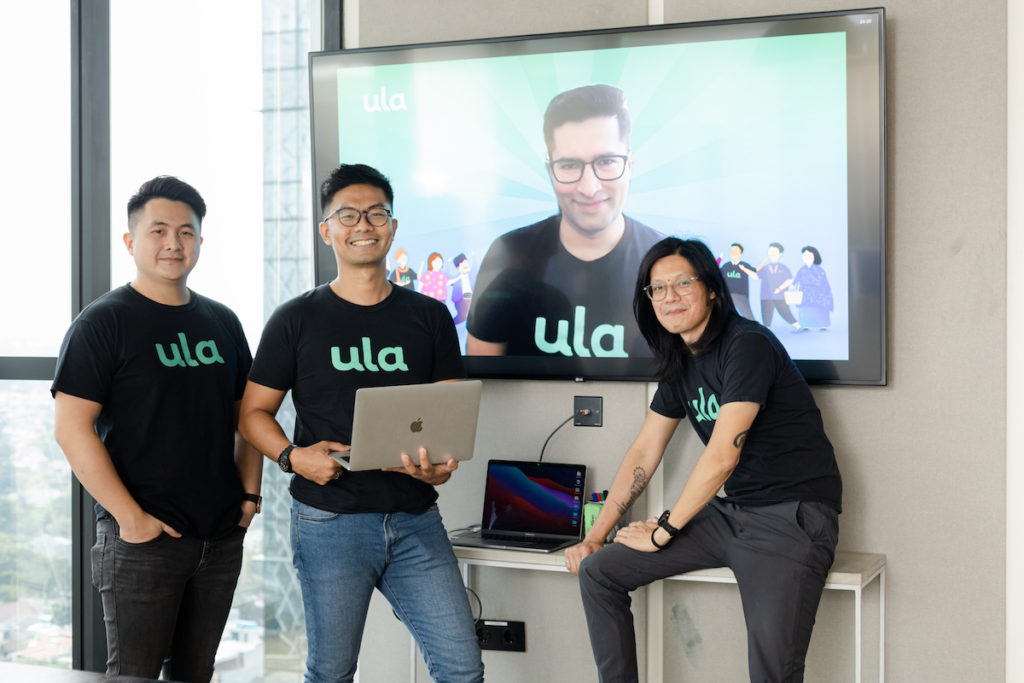 Improving sourcing and supply chain
Ula operates a wholesale e-commerce marketplace for small and micro retailers. It helps kiosk owners digitize their supply chain and inventory management. Small retailers in emerging markets have a few distinct traits, said Mehra. "They know their customers very well. They know your name, where you live, even what you want to buy. This relationship can't be replaced easily with technology," he said. "Second, their operation is very cost-efficient; there's no air conditioners or employees at warung. They don't even have rent expenses because they operate in their own space and are usually below the tax threshold."
Typically, warung sell things like rice, instant noodles, cooking oil, and canned food. They also stock household supplies such as laundry detergent and dish soap.
While that human touch to warung provides a neighborly draw, the fact remains that these small shops are in a weak position against large retailers. Inefficient sourcing, lack of access to products at affordable prices, and poor supply chains are common challenges for mom-and-pop stores, especially in small cities. But Ula is changing this. Its app lets kiosk owners order new products that are delivered directly to them. This solves one inefficiency: in the past, warung operators had to close their shop during regular business hours whenever they had to physically visit wholesalers to buy inventory. This was not only an expense in terms of time but also involved spending money on a rental vehicle and gas.
Ula also has a pay-later service for warung owners who have limited working capital. "If you're running a small store, there's usually no business bank account, so you have to pull out the cash from personal savings to buy inventory," Mehra said. "Moreover, most kiosk owners have difficulties getting loans from banks because they don't have credit and digital identities. So we're trying to explore more partnerships to help solve this problem."
Mehra said kiosk partners are able to improve their income by about 15% if they frequently use the app. "This is still short of our goal, as we want to help them increase income by at least 30–40%. For a new customer, it will take some time to notice the impact, as they need to use our offerings continuously in order to see improvement."
This direction of working with small-scale operators who often operate an entire business by themselves has caught the eyes of investors. Ula raised its first investment of USD 10.5 million in June 2020 from Sequoia India and Lightspeed India Partners. Seven months later, the startup bagged USD 20 million in a Series A funding round led by B Capital Group and Quona Capital.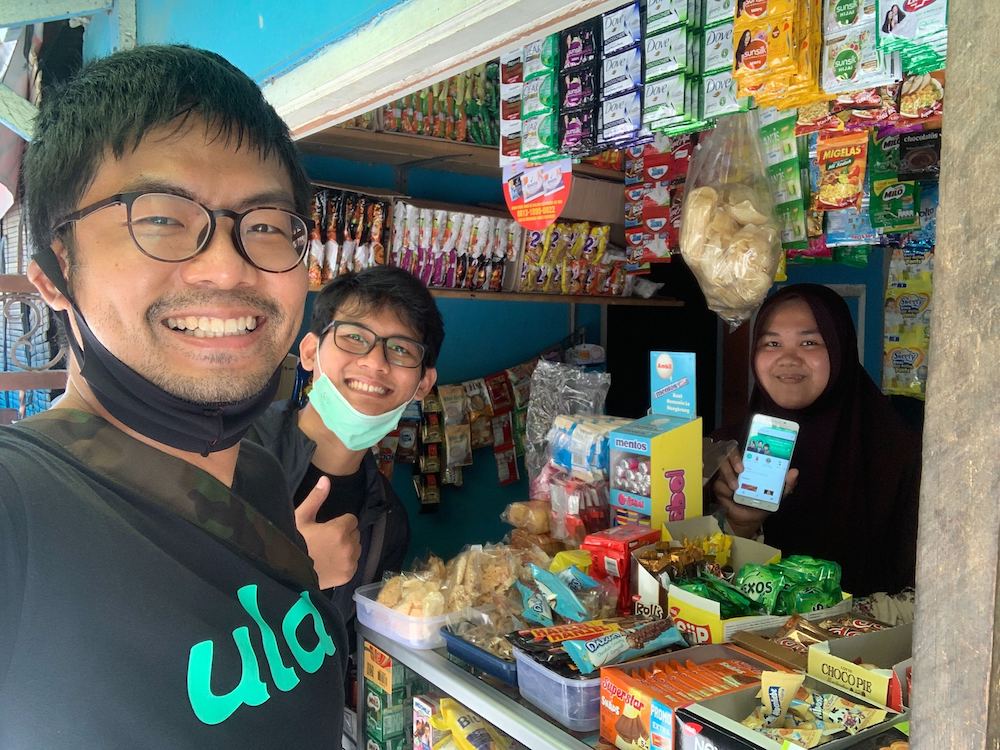 India's interest in Indonesian retail
In the past two years, investors and entrepreneurs from India have been pouring money into Indonesian startups. Besides big-name VCs, Ula is also backed by the co-founders of Indian unicorn Udaan—Vaibhav Gupta, Amod Malviya, and Sujeet Kumar. Similar Indonesian startups like BukuKas and BukuWarung also have Indian investors. Mehra himself is an angel investor of BukuKas. This abundance of capital seeds an evolution in traditional retail that is a crucial part of Indonesia's economy.
Kiosks are an undeniable part of day-to-day commerce in these countries. In India, 80% of retail transactions take place in kirana stores, while in Indonesia, the share is about 70–75%, said Mehra. "While the US retail market was organized before the internet, technology is just starting to reach traditional retail in emerging markets, providing new access to information for kiosk owners that wasn't available before. The transformation is happening now," he added.
Although India and Indonesia share many similarities in how neighborhood shops operate, there are minute differences. For one, India has a more mature digital payment ecosystem than Indonesia. And while India is one largely contiguous landmass, Indonesia is an archipelagic country with thousands of islands, which means logistics are much more complex.
To overcome this challenge, Ula collaborates with local partners and communities for deliveries, as they are already familiar with specific geographical areas in their regions and towns, and can facilitate smoother logistics processes.
Ula now works with over 30,000 traditional retailers, most of which are located in East Java, with some in Central and West Java. "Moving forward, we want to strengthen our presence in these regions by growing our product assortments to fill demands, which may differ from one area to another. We'll also add more categories like clothing and electronics, and we plan to expand geographically next year," said Mehra.


This article is part of KrASIA's "Startup Stories" series, where the writers of KrASIA speak with founders of tech companies in South and Southeast Asia.