In his previous article, Viktor Kyosev shared his research on winning fast-growth markets. Here, he expands on that idea to indicate how a startup can break into fast-growth markets by first passing through Singapore.
With a population of more than 600 million, an internet economy that has reached a valuation of USD 100 billion, over USD 37 billion worth of venture capital that has been funneled toward more than 3,000 startups, Southeast Asia is the
third pillar of growth in Asia
after China and India.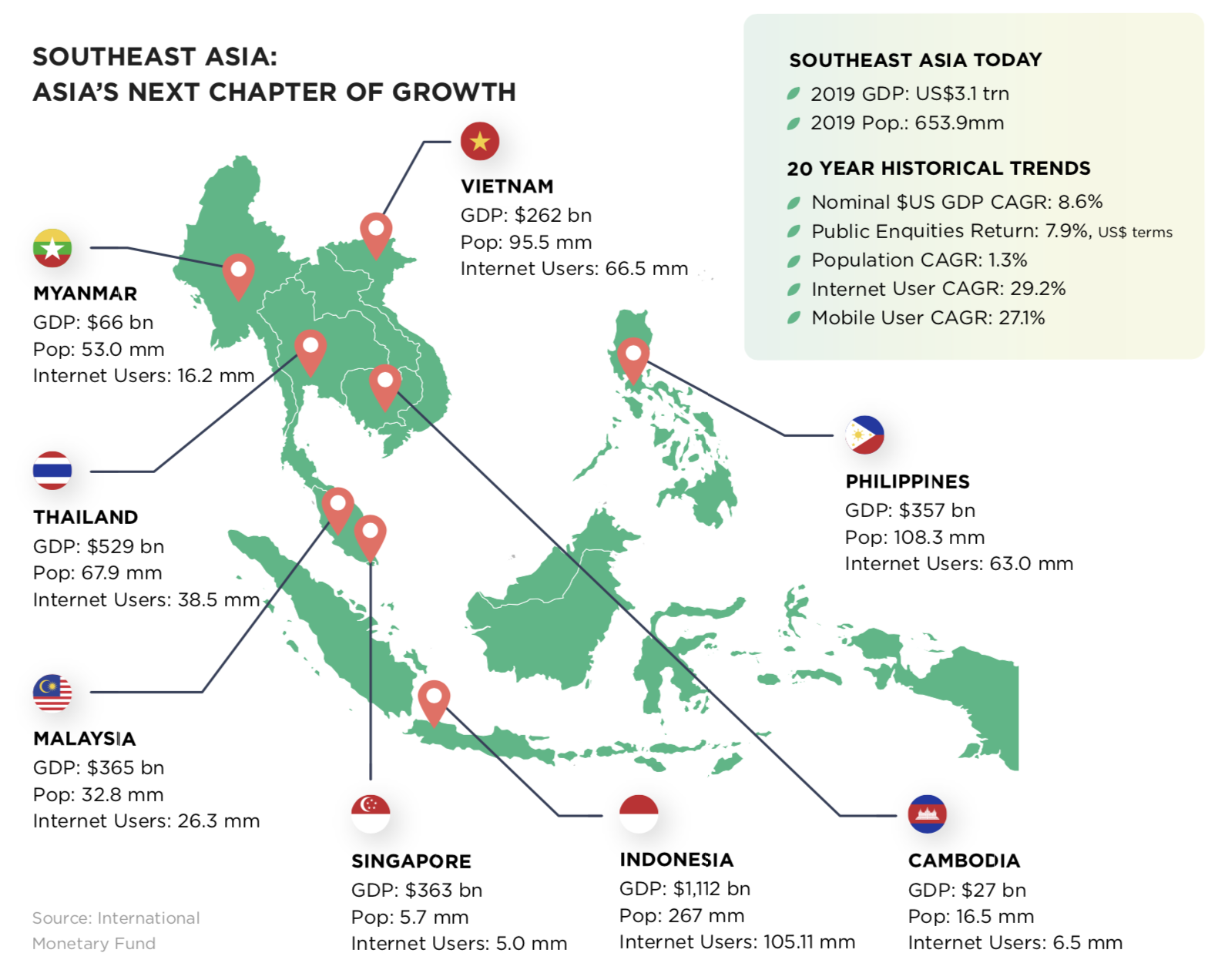 Entrepreneurs are mostly concerned about whether their business will be successful, as well as how expansions may impact their runaway, growth, and profitability. One of the most common strategies we have seen is start from Singapore, and then radiate through the region.
Why Singapore?
Competitiveness, innovation, and ease of doing business
KPMG runs a survey every year to seek out global tech leaders. The goal is to find out which cities outside Silicon Valley will be leading technology innovation hubs over the next four years. In 2020, Singapore ranked #1, as we see in the results here:

"Singapore, ranked seventh last year, took the top spot this year in the global rankings and offers an advanced IT infrastructure, strong government support and IP protection laws, and a deep pool of talent. As a start to economic transformation, the government-sponsored Smart Nation program has been progressing since 2014, and the National Artificial Intelligence Strategy was announced in November 2019."

— KPMG Technology Innovation Hubs
To drive the point home, I looked through four more global studies mapping all markets around the world in terms of competitiveness, innovation, and change readiness. To drive the point home, I looked through four more global studies mapping all markets around the world in terms of competitiveness, innovation, and change readiness. Here is where Singapore ranked in each study:
In all of these cases, Singapore was named in the top ten spots, while three out of four positioned the wealthy city-state in the top five. The conclusions were a robust external validation for specific offerings from Singapore:
Modern infrastructure, including a high-speed internet connection.
An urban locale that attracts young professionals.
Available investment funding.
A pipeline of skilled talent.
Favorable regulatory environment.
Positive demographic growth rate.
Supporting eco-system involving banks, accounting firms, law firms, and more.
Generous tax incentives and government stimulus programs.
Another important consideration is the ease of doing business in the target geography. The
World Bank
runs an annual study where it compares different countries based on criteria like business formulation, construction permit acquisitions, utility arrangements, property registrations, credit issuance, minority investor protection, tax payments, cross-border trade, contract enforcement, and insolvency resolution. Countries in Southeast Asia are working hard to simplify their legal system and attract more foreign direct investment as well as domestic entrepreneurship, but no one beats Singapore. In general, it is becoming easier to do business in Southeast Asia, with Singapore leading the way. Source: The World Bank.
Internet economy
Since 2016, tech startups in Singapore have raised
more than USD 23 billion
. Some have become unicorns, like Grab, Sea Group, Carousell, GoBear, One Championship, PropertyGuru, ShopBack, and Zilingo. Venture capital investments have been steadily rising in Singapore. Source: The "e-Conomy SEA 2019" report published by Google, Temasek, and Bain & Company. Because of its high income per capita, Singapore is ahead on most metrics compared to other markets in Southeast Asia. For example, average order values in Singapore's e-Commerce sector are three to four times higher than those in the rest of the region. Although the population of Singapore is much lower than that most countries' in Southeast Asia, their internet economy was
worth USD 12 billion in 2019
, which is many times larger than that of neighboring markets. The valuations of various industries are rising rapidly in Singapore. Source: The "e-Conomy SEA 2019" report published by Google, Temasek, and Bain & Company.
Challenges
As with any other market, there are pros and cons for expanding to a particular geography. In the case of Singapore, I have observed several issues that hinder companies' growth:
Costs. Singapore is expensive. While starting a company can be pretty affordable, hiring people, renting office space, and advertising can be costly.
Talent. While Singapore has some of the most qualified talent in Southeast Asia, the competition for good people is high. All large international and tech companies have their regional headquarters in the wealthy city-state, and all of them compete for employees based on more or less the same traits.
Market size. At the end of the day, the island state's population is just 5.8 million people. Compare that to the 274 million in Indonesia, and you can see why some companies question the need to have a presence in Singapore.
Opportunities
We have observed a few strategies that foreign companies employ when expanding to Southeast Asia via Singapore:
Credibility. Some startups incorporate in Singapore just so they can add the address on their websites or sales decks, and in turn convince prospective buyers that they have an office located in the world's leading tech hub outside Silicon Valley.
Research. In other cases, companies establish a small team in Singapore to build relationships and study the rest of Southeast Asia. That way, they have time to nurture leads, validate the market, and close first sales without a massive investment in larger but more challenging markets like the Philippines and Indonesia. In fact, Singapore has some grants that support companies that have at least 30% local ownership when expanding across Southeast Asia.
Market-product fit. Previously, I wrote an essay on how companies need to consider the market-product fit as some countries may naturally be a better fit for your model than others. If you are selling enterprise SaaS, Singapore might be a suitable market. In contrast, if you are in the business of e -commerce, Indonesia and Vietnam might be better positioned as the total addressable market is much more significant.
Tax purposes. We are currently helping a business that's expanding to China, but is considering the possibility of incorporating in the Lion City, as it will bring their taxes down considerably. Singapore has agreements with multiple countries, which allows for considerable savings in the long run.
Whatever reasons you have for your expansion, it is rare to see companies regretting their presence in Singapore. However, a sound strategy and a good market-product fit are what matter and will define your options. Take your time and build relationships early on. That's the only way to learn from people who have been through this experience.
---
Disclaimer: This article was written by a contributor. All content is written by and reflects the personal perspective of the writer. If you'd like to contribute, you can apply here. 
Viktor Kyosev was born in Bulgaria, educated in Denmark, and holds international experience across six countries. He started his career in the hospitality industry, where he spent seven years working for several large international hotel chains and later pivoted his journey to entrepreneurship and startups. Viktor worked as the head of marketing and business development for a travel startup in Jakarta and later joined Greenhouse as one of their first employees. Currently, he is the COO of Greenhouse, overseeing business development and day to day operations at the company.