When Nadiem Makarim was appointed as Indonesia's minister of education and culture, the Gojek co-founder said that he would connect the education system with the technology sector in order to facilitate change: "Whether we like or dislike it, with 300,000 schools and 50 million students, the role of technology will be very important in every segment, and the quality, efficiency, and administration of this big education system."
Makarim's speech signaled reform in Indonesia's education system, in tune with the Jokowi administration's goal to fundamentally transform the education system on a large scale, with the ultimate aim of improving the quality of human capital.
An imbalance still exists
Indonesia's education system comprises four levels, namely primary, junior secondary, senior secondary, and higher education. It is dominated by state educational institutions, particularly at the primary and junior secondary levels. Meanwhile, private institutions play a significant role, mainly in higher education institutions. Religion sometimes plays a role in schools, though it is more common in privatized education.
However, an imbalance exists between the large student population and the quality of education in the country. Indonesia is among the weakest OECD and partner countries in many aspects of education, including educational outcomes, attainment by gender, participation, graduation expectancy, unemployment, and graduation levels. For instance, only 8% of Indonesia's working population holds a bachelor's degree, which makes Indonesia lag behind 44 OECD countries.
Although the Indonesian government has improved access to education by providing free education and increasing student enrollment, the quality of education and learning outcomes are still low. In international standardized tests of student achievement in 2015, Indonesian students were at the bottom of the list, well behind their peers in neighboring countries such as Malaysia, Vietnam, and Thailand.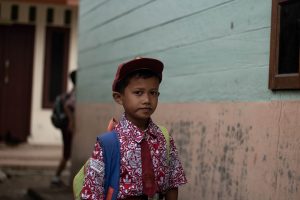 A few factors have led to stagnancy in Indonesia's education system. Government spending on education has not been on target. For more than a decade, the government has spent 20% of its total annual budget on education. However, those expenses has been concentrated on physical aspects, such as school infrastructure, maintenance, and other supporting facilities, according to CNBC Indonesia. Meanwhile, the quality of education outcomes and educators remains low.
Indonesia needs better teachers in the countryside
According to Gerald Ariff, co-founder and chief partnership officer at HarukaEDU, the lack of high quality teachers and lecturers in rural areas is one of the problems with education in Indonesia.
"No quality teachers want to live and work in remote or rural areas. They all want to move to the big cities. Global rapid urbanization trends are causing the decline of quality educators in rural areas. Hence, we see big a potential in edtech, with the rapid growth in affordable mobile devices and the advancement of mobile networks nationwide. With online and blended learning, students in rural areas can still get quality teachers who are connected to the students via affordable mobile learning technologies," Ariff told KrASIA.
Online education platform HarukaEDU provides learning and degree programs to clients like accredited universities, training providers, corporations, and government agencies.  It was established in 2013 by Novistiar Rustiandi and Tovan Krisdianto.
Backed by US venture funds Pearson Affordable Learning Fund and CyberAgent Capital, the platform is due to raise Series C capital this year and wants even more for next year. It recently launched Pintaria, a learning platform that delivers degree and non-degree programs.
Today, it partners with more than 30 universities and the total active user base of HarukaEDU is around 50,000. Its target market consists of working people who do not currently hold university degrees but want to continue studying while working full-time.
A prominent edtech startup in Indonesia is Ruangguru, founded by Belva Devara and Iman Usman in 2013. It raised series B funding in mid 2017 from East Ventures and UOB Venture Management, the private equity arm of Singapore-headquartered United Overseas Bank (UOB).
Today, Ruangguru has more than 13 million users and 4,000 employees, including teachers. The platform offers online educational materials for students in grades 1–12. Teachers across Indonesia can join Ruangguru after a stringent selection process.
Devara admitted that starting and building an edtech startup company as big as Ruangguru is a challenging task, and few people are interested in the education sector. Therefore, edtech startups are not as popular as those in other tech sectors, such as ride-hailing and food delivery.
"Running an education startup in Indonesia is very difficult and complex. You have to clearly understand the norms of running the sector, because there are many stakeholders, such as children, parents, teachers, and schools. Furthermore, Indonesia has the largest education system in the world, but it is also dysfunctional, because some global rankings have shown that Indonesia has always been in the low ranks compared to other countries," Devara told KrASIA.
He pointed out how difficult it has been to appoint high quality teachers for Ruangguru across Indonesia. Many teachers want to join Ruangguru because the income is much higher than an average teacher's salary, which is around IDR 2.6 million (USD 185.75). However, before teachers join the platform, they need to pass a test.
"Sometimes only one teacher out of 200 passes the test. We are very strict about finding the best teachers to create the best learning materials for our users," Devara said. Currently, around 400 educators are part of Ruangguru.
Another edtech startup, Zenius Education, raised funding to the tune of USD 20 million from private equity firm Northstar Group in October, according to DailySocial. Zenius was founded in 2007 by Sabda PS and Medy Suharta.
"The problem in education today is that it does not spark curiosity. A personalized learning model attracts people to learn the same things but in their own unique ways. Our way is about shifting the paradigm and injecting a scientific way of thinking. This is a fundamentally different pedagogical method," Sabda PS, founder of Zenius told KrASIA.
As of the 2018–19 academic year, Zenius has been accessed by 11.8 million users. The company's business model is similar to that of Ruangguru—it offers a subscription model that provides users access to learning modules.
With myriad education problems and a population of 271 million in Indonesia, where 56 million people are aged between 18 and 30, and where there are 51 million students, the potential for edtech making a difference is evident.
The space for growth in edtech is massive
Matteo Sutto, the founder of RevoU, an early stage edtech startup focused on developing digital talents, said that edtech will soon reach its own inflection point, just as ride-hailing and e-commerce have in recent years.
"The most important aspect is to make consumers aware in the first place of online education as a complement to traditional education, as the vast majority of potential students are simply not aware that such an alternative exists," Sutto said.
According to the e-Conomy SEA 2019 report by Google, Temasek, and Bain & Company, the Southeast Asian education and healthcare technology sectors are still in their early stages, and have potential to expand and receive regional funding.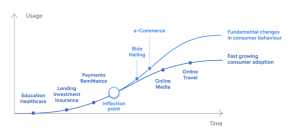 "These sectors have become the new areas which have room to grow, driven by the many problems that need to be solved," Randy Jusuf, managing director at Google Indonesia, told KrASIA.
Edtech may increase the chances of Indonesian students accessing better education. However, it will not be easy for startups aiming to fix the problem due to the lack of proficient teachers. The government must also step up efforts to reform the education system.