This article first appeared on the South China Morning Post.
China's tech entrepreneurs are finding that affordable innovation appeals in developing markets.
Many Chinese companies are finding new avenues of growth.
During the past decade of breakneck economic growth, China has been a gold mine for tech startups, with the biggest internet user base in the world of 829 million.
But a new wave of Chinese entrepreneurs are now deciding to skip the country in favour of fast-growing markets in Southeast Asia, India, the Middle East and Africa, taking their innovative ideas and cutting edge business models with them.
Whether its e-commerce, short video, live broadcasting or gaming – China's tech experts are looking to apply the lessons learned from China's rapid tech development to a range of emerging markets, according to interviews by the Post with analysts, investors and startup founders.
"We are seeing Chinese tech companies take an increasing presence outside China in short video and social apps, video editing, shopping and gaming categories," said Nan Lu, analyst at mobile intelligence firm Sensor Tower. "They're looking at markets in South America and in Asia, such as India for example … territories with large, young populations."
Lu added that the Middle East is also a target because of its advanced internet access and high demand for social media.
In Southeast Asia, Chinese apps took seven spots among the 10 highest-grossing short video and live streaming apps in the past year, with Singapore-headquartered live-streamer Bigo Live in the lead. Global short video hit Tik Tok topped the region's download chart, according to a June report by Sensor Tower. Although revenue per user in many of these countries is lower than in developed markets such as the US, they have young, increasingly affluent populations, portending future growth.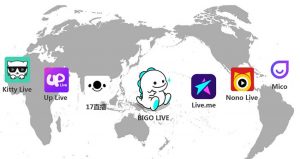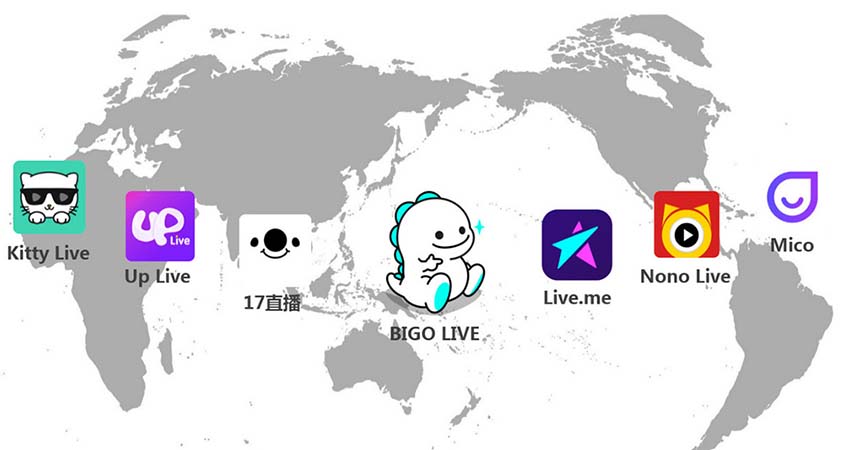 Bigo Technologies, the company behind the live broadcasting platform, was founded by Chinese entrepreneur Xueling Li, co-founder and chief executive of Chinese live-streaming company YY Inc. US-listed YY acquired Bigo in March this year.
Although huge, China's tech market now has relatively well-established leaders.
E-commerce heavyweight Alibaba with its Tmall and Taobao platforms, internet giant Tencent with its do-everything social app WeChat, and ByteDance with its short video app Douyin (known as Tik Tok overseas) have become leading pillars of China's tech sector. Although there's still room for new competition, many entrepreneurs now see a chance to grow even faster in overseas markets where there is burgeoning appetite for innovative, more affordable tech products.
The global internet scene generally remains a bipolar world.
While US behemoths such as Google and Facebook have struggled to crack China's fire-walled internet and heavily-regulated tech sector, Chinese players (until ByteDance with Tik Tok) have largely struggled to make their offerings attractive and relevant for developed markets, such as the US.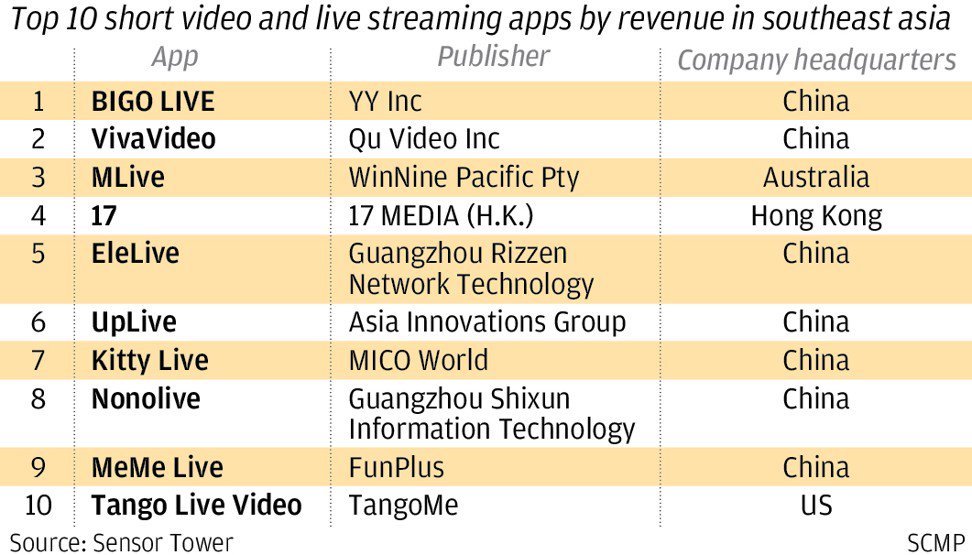 Given this backdrop, many have turned to developing markets, where affordable innovation appeals. And some Chinese companies have struck gold with this strategy.
Transsion, a little-known company from Shenzhen, is now the biggest mobile phone supplier in Africa. TikTok, the international version of ByteDance's Douyin, has also become one of the most-heavily downloaded apps worldwide, and one third of its overseas users now come from India, according to Sensor Tower.
Chinese companies have an edge in many of these countries, because they are now undergoing the same tech and development transformation that China went through over the past decade. As such, they have gained insights that has allowed them to bypass mainstream industry players.
To be sure, China may have opened the diplomatic door in places such as Africa, which is seen as a solid base of raw materials to help fuel the country's long-term economic growth. But China's entrepreneurs also see the potential to apply their tech know-how and lessons learned to young and increasingly affluent consumers.
For example China's Transsion, which operates three handset brands – Tecno, Infinix, and Itel – has focused on bringing affordable smartphones and feature phones with basic functionality to developing economies since it was founded in 2006.
The average price of Transsion's basic phones was USD 10 in 2018, while its smartphones cost around USD 66 on average – or about 5% of the cost of Apple's flagship iPhone XS model, according to Transsion.
Also winning in African markets is Shenzhen-headquartered Simi Mobile, whose nearly two-dozen feature phone handsets are priced between USD 10 to USD 20, while its competitively priced smartphones are already on sale in Ethiopia, Uganda, Cameroon, and will soon be available in more African countries.
The continent is quietly undergoing a transition from feature phones to smartphones, driven by the availability of affordable models and increasing internet penetration. While 2018 saw a 4.1% decrease in smartphone shipments worldwide, Africa experienced year-on-year growth for the first time since 2015, according to data from research firm IDC.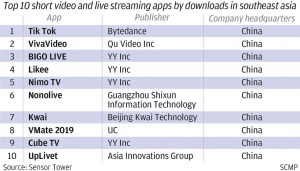 The reason why some Chinese companies like Transsion managed to succeed is that they captured a niche market and established their own advantages in it, said Changqi Wu, professor of strategic management at the Guanghua School of Management of Peking University.
Transsion, for instance, attuned its camera technology and calibrated the exposure specifically for darker skin tones.
"While in general China's technology may still lag behind the US or other developed countries, it can maintain an edge in developing markets by serving them well," Wu said.
Catering to niche markets may not appeal to top global vendors such as Apple due to the high costs, but that is where Chinese companies can spot opportunities and be very creative, said Wu.
Africa's e-commerce gap proved to be an opportunity for Yang Tao, who was deployed to Kenya by his former employer Huawei seven years ago to build a payments system.
Many African countries lag behind the developed world in manufacturing due to a legacy model of exporting raw materials in exchange for consumer goods, meaning Africa has a shortage of some items and that drives up prices, said Yao.
Bugged by the inconvenience of shopping in Kenya, Yang decided to set up his own e-commerce site Kilimall in 2014, which is now the biggest online shopping website serving about 10 million users in the country. It sells electronics, clothes, home appliances, cosmetics and baby products among other things.
Now, with more smartphone users and as the infrastructure for online services such as mobile payments gradually matures, Chinese entrepreneurs are seizing opportunities generated by the continent's social transformation and industrial upgrading.
Also tapping the tech boom in emerging markets is Akulaku, an Indonesian startup founded by Chinese entrepreneurs Li Wenbo and Hu Bo, which allows users to pay for purchases in instalments, without the need for a credit card.
"Many Indonesian consumers want to pay in instalments when they buy a new smartphone, as they may not have the purchasing power to pay for it in one go," said Helen Wong, a partner at Qiming Venture Partners which invested in Akulaku. The Indonesian company is betting on the development of both e-commerce and fintech, which are two major trends in the region, Wong noted.
In many respects, Southeast Asia is following China's past experience in terms of mobile internet development. The internet scene in Southeast Asia is still 5 to 10 years behind China, Wong said, adding that the mobile internet penetration rate still lags behind China but is rising rapidly.
Although Alibaba's Taobao may dominate in China, entrepreneurs with know-how in China's e-commerce and supply chain are in a good position to head outwards, says Wong, who is responsible for overseas investments at Qiming.
The startup ecosystem in Southeast Asia, despite a late start, is picking up with the emergence of Rocket Internet and other success cases and attracting major investors including Alibaba, which should open up more opportunities for Chinese entrepreneurs, Wong added.
To be sure, in broad sectors such as traditional social media, US giants like Facebook still have a stranglehold, leaving little space for Chinese challengers.
"Google and Facebook still dominate 70 to 80% of advertizing in the region as they control a vast quantity of data and user insights needed for precise advertizing," Wong said.
"Monetization [making money from customers] will remain a challenge for many social media startups."
Alibaba owns South China Morning Post.
For insights into China technology, be part of our Inside China Tech group on Facebook. Listen to our Inside China Tech podcast and subscribe via iTunes,Spotify or Stitcher. For a comprehensive survey of China's digital landscape, download the 2019 China Internet Report.