In the first week of October 2020, local payments services firm Paytm rolled out a mini app store to defy Google after the California-headquartered tech giant said it would charge a 30% commission on every in-app purchase in India.
Paytm went all out with the promotions, pitching it as a low-cost alternative to the mighty Play Store, Google's proprietary app store, and splurged on full-length front-page advertisements in local dailies.
At the time, Paytm claimed it already had 300 apps in its app market and said it was aiming to reach 1 million apps by 2021. Although ironically, Paytm was billed as the one which was trying to break Google's monopoly, the company itself had been working on the app market initiative since a few months earlier as a part of its push to turn itself into a monopolistic super app.
Similar to Chinese super app WeChat's mini-program, which allows small businesses to create and run light-weight apps within WeChat, the idea behind Paytm's mini app store is to let companies integrate their existing mobile website and web app with Paytm for users to access them without having to download different apps and increase the time spent on Paytm.
Its nemesis, Walmart-backed PhonePe, also offers a gamut of financial services, aside from hosting an in-app platform, PhonePe Switch that gives its 125 million monthly active users (MAUs) access to third party apps across industries like healthcare, education, gaming, food, grocery, shopping, entertainment, and travel. Its recent move to buy Indus OS, the maker of a regional language mobile operating system and an app store for local developers, perfectly fits its slow but steady journey of becoming a super app.

Other emerging players in the super app race include Google Pay and heavyweight Indian conglomerates Reliance and Tata. While Google Pay has been partnering with local businesses to let them open a digital storefront and transact with consumers within the app since 2018, both Reliance and Tata are currently working on replicating their offline empire in the digital space with an all-in-one app.
Be that as it may, Paytm, India's second most valuable startup at a USD 16 billion valuation that provides a host of services—payments, financial services, travel and hotel bookings, games, and online shopping, among other things—on one platform to its 150 MAUs, is one of the strongest super app contenders.
However, for the world's second-most populous country, the super app dream is still far away as none of these contenders have reached the level where they can be called super apps.
The beginning of the super app dream
The first-ever reference to a super app goes a decade back. In 2010, Mike Lazaridis, founder of Blackberry, envisaged a super app as "a closed ecosystem of many apps that people would use every day because they offer such a seamless, integrated, contextualized, and efficient experience."
The same year, Chinese internet giant Tencent began developing WeChat as a skunk work project with seven engineers under founder Zhang Xiaolong. The first version of WeChat was put together in three months. It entailed simple messaging and photo-sharing features when it was rolled out in early 2011. When WeChat crossed the mark of 300 million users in 2013, it added e-wallet and mobile payments, laying the foundation for the services it would bring in over the next few years.
While WeChat partnered with the likes of cab-hailing major Didi Chuxing, online retail company JD, and hyperlocal delivery major Meituan Dianping, it also opened up its platform for third-party services. It allowed businesses to set up online stores under WeChat stores beginning in 2014 and three years later launched mini-programs that let companies run their apps within WeChat.
By 2017, WeChat was crowned as a super app—an app that offers a range of services like communication, social media, payments, cab-hailing, food delivery, online shopping, travel, streaming, games, and personal loans. It currently boasts over 1 billion MAUs and hosts a million-plus mini-programs, enabling users to do just about anything they want to without leaving WeChat.
Another super app that evolved in recent years is Gojek, Indonesia's first unicorn. Started as a hyperlocal services company in 2010, it has become a one-stop shop for ordering food, commuting, digital payments, shopping, hyper-local delivery, getting a massage, and dozens of other services.
"Gojek runs the equivalent of three Indian unicorns rolled into one," Sidu Ponnappa, senior vice president of Gojek's engineering team, who is also a part of its board, wrote in a blog post in 2019.
Half of Indonesia's population uses its app, according to Gojek. It claims that its riders cover 16.5 million kilometers every day across Indonesia, Singapore, Vietnam, and Thailand—which equals "21 round trips to the moon and back." As of 2020, Gojek processed more than USD 10 billion annualized gross transaction value across all markets. That's the scale super apps generally play at.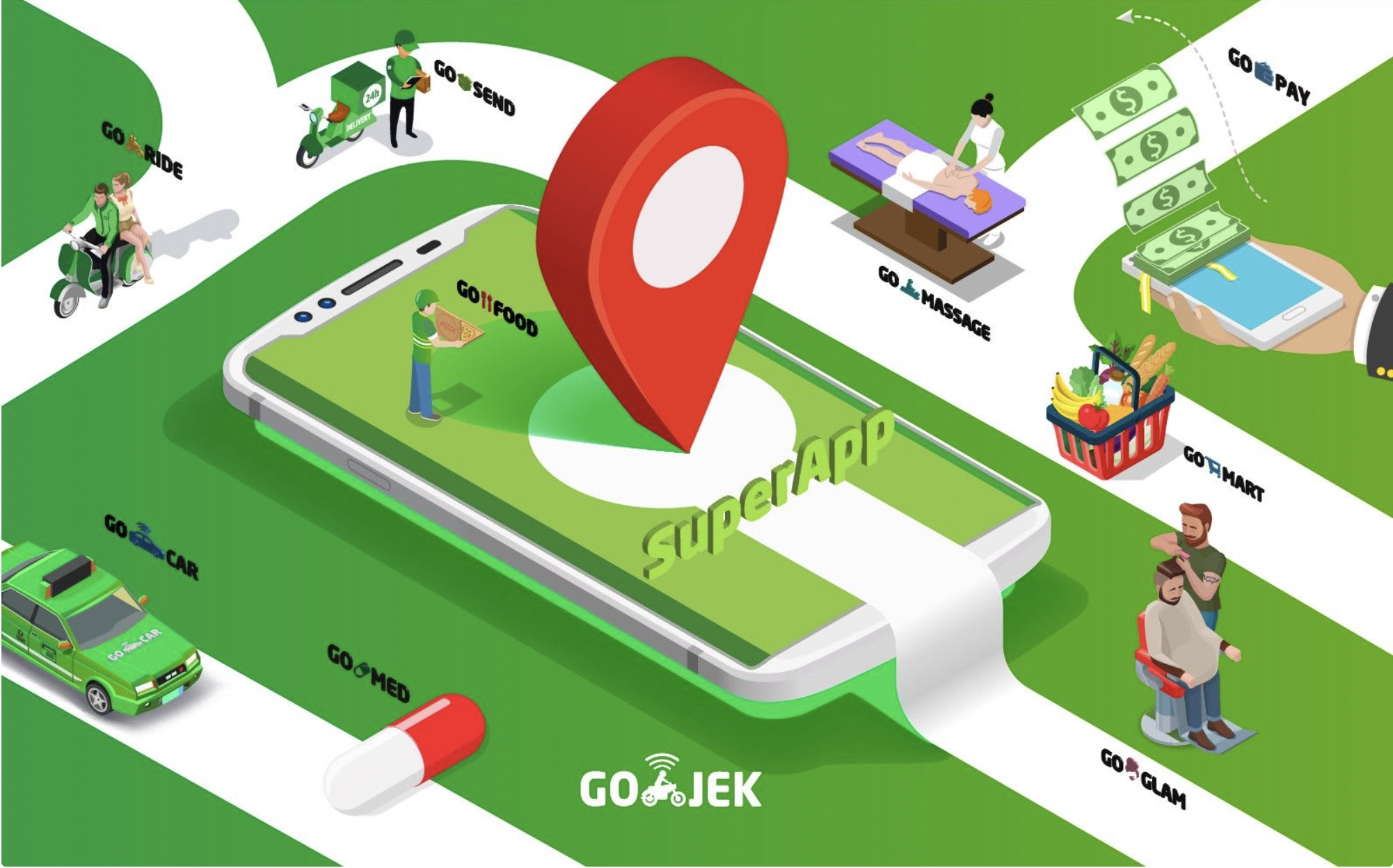 Aside from WeChat in China and Gojek in Southeast Asia, others that have clinched the title of the super app include Alipay, Meituan-Dianping, and Grab. In fact, all over the world, companies are racing to become super apps. The list includes Colombia's Rappi, Nigeria's OPay, El Salvador's Hugo, Vietnam's ZaloPay, Malaysia's Fave, and Russia's Yandex, among others. Back in India, many have tried replicating the WeChat model to graduate to a super app, but none of them have succeeded yet.
"There are six key success factors to build and evolve into a super app company—critical mass and scale (in terms of user base), stickiness, adjacencies, strong brand, efficient services rollout plan, and execution capabilities," said Jayanth Kolla, founder of research firm Convergence Catalyst.
"To build a strong super app, a company needs to evolve and execute in terms of breadth and depth. Breadth refers to the range of services being offered across different industries and sectors, and depth indicates being the leading player and building a strong brand in each of those businesses," said Kolla. "Thus, it requires huge investment to create a super app."
He believes that both Paytm and PhonePe have faltered on the execution of their super app strategy so far.
Late to the party
According to Anand Vermani, partner and corporate finance officer at KPMG, internet giants that evolved into super apps in China and Southeast Asia were early in the game and have higher brand value than any other specialized app, unlike Indian tech giants that started their super app journey quite late.
By the time the super app fad started to grow in India about three years ago, the country already had specialized apps for online shopping, travel bookings, movies and events, cab-hailing, food ordering, video streaming, and hyperlocal services.
"The basic premise behind a super app is combining a bouquet of services," he said. "However, India's internet-savvy population prefers value over convenience or brand loyalty. The general user behavior in India is to compare prices across multiple platforms in anticipation of the best deal."
This implies that Indian users are unlikely to remain and transact in one app ecosystem. Vermani believes specialized apps provide a better proposition for users than super apps in the making. Simply put, the chances of Paytm or any other super app contender beating category leaders like food ordering majors Zomato and Swiggy, movie and event booking platform BookMyShow, online travel agent MakeMyTrip, and ride-hailing giants Uber and Ola are slim.
Furthermore, Paytm and PhonePe have been struggling with their own challenges.
Paytm, for instance, has been fighting tooth and nail with PhonePe and Google Pay to retain its leadership position in its core areas—mobile payments and financial services.
"A couple of other products like Paytm Mall and its payments bank that were supposed to take off and could have blended well into its super app strategy did not perform as expected," said Kolla. He believes Paytm doesn't have the requisite funding to keep investing in other offerings, as it has to use its resources to fend off competition in its core service segments.
"It is extremely difficult for management to focus on anything else when the ship is taking on water or going under completely," he said. "You need to plug all the holes first."

Another reason other services haven't taken off for Paytm is that it launched too many services too fast without giving its 400 million-plus registered user base time to understand and get familiar with the new offerings.
This is where PhonePe seems to have done better. The six-year-old payments company has been rolling out financial services like insurance, mutual funds, and gold investments slowly and steadily, one after another. Separately, it launched its in-app platform in 2018 and renamed it PhonePe Switch in late 2019. Currently, it has 645 apps such as Ola, Swiggy, redBus, Goibibo, Myntra, Delhi Metro.
The idea behind PhonePe when it was launched in 2016 was "to facilitate all kinds of transactions between customers and merchants and not just be limited to payments," Sonika Chandra, vice president, business development and strategic partnerships at PhonePe, told KrASIA.
The company offers high-frequency use cases like ordering food, shopping, and travel through its merchant partners on PhonePe Switch, said Chandra.
"PhonePe Switch is part of our broader super app play," she said, adding, users don't have to download apps or store them on their phones anymore. "We have several partners who have reported that Switch is the most cost-effective customer acquisition channel with a 40% lower customer acquisition cost than other conventional channels they use," added Chandra.
Kolla, however, believes PhonePe doesn't have adjacent services like chat, streaming, and hyperlocal deliveries that can help it evolve into a super app. Merely having access to third-party apps doesn't make PhonePe or Paytm a super app, he believes.
This is true for Google Pay as well, which launched the Spot platform for India and Singapore markets in September 2019 to enable retailers to create digital storefronts on its platform through which customers could directly engage with them without having to install an app.
Beyond the obvious
While super apps partner with companies and host third-party apps on their platform, their relationship is not just skin-deep.
"As Chinese super apps gathered scale, they morphed into holding companies, Haresh Chawla, a partner at VC firm True North, wrote in his blog late last year. "They bought significant stakes in vertical specialists…which allow them to get exclusive access as well as retain some of the value they drive by sending traffic to the verticals."
For instance, WeChat partnered with Didi, JD, Meituan Dianping, and a host of other companies that are portfolios of WeChat's backer Tencent. Thus, leveraging the Tencent ecosystem, WeChat built a tightly-knit ecosystem of services. Similarly, Gojek has invested in entities like insurance tech firm PasarPolis, cloud kitchen chain Rebel Foods, and online lifestyle brand Zulu, among others, which it taps to offer various services to millions of its users.

This holding company model is being adopted in India by Reliance, which has built joint ventures and partnerships, extending from e-pharmacy to edtech, noted Chawla. This will help the oil-to-internet conglomerate create a unified ecosystem of digital services.
Tata Group seems to be deploying the same approach, having acquired leading grocery app BigBasket and e-healthcare platform 1mg earlier this year. The salt-to-software conglomerate has also recently invested in fitness app Curefit.
To create a successful super app in India, Kolla believes, one needs a conglomerate kind of cross-industry products and brand presence and acceptance by consumers. That way, he said, only Reliance can potentially pull this off.
Reliance has retail and payments in the form of its e-commerce platform JioMart, which can serve as the core, high-frequency use case. Tata Group, on the other hand, which revealed its super app ambitions last August, doesn't have any product or platform yet that can evolve into a super app except grocery service BigBasket, believes Kolla.
To succeed in India, "super apps will need to demonstrate straightforward value addition by integrating multiple verticals on a single platform through a personalized user experience," said Vermani. He added that, aside from creating user habits, "there would be business challenges around maintaining consistent branding, developing uniform user interface, and maintaining open APIs and architecture, which they need to tread carefully."