Last year, Singapore-based social e-commerce startup Webuy found itself in the eye of a perfect storm.
Webuy first introduced its strain of community group-buying to Singapore via its website in August 2019. It provides product samples for group leaders to test and recommend to their own networks to garner bulk orders. The power of social influence was demonstrated early on in Singapore—Webuy successfully helped a local food supplier sell 4,000 cans of abalone in a mere four hours in December 2019. The company then expanded to Malaysia in January 2020, and then Indonesia four months later, cementing footholds in Southeast Asia's major economies.
In spite of its relatively short history, the startup's consumer base grew fivefold from January to October last year. It launched at the right time—a few months ahead of the pandemic, so it was already on track when infections began to rise in the region. As people bought their groceries and other goods online, Webuy's growing pains were tempered. Now, around 3,000 group leaders collate and purchase orders, mostly fresh produce and groceries, for over 100,000 consumers across Webuy's three markets.
Like anywhere else, Southeast Asia's e-commerce industry is cutthroat and dominated by kingpins; the region's major players include Shopee, Lazada, Tokopedia, and Bukalapak. But Webuy co-founder Vincent Xue came prepared with prior experience in this space. Xue was the co-founder and chief strategic officer of international shipping platform Ezbuy before he took a leap to form Webuy.
Webuy is designed to mimic social media influencer-driven interactions to increase the visibility of small-scale merchants, according to one of the company's press releases. "Current Southeast Asian consumer habits are driven more by influence rather than necessity. If social media platforms dictate consumption trends, Webuy's social e-commerce platform aims to reconstruct the act of daily consumption and interaction," said Xue. By harnessing the strength of social media, Webuy seeks to transform the current online e-commerce model into a more interactive and community-driven one.
Xue states that Webuy is built differently from the likes of Shopee and Lazada, which are centralized e-commerce platforms powered by algorithms. Webuy operates on a decentralized model where each community leader is at the helm of a closed transaction loop. Although this may seem like an unusual step away from technologically driven solutions, he believes that "the human touch is still the most intelligent system to match supply and demand." On average, there has been a 20% month-on-month increase in sales and traffic for sellers.


The human touch in new retail
Xue's emphasis on the human element manifests in its S2B2C business model. Both Webuy and its network of suppliers have to work with its community leaders in a tightly coupled and mutually dependent relationship to serve the end consumer. While Webuy sees itself as a partner who shares the same goals as the community leaders, Xue clarifies that the company also regards the community leaders as its customers. As such, Webuy supports these leaders with technology tools, consistent training, marketing materials, and delivery services so that they can, in turn, better serve buyers in their own communities. In this regard, Webuy's community leaders act as salespersons, rather than promoters, and receive a commission of 5–30% depending on product type.
What's most advantageous about tapping the human touch of community leaders is that it reduces two major cost items of e-commerce—user acquisition and logistics. These leaders are in a better position to embark on a mutual trust-building process as they have relative social influence in their own circles. After all, most of these designated leaders are housewives and have more clout among Webuy's main demographic of women aged 30 to 50. By regularly updating their own communities with the latest offers and product offerings, these leaders are able to influence purchases and assist with new user acquisition.
Furthermore, the presence of community leaders substantially cuts down on last-mile delivery costs. Webuy only has to oversee the distribution of these aggregated orders to the group leaders, making the company's own logistics model lighter and more manageable. As group leaders helm the delivery and pick up arrangements in their own transaction loop, customers are able to liaise with them for pickups.
This flexibility appeals to consumers such as accountant Irene Leow. Singapore may be peppered with supermarkets and a multitude of online grocery options, but Leow still prefers to use Webuy for her daily necessities. She said that her job keeps her very busy and it is more convenient to arrange for pickup with her neighbour, a designated Webuy community leader, rather than wait for the delivery van to arrive or head down to a physical store.
Social commerce roots in China
When discussing social commerce, it is necessary to mention its Chinese origins. Looking at China, community group-buying is slated to become the next wave of social e-commerce, particularly in the online groceries sector, due to the COVID-19 pandemic. "The presumption that most consumers still prefer to go to wet markets or supermarkets for their daily essentials has been challenged over the past few months," stated Chen Lei, CEO of Pinduoduo, last November. Pinduoduo, alongside other major players such as Meituan, Alibaba, Didi Chuxing, and JD.com, have jumped on the community group-buying bandwagon in the last few months.
If Webuy's business model sounds vaguely familiar, it does share plenty of similarities with Shihuituan, a community group-buying e-commerce platform that focuses on online groceries. In fact, Xue mentioned that the initial idea for Webuy was planted by one of his investors who was an early investor of Pinduoduo and another community group-buying platform in China. However, the successes of companies in this sector in China does not necessarily mean it will take off the same way in Southeast Asia.
China has a vast supply system insofar that shortages are not a concern; platforms such as Shihuituan just need to focus on capturing enough customers. Shihuituan can bulk up its inventory for specific products instead of expanding its product lineup. Conversely, Webuy has to constantly build and maintain strong relationships with suppliers. The company goes a step further to collaborate with suppliers and develop products that are exclusive to the platform. This helps Webuy to quickly expand to more categories and offer more variety to appeal to the multicultural background of Southeast Asian consumers.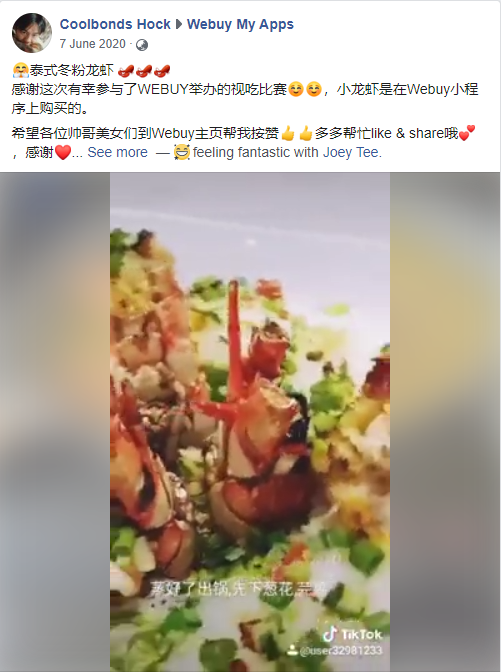 Southeast Asia social
China has a robust WeChat ecosystem with e-commerce agents that educated the market before Shihuituan's entrance in 2018. Does Southeast Asia have the infrastructure and groundwork ready to power Webuy's growth?
To that end, Xue said, "The online infrastructure is not ready and we won't be ready if we were to compare it to the WeChat ecosystem in China. However, from the basic tools perspective, Southeast Asia is highly penetrated by smartphones and messaging apps such as WhatsApp, Line, Telegram, and so on." He qualified that Southeast Asia has a community-oriented population that prioritizes connections with other people, providing a readily available "offline infrastructure" for Webuy to tap into.
"There is a steep learning curve for early-entry players like us, but we believe the trend is there and we would like to lead the innovation in this game for the Southeast Asian market," said Xue.
Southeast Asia may not have the same market conditions that led to Shihuituan's success, but it's too early to predict whether community group-buying will take off in the region. In the meantime, Webuy has the first mover advantage. It recently raised USD 6 million in a Series A round. The fresh injection of capital will be used to improve its data-driven platform and take the company to Vietnam and the Philippines as well. Furthermore, Webuy inked a partnership agreement with ByteDance to add new social capabilities. However, Xue was not able to disclose any details as of yet.
Webuy has technological and social innovations at the core of its ambitions, but its main challenge is one you might least expect. When asked, Xue wryly replied, "Imagine managing thousands of housewives—it is never easy."


This article is part of KrASIA's "Startup Stories" series, where the writers of KrASIA speak with founders of tech companies in South and Southeast Asia.