The gaming world is shifting and Razer seems to be on top of it. "Our perspective is that there is a huge market, but only very few can truly understand what gamers are thinking, what they need," Razer CEO Min-Liang Tan told 36Kr and KrASIA in an interview on Tuesday. The company he co-founded 15 years ago as a provider of specialized gaming hardware is certainly in tune with the global gaming community.
Tan said that the number of gamers was rising before the pandemic and may have reached 3 billion worldwide by now. Young people, particularly those born after 1990, all say that their main form of entertainment is gaming, he argued. "So we put gamers as the focus, young people as the focus."
The gaming token Razer Gold, which Tan characterized as the world's largest independent virtual currency, is just one example. Tan said that a gamer in Latin America or Southeast Asia, without credit cards, WeChat Pay, or Alipay, will first buy Razer Gold, which now has 4 million top-up points worldwide. The gamer can go to a 7-Eleven or Family Mart, pay for Razer Gold, and straightaway use the currency on PUBG or other games and for digital entertainment content such as livestreaming and comics. That part of Razer's business recorded a 125.9% year-on-year increase in total payment volume, according to the H1 results that the company released a couple of weeks ago.

"For fintech, we started by putting gaming as the focus," said Tan. "Gradually, we found that many young people used Razer Gold, and our software, and our hardware." The software business was hitting 100 million users in the first half of the year. Now that they have these users, Razer can funnel more services toward them, he explained.
Thanks to the gaming boom, the the company's hardware business also saw a 26% year-on-year revenue increase to USD 382.7 million. "Our growth has been very good," Tan said. "What I think has done especially well is our services sector" Here, Razer is partnering with—among others—Tencent via PUBG "to help them monetize."
Tan believes that many still don't fully understand the concept of gaming and the business that surrounds it, and hence don't valuate Razer correctly. Razer's stock at the Hong Kong Exchange traded around HKD 1.54 (USD 0.20) on Wednesday, well below its HKD 3.88 IPO price in November 2017. "Younger analysts are getting it, older analysts not so much," he said. For the first half of the year, the company still posted a net loss of USD 17.7 million, an improvement from the USD 47.7 million loss in the same period last year. On an adjusted EBITDA basis, it registered a profit of USD 3.2 million.
Strong balance sheet
Tan also referred to its "very strong" balance sheet. "We still have about USD 500 million in cash," he said. "In the short-term, we will do more investments, more R&D." Cloud gaming has been a space where Razer has become very active recently. For the CEO, it can become a new, separate vertical that stands next to PC, console, and mobile. Tan says that they launched a cloud gaming controller with Microsoft, which is selling extremely well. People can link the Xbox to their phones to play games.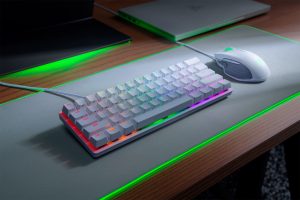 But it doesn't stop there for the visionary founder. "We've always said that Razer is a lifestyle-based company, not a hardware, software, or services company," Tan said. He described Razer as "a bit unique," as not comparable with other businesses. "In the short term, we will still focus on gamers," he said, referring to the 100 million users worldwide.
Next will be digital banking. Razer applied for a digital bank license in Singapore, which is still being processed. His idea is to build a global, digitized bank for young people whose needs aren't fulfilled by conventional financial institutions—who are "overlooked by traditional banks," he insisted.
Future in banking
"We're considering applying for licenses in other countries," Tan said, pointing to North America, Europe, and Latin America, where he also sees "huge opportunity." But he didn't mention what exactly Razer may offer its future clients. "When we design products, we only disclose the features when we launch." The company already operates a mobile wallet service in Southeast Asia.
The world is changing and Razer could be on the winning end. It used to be that parents didn't want their kids to be gamers, Tan recounted. "But we had this passion, we didn't care what people said about it, and we were very focused on it." Now that gaming has become cool, everyone wants to join in. "We will partner with other brands, for example, clothing brands, or streetwear brands," Tan said.
The public perception about gaming is shifting and it might soon view Razer differently as well. Min-Liang Tan is confident: "I think people will slowly understand."