FUSE, Japan's largest startup conference, brings together major corporations, startups, education institutions, and governments from around the world to engage in dialogue and exchanges that lead to innovation, collaboration, and co-creation. Held in January this year, the conference featured prominent speakers and 3,000 attendees, facilitating more than 9,300 interactions.
The conference focused on introducing globalization to Japan's growing industries. It also aimed to help foreign companies understand the business and investment opportunities in Japan, as well as strengthen collaboration between overseas businesses and partners in Japan.
36Kr Japan and KrASIA, both part of 36Kr Global, have joined FUSE as overseas media partners. 36Kr Global has created a 90-minute video with English and Chinese subtitles to help Asia-based companies and investors better understand the Japanese market and trends. This video will be released at 10:00 a.m. on Thursday, April 28, 2022. It will be available here.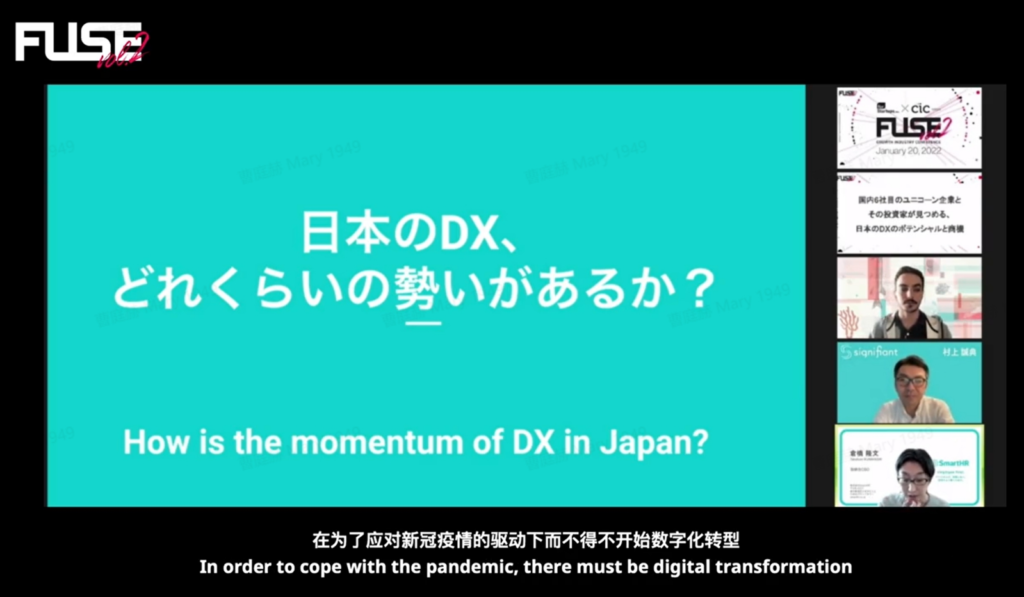 For Startups
FUSE is sponsored by For Startups, which works closely with startups, major companies, investors, research institutes, and the Japanese government. It carries out growth industry support projects in Japan, provides startup-specific media coverage, maintains the STARTUP DB database, and operates a talent matching service.
FUSE's program
The 2022 FUSE conference featured hot topics for businesses and investors in Japan. For example, SaaS startups have recently been at the center of the conversation in the country, helping Japanese companies to improve their operational efficiency and digital transformation. This development is a great opportunity for international firms. Here are some highlights from the conference's panels that are included in the 90-minute video, with English and Chinese subtitles:
Japan's sixth unicorn company and its investors look at the potential and opportunities of digital transformation in Japan
Crossover investment accelerates large unlisted rounds and post-IPO growth
How to develop a business that contributes to sustainability as a growth industry in Japan
What Japan needs to do to become one of the world's leading startup nations
The impact of Web 3.0 and Japan's winning ways
Megabank initiatives and the current state of co-creation between companies and startups
The changing future of retail and the opportunities for startups
IPOs and mergers and acquisitions for company growth
Raising money from global venture capitalists: Is your startup attractive?
Watch the video
Release date and time: Thursday, April 28, 2022, 10:00 a.m.
Viewing link: 36kr.com/live/1559832930111368