COVID-19 made 2020 a difficult year for most economies around the world. Vietnam, however, has managed to pull through with positive developments. Despite many challenges, its GDP has grown over the first quarter of 2021, ending with a year-on-year 4.48% increase.
The Vietnam Global Innovation (VGI) program, powered by Quest Ventures, recently completed its four-week cohort program at the end of March, which focused on providing knowledge and valuable connections to Singaporean startups looking to expand their reach into Vietnam using a mix of in-person and online sessions.
After successfully running its first cohort last year, the 2021 edition has allowed founders from ten startups to learn new insights and also receive feedback on aspects such as their business models and market entry strategies.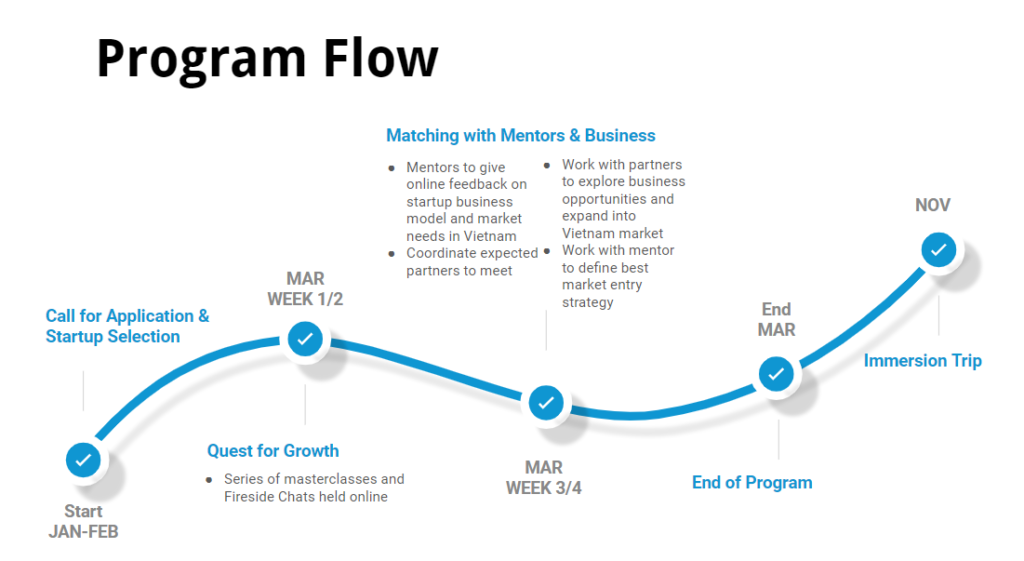 Below are the startups that participated:
Aespada Technologies: Aespada's platform allows construction businesses to book heavy vehicles for the delivery of materials to construction sites. VGI provided co-founder Jean Christophe Li with some useful advice on market entry into Vietnam. "Ensure that you have a local presence, or a local Vietnamese agent who can bridge the gap much faster. Entering Vietnam will take a lot of resources and time, so ensure that the startup can dedicate sufficient time into the expansion," said Li.

Edsy Bitsy: Online platform Edsy Bitsy transforms written content into watchable videos, transforming long pieces of texts into smaller consumable watchable formats. Co-founder Deevak Premdas shared his plans for the startup in Vietnam over the coming months. "We will continue the development of the first version of our product, which we aim to complete by June. In the meantime, the non-profit in Vietnam I have spoken to is interested in running our pilot program for their summer school in June. As Vietnam has a booming after-school tutoring industry, Edsy Bitsy aims to reach out to these businesses to onboard them as our early adopters," said Premdas.
Fundigo: Crowdfunding and event listing platform Fundigo focuses on impact-driven businesses. The firm aims to allow these types of companies to raise capital and gain exposure to investors that are looking to work with those with social impact values. Vietnam presents a great opportunity for Fundigo, said founder and CEO Andrew Soh. "Vietnam is a growing market for impact businesses. After seeking advice from mentors during VGI and research, we know that it is a market where a lot of Gen-Z and millennials are starting their own impact businesses," Soh said.

Gmeal: The company runs a platform that allows corporate social responsible (CSR) sponsors to contribute meals and essential services to underprivileged communities. Its marketplace uses the concept of pay-it-forward to connect merchants with sponsors and provide those in need a helping hand. Director Bernice Tan sees Vietnam as a fantastic market for social impact work. "Vietnam has become one of the most dynamic impact investing markets in Southeast Asia. Foreign enterprises lead in strategic CSR, the government has embarked on mainstreaming green finance, and local governments have good initiatives for developing social impact goals," said Tan.
Hireplace: Networking platform Hireplace connects employers with potential hires. The firm also manages speed interview events to allow talents and those looking to hire to connect. Customer success manager Cherilyn Low found the masterclass lessons valuable to understand the market better. "We learned that Vietnam has developed into one of the leading startup hubs in the SEA region. The government supports the digital transformation initiative, which has attracted lots of startups and multinational firms to set up offices there," said Low.
"In addition to this, we've seen a growing number of interest in tech-related roles. People are quite open to working at international startups. From the information shared by the speakers, we gained a deeper understanding of the local working culture. It helps us understand the local recruitment market's needs, develop a suitable entry strategy, and develop a series of virtual speed hiring events to help other startups hire the right talents," Low said.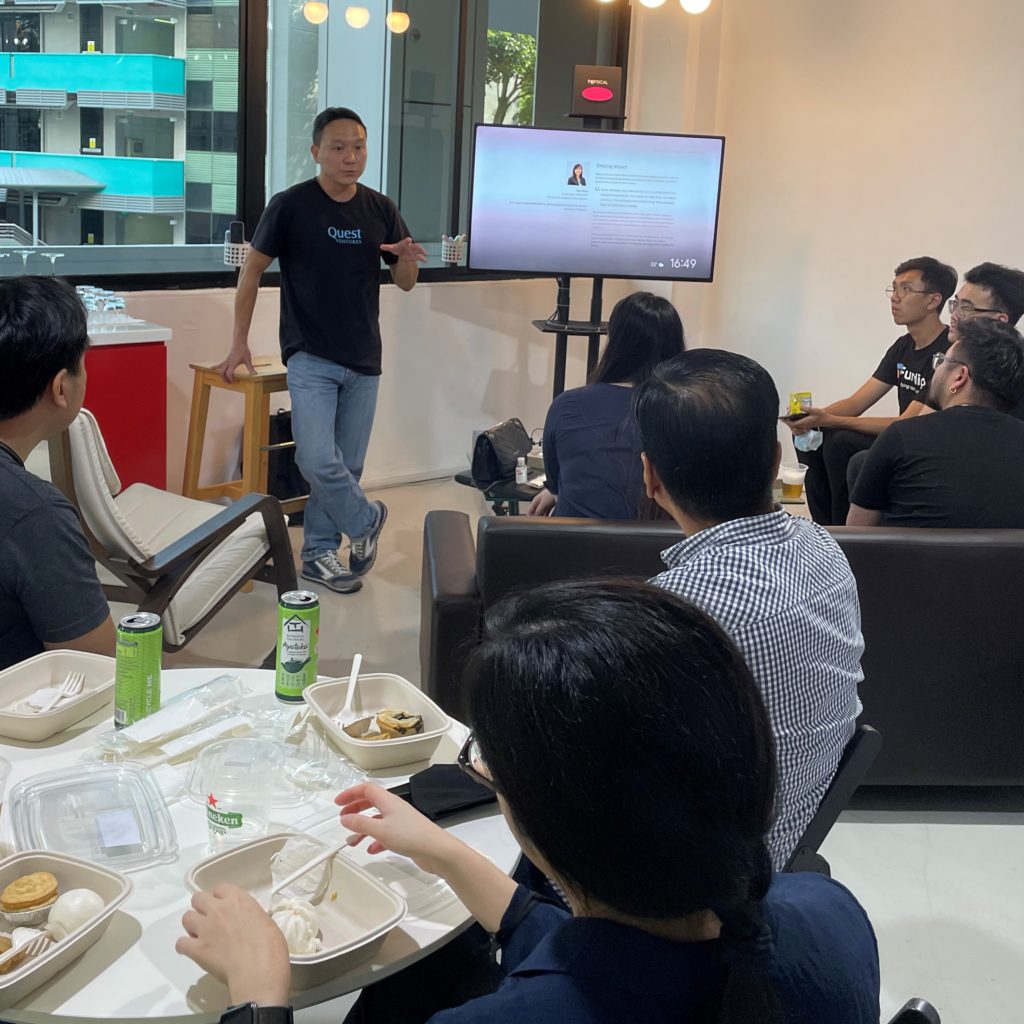 Hydroleap: The company provides a chemical-free and cost-efficient water treatment solution based on electrical charge (electrocoagulation) to remove solids. For Wai Jun Mak, head of strategy and finance, the biggest insight the team learned from the program was a better understanding of the local regulatory landscape.
"It is important to know and understand the business dynamics of how the industry actually works. In our case, we found that despite good regulations, water industry laws may not always be enforced on the ground. Despite this, there are major companies and industrial parks that continue to invest in good water treatment technologies to ensure that the surrounding environment is clean," Mak said.
Nabcore: Brand protection and tracking product platform Nabcore assists brands with tracking supply chain movements of goods and physical authentication of products. When asked about the startup's plans for Vietnam over the next coming months, director of business development Guankai Ng explained that "our plan is to collaborate with potential local partners to provide suitable brand protection solutions for brand owners and organizations in Vietnam. Subsequently, as projects in Vietnam get firmed up, we will establish a presence there to support the partners."
Nino News: Subscription-based content streaming provider Nino News provides news content to assist educators when teaching preschool students.
The co-founding team made up of Jenine Koh, Sienny Septibella, and Stacy Goh hopes to make news more accessible and fun for young children while giving them another way to absorb knowledge outside the classroom.
SWAT Mobility: Mobility solution provider Swat Mobility provides a range of ride-sharing services that can be customized on-demand, based on users' needs and preferences. The startup aims to improve traffic flow and reduce transportation costs with its technology. When asked about the biggest takeaway from the VGI program, regional director of marketing Annie Ong commented that "with a fast-growing smartphone penetration rate and a young workforce, the Vietnam market has a huge potential for disruption with mobile applications. Together with the Vietnam government's National Digital Transformation program, there would be opportunities to help businesses digitalize their current processes. However, the technology that is implemented must be adapted to local taste and preferences to ensure long-term adoption and use."
Tanalink: Crop management platform Tanalink uses IoT technology, sensors, and data loggers to help planters monitor the number of plants harvested and areas covered. The company aims to reduce crop loss, improve efficiency, and harvest yield. CEO Patrick Martinent was excited at the prospect of entering Vietnam. "Vietnam provides a wonderful sandbox to both validate and grow the business. First, the tech ecosystem is thriving and the talent is world-class. Second, the country's agriculture sector is ripe for disruption and innovation," he said.
To register interest in the VGI cohort with Quest Ventures, click here.