Read China Venture Roundup for key weekly takeaways about China's tech venture and investment landscape. KrASIA keeps you updated on China's most active investors, promising startups and the hottest verticals of the moment – bringing you closer to one of Asia's most developed tech ecosystems. 
This new series will be published on Tuesdays – sign up here to get this directly sent to your inbox each week!

Editors Note:
Venture Capital enthusiasm has declined from last week; with strategic investments and series A funding making up most of the closed rounds, and enterprise service and health continuing to lead the run.
In addition, Alibaba officially launched Xiniu Manufacturing (犀牛智造) on September 16, which is known as the "first new manufacturing platform in the world". Taking on the fashion industry, this platform is an AI driven manufacturing platform targeted to serve small and medium-sized enterprises and aimed and realising the mass production of customised, on-demand clothing.
Tiktok is set to raise pre-IPO funding in the near future with Oracle and Walmart poised to invest nearly RMB 100 billion (about USD 12.5 billion). With the completion of this pre-IPO round, Tiktok's valuation will reach nearly RMB 500 billion (about USD 62.5 billion).
This week's VC trends to note
From 14 September to 20 September, there were 60 deals closed, a significant decrease compared to last week's 104. Regarding industries, the top 3 of the week are: Enterprise Services (19 deals, accounting for 32%), Healthcare (11 deals, 18%), and Consumer and Lifestyle (6 deals, 10%). The Enterprise Service vertical continues to monopolize and show favour from investors with its 19 successful rounds.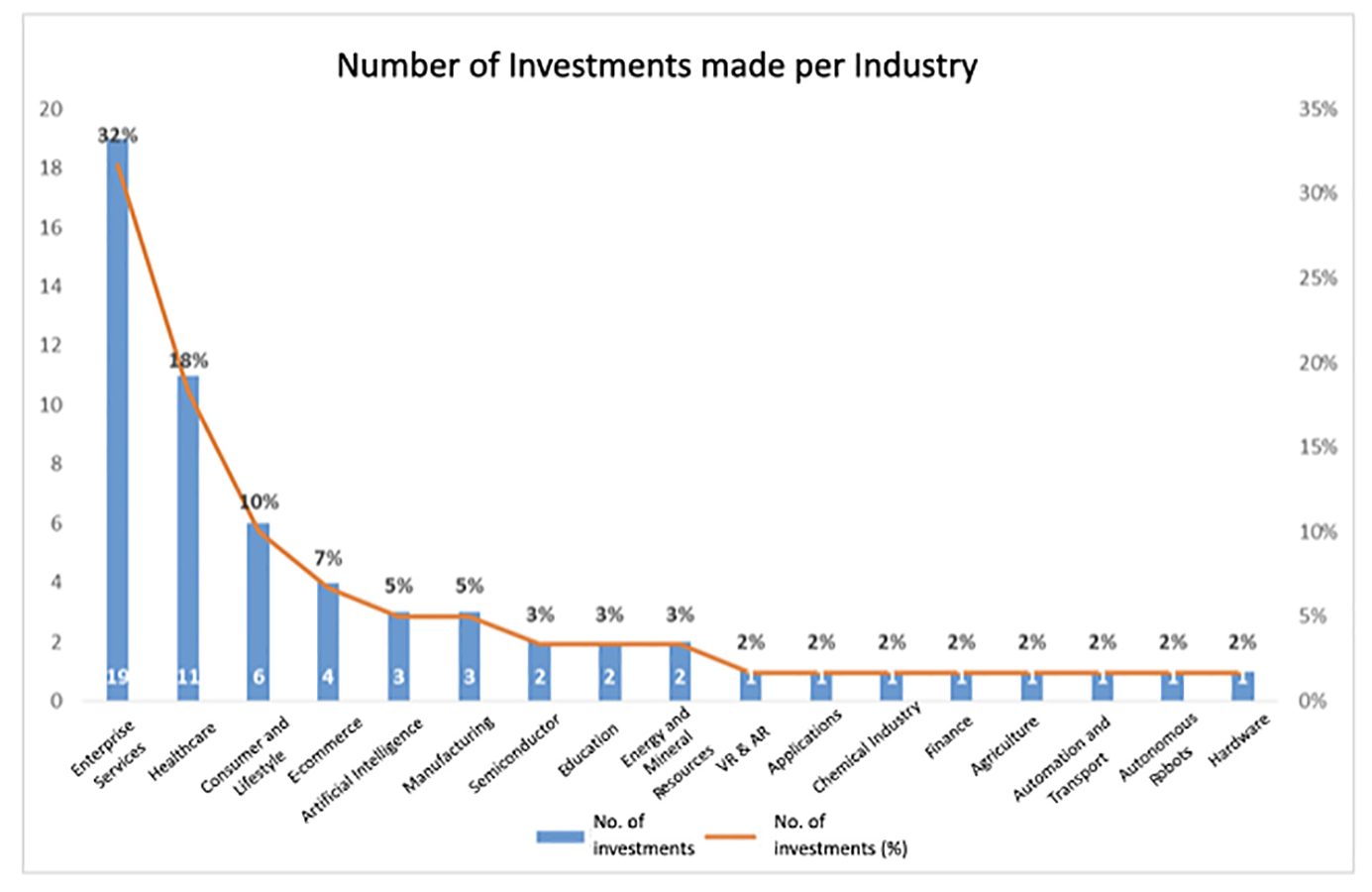 Looking at funding stages, there's been focus on strategic investment (22) and series A (13). The number of strategic investments dipped slightly compared with last week's 29, while the number of series A investments increased slightly from last week's 12.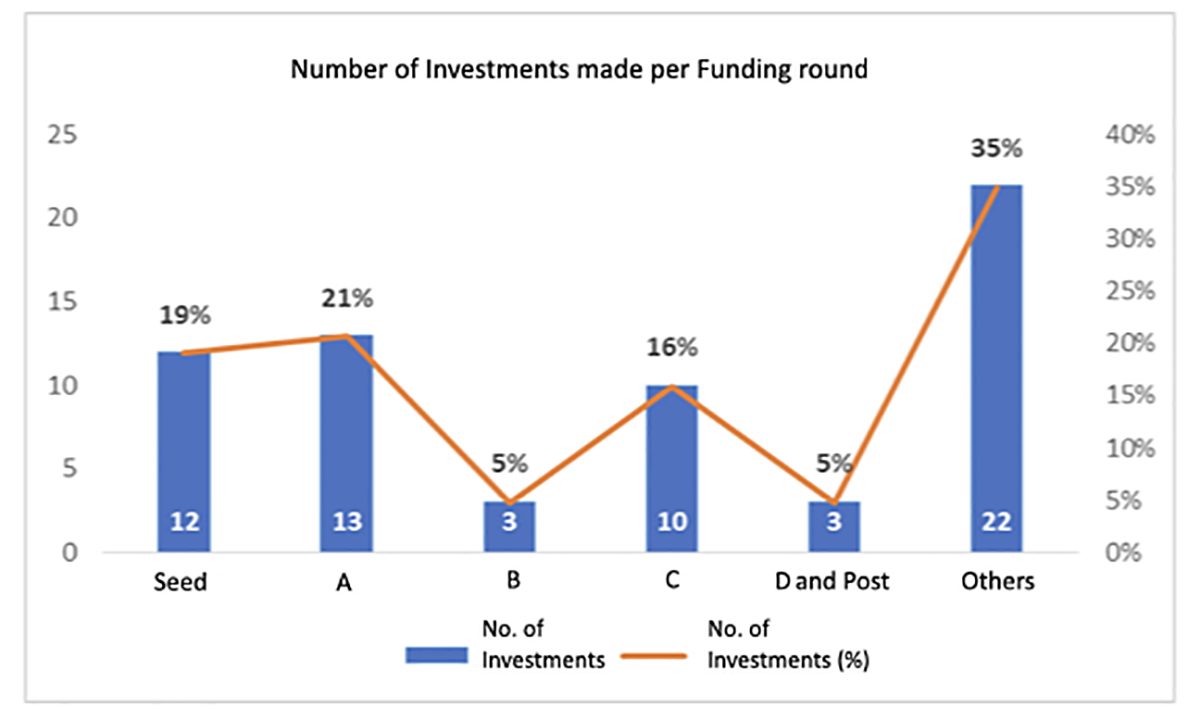 This week's headlining investments
The number of big ticket investments (exceeding RMB 100 million)for the week was 17, nearly 50% less than last week's 30. Healthcare again lead with 7 deals, E-commerce with 2 and Artificial Intelligence with 2. More than half of the Healthcare investments (7 out of 11) exceeded RMB 100 million.
One of the larger investments came went into Education, as LeLe Ketang (Lele classroom) closed its Series C with USD 40 million. This round was led by Owl ventures, the world's largest edutech investment fund, and followed by return investors such as Morningside Capital, Lightspeed China Partners and Bluerun Ventures.
Additionally, space propulsion start up Space Pioneer closed its series A with a valuation of several hundred million. The round was led by Zhejiang University joint Innovation Investment, Zaihe Investments and more. The funding will serve whole system hot-fire testing of Space Pioneer's "Tianhuo" HCP rocket engine series, commissioning of its first flight and recruitment to drive development of its liquid propellant. This is also the second big ticket investment obtained by Space Pioneer this year.
This week's headlining funds 
7 funds announced their intent to raise capital during the week, with a targeted total of more than RMB 2 billion. Among them, the largest fund-raising effort China Resources Tengkang fund (华润腾康基金) with its plans to raise RMB 1 billion.
The fund is jointly established by Qier Xinren and China Resources Capital Management and is mainly focused on the field of general healthcare. Its investment thesis will be based on both basic and specialized medical care and new medical businesses.
BA Capital also raised an initial US dollar fund this week, with initial capital already at more than USD 100 million.
This week's note-worthy early stage startups 
Hi-Tech 
Asensing; Founded 2014, raised series B
Asensing mainly provides high-precision integrated positioning end-to-end solutions based on its self-developed micro-electromechanical system (MEMS) of integrated navigation technology. Target clients include automobile manufacturers, autonomous driving solution providers and test measurement solution providers. Headquartered in Shenzhen, the company has manufacturing and R&D centers in the Guangzhou Development Zone and Jiangsu Haimen, R&D center in Suzhou Industrial Park and a branch in Beijing.
This round was led by China Investment Corporation (CIC), followed by Green Pine Capital Partners, Yuexiu Financial Holdings, SFund (Guangzhou City Construction Investment Group), Guangzhou Suikai Innovation investments and Bei Yuanfang (北辰远方). Amount is undisclosed.
The new funds will be used for new product development, improving delivery and technical service capabilities, and developing the next generation of highly reliable positioning technology.
iDriverPlus; Founded 2015, raised C+ round
iDriverPlus' product is monikered as the 'brain' of autonomous driving, providing multi-functional solutions for autonomous driving systems. Led by a group from Tsinghua University's Automotive department, this 'brain' has been applied across various scenarios such as low speed and high speed driving, and special vehicles. They have accumulated test milage of more than 2 million kilometres and its product has been sold internationally, to Germany, United States, Japan, Russia and other countries.
iDriverPlus plans to strategically partner with engine manufacturers, to handle the front-loading of mass production for Level 4 (L4) autonomous driving. The goal is to fully establish their L4 passenger car autonomous driving team in the next year and expand operation in 3-5 cities both locally and abroad. For special, non-passenger vehicles, iDriverPlus has launched unmanned vehicles for smart sanitation and logistics. They are currently expanding to cover the areas of security and retail.
Aerofugia (沃飞长空); Founded in September 2020; round undisclosed
A subsidiary of Geely Auto Group, Aerofugia's launch was announced simultaneously with its first product; the AOSSCI built X-chimera 25. Aerofugia will carry both the AOSSCI and Taili brands and focus on R&D, production and operation of Unmanned Aerial vehicles (UAVs) and other flying vehicles as its main business. Ultimately providing solutions that span the navigation ecosystem.
The new X-chimera 25 is a pure electric UAV with foxed wing and multi-rotor capabilities. The UAV is equipped with a high-performance flight control computer, which can adapt to a variety of loads, and can be used in traffic command, emergency rescue, intelligent maritime, public safety, power inspection and other fields.
Engitist; Founded in 2018, raised series A
Engitist's main business is centred upon the R&D, manufacturing and sales of semiconductor optical measurement and testing equipment. Its main products include semiconductor film and optical measuring machines, semiconductor micro-bump 3D testing machines and semiconductor macro defect testing machine.
Engitist's product line up can be utilised across upstream and downstream operational processes. Among them, the film measuring machine platform is used in lithography and the Chemical-Mechanical Polishing (CMP) process. Other products that are used for optical measurement and detection in lithography, advanced packaging and micro led have already ascertained repeat orders from clients.
Space Pioneer (天兵科技); Founded in 2019, raised series A
Space Pioneer is a space propulsion startup that focuses on developing room temperature green HCP (hexagonal close packed) liquid propellant, HCP rocket engines and HCP carrier rockets. They have been invested in by Zhejiang University joint Innovation Investment, Landstone Capital, Jiuyo Capital, Innoangel Fund, Eagles Fund, Zaihe Investments and more. It has obtained investment from Zhejiang University Lianchuang, Lushi investment, Jiuyou capital, yinnuo angel, eagle fund, Zaihe investment and other investment institutions.
To date, Space Pioneer has complete system hot-fire testing of HCP liquid rocket engines Tianhuo-1 and Tianhuo-2. R&D for Tianhuo-3 is under way and is reported to be progressing smoothly, with hot-fire testing to be completed by the end of 2020.

Enterprise Services
Baijiayun.com (百家云); Founded in 2017, raised series B
Baijiayun.com provides one-stop video SaaS service largely for clients who are educational institutions. Their main products include live classes accommodating varying sizes, cloud on demand, facilitating classes with 2 teachers, online schools, enterprise live broadcasting, internal training, video conferences, and more. Additionally, it also provides other services such as community marketing, video AI recognition, smart classroom, and big data processing.
Baijiayun has established branches, R&D centers and offices across multiple regions domestically and has more than 350 employees, with more than half being technical personnel. It has a complete product design, testing and technical R&D team, which effectively supports the rapid update and iteration of products.
Banma Software (斑马软件); Founded in 2016, raised series A
Banma Software was founded in 2016, in China's 'Software Valley' (Nanjing). Prior to this round, Banma closed a RMB 10 million Angel round in May 2018, and the RMB 15 million pre- A round with Xinqi Capital, Qilin Technology Innovation and Nanjing Industrial Development Fund in 2019. In July 2019, Lakala (on O2O e-commerce platform) strategically invested in Banma.
Banma Software helps existing domestic enterprises and vocational training schools enter the market in a digital and standardized way, building an industrial internet within the domestic industry.
Leyan Technologies (乐言科技); Founded in 2016, raised series C
Leyan Technologies is a national enterprise focused on Industrial application of Artificial Intelligence. Its founder and CEO, Dr Shen Libin, is a former IBM Watson researcher with more than 20 years of research experience in natural language processing and machine learning.
Leyan technology mainly provides intelligent customer service system services for B2B and E-commerce enterprises, with its product business also covering multiple vertical fields of public service such as intelligent education, government consultation, medical consultation, and more.
Education
Leleketang (Lele Classroom, 乐乐课堂); Founded 2014, raised series C
Before this round of financing, Lele Classroom had successively closed their series A round with RMB 5 million with Morningside Capital. Their RMB 20 million valued series B was backed by Morningside Capital, Lightspeed China Partners and Bluerun Ventures. Their RMB 20 million series B+ was backed by New Oriental, Morningside Capital and Lightspeed China Partners.
Lele Classroom pioneered the model of recording and broadcasting of the double-teachers classes known as 'Lele light class', tackling a pain point in the sinking industry, actualising better equity of high-quality education resources.
Fresh Food Products
Chaoke baba (超客巴巴); Founded 2019, raised seed funding
Chaoke baba is positioned as a comprehensive service provider of c2bcf fresh food supply chain. Through their fresh food supply chain resources, Chaoke baba aims to optimize the fresh food supply chain system for neighbourhood convenience stores and supermarkets, and directly export fresh agricultural products in the form of community group purchase.
In its early stages early stage, Chaoke baba focused on Beijing's fresh food retail market, and started to provide online operation services for Century Jinlong supermarket chain in 2020. Chaoke baba has currently signed 200 big stores and nearly 500 community associations, with total sales recorded to be over RMB 1.2 million.

This week's policy news
1. The National Development and Reform Commission plans to further expand the scope of encouraging foreign investment. It announced plans to ensure the proper implementation of the foreign investment exclusion list, thus ensuring equal opportunities, for both domestic and foreign investment institutions outside of the list.
2. The Ministry of Industry and Information Technology has reinforced its will to speed up regulation of low-speed electric vehicles. It plans to accelerate the standardisation of low-speed electric vehicles, improve sepcific management measures for its production, sales, taxes, insurance, user management, after-sales service and upgrade the low-speed electric vehicle EMU (Electric Multiple Unit) management system.
3. The Ministry of Commerce has announced that more than 1300 promotional events will take place during the Mid-Autumn Festival and National Day holidays. According to Gao Feng, a spokesman for the Ministry of Commerce, the 2020 National Consumption Month promotional activity has received positive responses from various localities and enterprises. More than 100,000 enterprises from 179 key cities in various provinces, autonomous regions and cities have actively participated in these activities, involving more than 2 million physical stores and online merchants.
As of September 16, more than 1400 consumption promotion activities with different characteristics have been carried out across the country. During the Mid-Autumn Festival and National Day holidays, more than 1300 consumption promotion activities involving upstream and downstream enterprises, production, supply and marketing, and domestic and foreign trade enterprises will be carried out. This includes the conversion of foreign trade exports to domestic sales, promoting Chinese domestic brands and products that incorporate Chinese traditional style and culture, and buying from produce from local farmers to support those in poverty.
4. The Ministry of Industry and Information Technology promotes more investment in R&D and industrialization of key drugs such as anticancer drugs. They actively encourage the application of new information technology such as big data and artificial intelligence, the accelerated development of new high-quality therapeutic drugs and  filling in the gaps within the domestic market.
In solidarity with this effort, the Ministry of Industry and Information Technology stated that they will work with relevant departments to integrate existing medical reserve resources, scientifically adjust the variety, scale and structure of the reserve, actively manage drug supply, research and screen the effective and clinically necessary anticancer drugs within the reserve criteria, so as to ensure patients' accessibility to medication.
5. Shenzhen stock exchange held a forum on how the capital market can help the development of state enterprises on September 18
The Shenzhen Stock Exchange will take the opportunity of the Growth Enterprise Market (GEM) reform and the smooth implementation of the pilot registration system to continuously improve the system's inclusiveness and adaptability. Thus support the listing and development of promising companies including state-owned enterprises, and provide a package of comprehensive services such as listing preparation, company roadshows, industry and finance matching, policy alignment and special training.
Ultimately to enhance the overall efficiency of state-owned enterprises reform, and to promote the formation of a group of listed companies that are of a certain standard; eventually driving high-level adoption of science and technology, circulation of capital and the real economy, and better serve overall economic and social development.
6. The Ministry of Industry and Information Technology has stated that it will support the new development of prevention and control of the COVID-19 pandemic. This includes supporting the development of the pharmaceutical industry, strengthening the management of medical reserves, and promoting the establishment of emergency supplies support system.
In 4 steps; First, to accelerate the development of the pharmaceutical industry. Second, to optimize the reserve of key materials and resources. Third, strengthen the linkage between central and local emergency capabilities. Fourth, strengthen the capacity for emergency services.
This week's top stories
1.  Re-looking fashion supply chain in China – Xiniu Manufacturing (犀牛智造), Alibaba's C2M flexible supply chain model and 'bottom-up' supply chain reform.
It is suggested that "bottom-up" clothes manufacturing, or on-demand fashion production, is the reverse of the traditional production line. The traditional "top-down" model uses production capacity and previous consumption data to predict the required output, i.e. Forecasting, reproduction and selling to customers. Seemingly logical, yet, this "top-down" model is difficult to sustain. This article discusses why and how Xiniu Manufacturing could be a step in the right direction.
The fashion industry has an incredibly fast pace of production and large consumption, making it extremely difficult to accurately predict consumer demand. It should not be assumed that such a huge industry adopts the same kind of technological advancements as other industries, and its current absence of digitalisation cannot be masked. Planning and forecasting of production and inventory are usually done be people and most companies to lack comprehensive databases or hold on to previous records.
Moreover, the market is largely occupied by a majority of small and medium-sized production enterprises. Additionally, the model of private small workshops is blooming everywhere, creating a highly diversified industry.
Xiniu Manufacturing stands out as one of the promising cases of "bottom-up" clothes manufacturing. If Alibaba is able produce a comprehensive solution platform through Xinui Manufacturing, it will help traditional garment manufacturers to transform and upgrade, thus benefiting the industry.
2. What value does HuaXiaoZhu bring to its older brother DiDi?
If Didi is a premium car-hailing service, then HuaXiaoZhu is its more economical cousin. It's differentiation can potentially bring more income and customer uptake but has to make its debut on Didi's App. This article questions the value HuaXiaoZhu brings to Didi's brand.
As an initially single-branded independent ride-hailing app, Didi's users had to download the app and learn how to align themselves with its rules and user experience. Sun Shu, general manager of HuaXiaoZhu, sees its introduction as Didi's attempt at business innovation and not a retreat on its original brand nor a tool for diversifying risks.
After more than half a year of secret incubation, Didi has only recently officially acknowledged the existence of HuaXiaoZhu.

3. How has the pause on travel affected Overseas Assisted Reproduction companies?
Cross-border assisted reproduction is a booming industry due to the shortage of choices in China's domestic market. The technology adopted overseas is also more developed, with clinics in the United States, Russia, Thailand and more already implementing the third generation of IVF PGD (Preimplantation genetic diagnosis) technology. In comparison, the domestic market is still on the first and second generation of such technology. This article explains why overseas assisted reproduction companies are a popular choice and the struggles the industry currently faces with the COVID-19 travel ban.
Going through IVF in China requires the parent(s) to provide more documentation – a birth permit, marriage certificate and an ID card. Identity restrictions and ethical issues also make many users choose overseas. For example, in the United States, these documents are not required before undergoing IVF in the United States, that is, whether single people, LGBT people or HIV groups can go for IVF, and patients can actualize their own "reproductive choice".
The core advantages of these cross-border companies is that they often build their own hospitals overseas, or sign exclusive agreements with certain overseas medical institutions. With the sudden, urgent need to pivot, these companies face difficult circumstances. According to industry insiders, many smaller companies have closed down during the pandemic, and the bigger ones are hard hit as well.
In order to stay afloat, the practice of many companies is to let employees suspend their work and leave, only paying social security and not wages. The issue is not that the company stops working but rather that it runs out of its existing cash. It's a good opportunity for employees to rest and improve their morale whilst retaining their jobs.
4. With a smirk of the 'Crooked Smile Warrior' – a look into China's meme and internet culture
With meme culture in China, people are constantly bombarded with chunks of information over the internet; it's impossible to miss what's trending at any given point of time. Naturally, meme culture has given rise to many cyber celebrities including Jingze Wang, Potion brother and even the African dancing pallbearers. This article comments on the rise of actor Guan Yupeng as his advertisements were a big hit on China's Billibilli platform (one of China's largest video sharing websites themed around animation, comics and games) as well as the effects of his internet fame.
In August, a user with the ID of "Banzang Tongxue" uploaded a video collection of actor Guan Yunpeng's advertisments on Billibilli. This video collection has been played 20.5 million times, generating 289,000 on-screen comments (known as Danmu); far surpassing the views on a highly popular Japanese animation masterpiece "Weathering You" by Makoto Shikai.

Note: KrASIA's 'China's Venture Roundup Volume.3' was adapted from 36Kr's Venture Weekly series