Vanessa Hendriadi wanted to do more than work in her family's real estate business, so she started one of Indonesia's major co-working spaces, GoWork.
Indonesia is home to more than 88 million millennials. The country is predicted to be the eighth largest economy in the world in 2020, according to consultancy firm Deloitte. Its major cities are ideal markets for co-working platforms.
After graduating from the University of Southern California in 2002, Hendriadi started to work in 2004 as a marketing director at PT Atlantic Biruaya, a mineral water company that is a subsidiary of her family's Mikatasa Group, which does business in trading, beverages, chemicals, and more. She was eventually promoted to director of operations at the holding group in 2009. and implemented changes to streamline the business.
In June 2013, she ventured out on her own and built a software system for property management called Gaea. Hendriadi, however, was not satisfied with her professional career, as she always wanted to build a business that related to her hobbies and passions. "I love food and yoga exercises, and I realized that all those industries have one purpose—building a community. So, I finally chose to build a co-working space, which combines my professional experience in property management and my passion for connecting people," she told KrASIA in a recent interview.
In 2016, with capital from her family, friends, and the Ismaya group, a popular F&B and hospitality chain in Indonesia, Hendriadi established her first co-working space company, Rework, integrating co-working spaces with coffee stores run by Ismaya group in strategic locations in Jakarta.
As a solo founder, she was building Rework from scratch, and the workload was heavy. On top of that, her second son was only nine months old at the time, so she had duties as a mother too. "It felt like burning out, because no matter how much I would do, there would be more things left undone. It was pretty crazy. I felt like I didn't want to worry too much, but I did. I wondered whether I was supposed to run the startup, but like a woman and a mother, I had to build strong family roots. Luckily, my spouse and family were really supportive and never judged me," Hendriadi said.
In 2017, she attended the grand opening of co-working startup GoWork, where she met the company's co-founders, Richard Lim and Donny Tandianus. Hendriadi reconnected with Lim, who was an old friend. The three of them quickly realized that they shared the same goals: to build Indonesia's largest co-working space. It wasn't long before the two were exploring opportunities for a partnership.
"When I started Rework, I did not see how big it could become until I dove into the business. I finally decided that I had to find a partner, because I couldn't do it all by myself. After we shared some discussions and our visions to empower a lot of companies and to become a dominant player, we joined forces in early 2018," Hendriadi said.
Hendriadi's Rework along with Lim and Tandianus' GoWork merged into a new company called Go-Rework, which initially had five locations with a total footprint of 3,500 square meters in Jakarta. The company was later rebranded as GoWork in mid-2018 for marketing reasons.
In October 2018, Go-Rework closed its Series A round and raised USD 9.9 million from Gobi Partners and The Paradise Group, with participation from Mahanusa Capital and 500 Startups' second Durians fund. GoWork trippled its footprint by 2019, according to CFO Richard Lim.
Today, GoWork operates 18 branches covering over 35,000 square meters, with most of them in the capital and one branch in Bali. The company also announced plans to launch new locations in Surabaya and several cities in Indonesia by mid-2020, expanding its footprint to 65,000 square meters. GoWork only operates in Indonesia and has no plans for international expansion. 
According to Hendriadi, GoWork's locations maintain a high occupancy rate, typically in the range of 90–100%.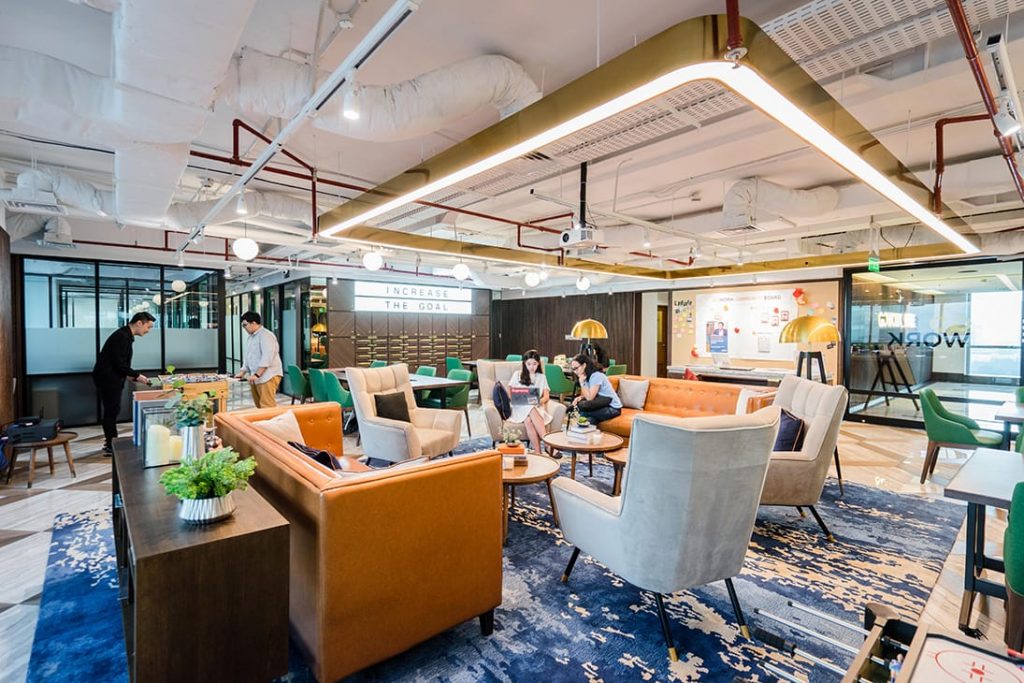 To become a dominant player in Indonesia, Hendriadi, Lim, and Tandianus set out a strategy focusing on premium customers who are willing to pay GoWork's higher subscription rates. Hence, they operate GoWork in places like shopping malls or office buildings, which are easily reachable using public transportation. "Almost 70% of members use more than one location" Hendriadi said. She also claims that customers "can gain more credibility by working in the premium co-working spaces of GoWork."
"There are a lot of co-working spaces in Indonesia, such as CoHive or Outpost, but there are few players targeting the premium class, which we think is a potentially huge market. By targeting this segment, we are able to get more clients, not only from startup companies, but also from traditional and multinational companies," Hendriadi said. 
Competition mounted quickly. In 2017, WeWork acquired Spacemob, a Singapore-based co-working space, and entered Indonesia by setting up a branch in Jakarta in the third quarter of 2018. Soon after, WeWork opened six locations in the Indonesian capital.
A lesson

learned

from WeWork: Monetization is key to long-term success
Although GoWork and WeWork have both positioned themselves as premium co-working spaces, Hendriadi claims that GoWork has become profitable in mid-2019. However, she declined to disclose more details. It has 5,000 customers, including employees from companies and freelancers. Monthly fees run at USD 150–200, depending on the services required.
All of GoWork's co-founders have strong and close relationships with property developers, Hendriadi said. This helps the company seek out spaces that serve their purposes.
"We discuss how GoWork can increase visitor traffic to shopping malls or other properties run by these developers. When developers see our concept and the traffic that comes with each of our locations, they mostly want to secure a partnership and sometimes even invest in GoWork," she said. So far, the firm counts among its investors the likes of Sinar Mas Land, Indonesia Paradise Property, Agung Podomoro Land, Lippo Group, and MNC Land.
Currently, GoWork has three main focuses: providing flexible co-working spaces with attractive interiors to engage clients; organizing events or workshops, where members can engage with each other; and building user engagement through mobile apps.
GoWork's clients include big companies and mature startups, such as state-owned pawnbroker PT Pegadaian, Gojek, and Oyo. 
"We are making 'sustainability' our priority. If we look at the startup landscape, most companies focus a lot on growth and sometimes they burn money. We don't believe that it's necessary," Hendriadi said.
This article is part of "Women in Tech," a series by KrASIA that highlights the achievements of women who are a driving force behind South and Southeast Asia's tech startups.