The US-China trade war, rooted partly in US concerns over Chinese technology development, is unlikely to have a long-term impact on China's economy and the success of the Made in China 2025 scheme. However, it might generate some short-term shocks and uncertainty – on both sides of the frontline.
The Trump White House recently had to scrap plans for new restrictions on Chinese investments in the US, bowing to pro-business advisors, and is instead attempting to inhibit developments in China's tech ecosystem with its focus of tariffs on tech-centric sectors.
But with these efforts, argues US economist Paul Krugman, the current White House administration is actually setting itself up to lose the trade war, with badly designed tariffs that will end up hurting the US economy more. More than 95% of Trump's China tariffs reportedly target intermediate goods or capital goods that are necessary for domestic production in the US.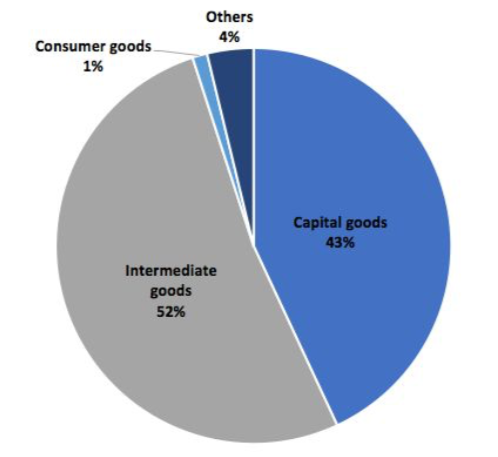 ---
A major factor contributing to the confrontation is the US concerns over Chinese protectionism of high-tech goods. Earlier in 2018, Wilbur Ross, the US Commerce Secretary, explained that he views this as a threat to US technological primacy. Ross says that the use of forced technology transfers, commercial espionage and a "disrespect for intellectual property rights" were factors in starting the trade war, but it's questionable whether these fears are well-founded and justify the measures taken in the trade confrontation.
A major example of a possible case of IP theft is US firm Micron Technology, which was subject to corporate espionage. China's Premier Li Keqiang publicly vowed to end such forced transfers earlier this year, in a bid to reassure trading partners, however, foreign firms often claim that such technology transfers exist in the automotive, semiconductor and new energy battery industries, though Beijing has not officially acknowledged their existence.
A business confidence survey conducted by the European Union Chamber of Commerce in China in 2017 indicated that at least 20% of European firms reported having to transfer their technology to obtain market access. While the EU has taken China to the WTO over such practices – the US reportedly lacks evidence to back its concerns.,
Short-term impact
So far, US technology firms have seen little positive impact from the first round of tariffs on Chinese goods, which mostly targeted products that are outputs of the "Made in China 2025" industrial policy, such as the aerospace, robotics and industrial machinery sectors.
However, this is set to change, with the leadership of US corporations increasingly raising concerns regarding tariffs in earnings calls, according to information from venture intelligence platform CB Insights. Both countries began imposing tariffs on $34 billion worth of imports on the other starting from 6 July.
And it's a US-firm, Nasdaq-listed Tesla Inc. has felt the most immediate impact, with different versions of the Tesla Model X and Model S seeing a $22,600 — $37,600 price hike in China after the new tariffs, according to a report by Electrek.
---
Chinese products impacted by tariffs in the US include engines, motors, generators, furnaces, pumps, compressors, machine tools, and manufacturing, construction and agricultural equipment.
Joseph C. Tsai, the executive vice-chairman of the Alibaba Group, which is listed on the New York Stock Exchange (NYSE), has argued that "Chinese consumers are going to find alternative ways to bring imports into the country through our platform" if trade tariffs inhibit the import of US products, and that the outcome will "hurt small businesses in the United States." In an interaction with Recode in May, Tsai highlighted how the US-China trade war could disrupt the US agricultural sector.
Already, in retaliation to the US tariffs, China has imposed 25 percent tariffs on US products – mostly agricultural goods including grains, corn, soybeans, meat, fish, dairy products, vegetables, alcohol and tobacco, in addition to US-made automobiles.
While many observers conclude that the trade war has the potential to end up hurting the US technology sector, others do argue that it's China's tech economy that will see significant negative effects.
This could come about if further restrictions on Chinese investments in the US are implemented. By these plans,any corporation that has Chinese ownership in excess of 25 percent would be barred from investing in US companies producing "industrially significant technology," in sectors such as robotics and cryptography.
In addition, the US technology enterprises are pressured by President Donald Trump to relocate their manufacturing businesses back to the US, with job losses affecting China, argued Gavin Parry, managing director of investment services firm Parry Global Group, in an exchange with CNBC.
Parry explained: "China's actually got a fair amount to lose from an economic point of view, whereas most people are talking about the US as the biggest loser coming out of the trade war," citing examples such as Apple's  iPhone productions in China which could shift back to the US, if the White House extends tax concessions and other incentives to technology enterprises.
In such a situation, this could see more US technology enterprises shift their operations back to the US and boost the local economy while import tariffs would continue to put pressure on China, given that China requires the value-added jobs that US tech firms offer to its middle class.
Parry observed: "It would cause ripples in China. Not huge ones but enough for Trump to turn around and say let's talk broadly. It gives him some kind of (room for) negotiations."
But China can also respond in a tailored manner that hits the US technology sector; Chinese imports from the US are insufficient to match Trump's tariffs on a dollar-for-dollar basis but could utilise leverage in the form of new taxes and regulations on US technology corporates.
The road ahead
In the long term, there's little reason to believe that the rising tide of China's technological innovation will subside as a result of the current US-China stand-off.
In the venture capital space, China has arguably eclipsed the US in terms of the aggregate dollar value invested in technology ventures, highlighting the changing power dynamics between the US and China. What is particularly pertinent is that this is underwritten by Chinese technology majors like Baidu, Alibaba Group and Tencent Holdings (BAT), an observation backed by Michael Moritz, a partner at Sequoia Capital.
While US technology enterprises are still larger now, Chinese firms are narrowing this gap, as well as building large constellations of associated companies through the acquisition of stakes in younger technology firms. Haresh Chawla, a Partner at Indian private equity fund True North, coined the term "economies of ecosystems" to describe the Chinese strategy, which results in a network of properties that generate and drive traffic amongst each others to them.
Mobile payment is another domain where China has already eclipsed the US, with Chinese Internet firms dominating what is perceived as a gateway to the larger financial technology (fintech) ecosystem, where they hold a crucial role as a source of transactional and financial data that can be leveraged for new fintech products and services.
Since 2017, China has also received more patent applications than the US, European Union, Japan and South Korea combined, and has become increasingly competitive in strategic sectors such as pharmaceuticals, biotechnology, telecommunications and electronics.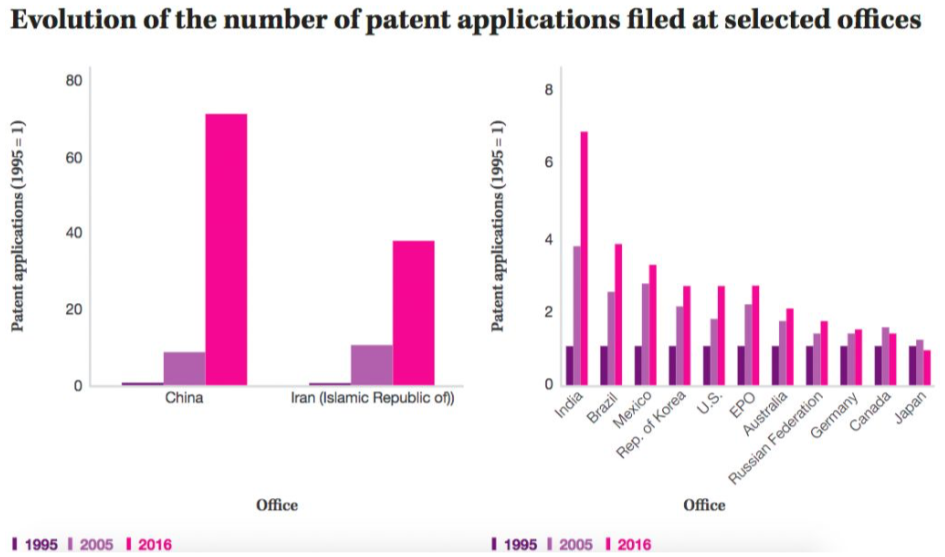 ---
Contemporary history suggests that Western – and specifically US technology bans – tend to be counterproductive, spurring technological progress elsewhere. The development of nuclear capabilities by Iran and North Korea, as well as China evolving sufficient capacity to maintain its own manned spaceflight programmes, are cases in point.
In fact, technology exclusions policies arguably spurred China's strong performance in developing supercomputers at a level comparable to the US, which maintains its current lead.
Pursuing a trade war not just with China but also its Western allies could see the US on the losing end, through the current upcycle in its economy means that the US can absorb the near-term market shocks. There may be in fact be potential third-party beneficiaries of a US-China trade war, such as the UK.
In an interview, Leslie Young, an economics professor with Cheung Kong Graduate School of Business, highlighted that the UK stood to benefit by facilitating China's market access activities and the rise of the RMB as a rival global currency.
Commenting on the trade war, he noted: "This is an opportunity for the City of London to become the global centre for RMB transactions as it is used to handling another country's currency and has genuine expertise. It would be a natural match, a real partnership, but that requires the UK to detach itself emotionally from the US."
Overall, the US-China trade war will see jobs in export sectors reduced and job creation in import-competitive sectors – a negative outcome as export jobs tend to see higher productivity and pay – with losses likely to be concentrated in agricultural and Southern US states, according to an assessment by the Brookings Institution.
Li Yuan, a Chinese technology columnist with the Wall Street Journal since 2015, who has covered Beijing's push to have a stake in Chinese technology majors, has argued that Made in China 2025 is highly likely to succeed in spite of attempts by the Trump White House to arrest its development, given that there is a strong drive across the vast enterprise ecosystem of China – from the top-down and bottom-up – to retool and reconfigure its industries, and manufacturing in particular.
While the Trump White House is not wrong to take measures in confronting China on its trade policies – Beijing has not made any indications of compromising these policies to date – Chinese enterprises have a strong impetus to evolve up the value chain given global market pressures, and particularly as international economic centre of gravity shifts towards the Indo-Asia Pacific region.