Globally, a combination of industry policies aimed at meeting rising energy demands is leading to increased utilization of renewable energy. This transition toward green energy necessitates the establishment of infrastructure to address the intermittence and fluctuation of renewable sources. One common approach is the deployment of high-performance and cost-effective energy storage technology, with aqueous organic flow batteries (AOFBs) emerging as a promising solution.
By employing water-soluble organic substances as electrolytes, AOFBs offer advantages such as enhanced durability, safety, and scalability. They are also generally considered an environmentally friendly method of energy storage, ideal for long-term applications with low self-discharge rates and lifespans typically exceeding 10,000 charge and discharge cycles. AOFBs are most commonly used in wind and solar power projects but have also been employed for frequency regulation, peak shaving, and demand-side load shifting within the context of coal-fired power plants and traditional grids.
The liquid flow battery sector has experienced significant growth over the past two years, both in terms of industry scale and capital market interest. According to BloombergNEF, the installed capacity of liquid flow batteries in China reached 220 MW/865 MWh by the end of August 2023, with related deployments totaling 5 GW/18 GWh. It is projected that China will deploy up to 4 GW of liquid flow batteries by 2025.
Time Energy Storage
Established in 2021 and based in Suqian, Time Energy Storage is a technology company specializing in AOFB research and development. Its first-phase production line has an annual output of 2 GWh, covering the end-to-end production process of AOFBs. On October 15, it initiated full-scale production of its first megawatt-level AOFB.
According to Xiang Zhanbo, the founder of Time Energy Storage, vertical integration has enabled the company to manufacture AOFBs with high energy efficiency ratings. These AOFBs have achieved an energy efficiency of over 85% on the direct current (DC) side of the battery stack, resulting in an overall energy efficiency exceeding 70%.
The core technology of AOFBs lies in the electrolyte and ion exchange membrane (IEM), directly impacting battery performance and lifespan. AOFBs typically use electrolytes composed of organically synthesized substances dissolved in water or saline solutions. This ensures their safe use with minimal risk of fire or explosion. Time Energy Storage's batteries use a neutral sodium chloride solution as the electrolyte, offering additional benefits such as non-corrosiveness and reduced costs.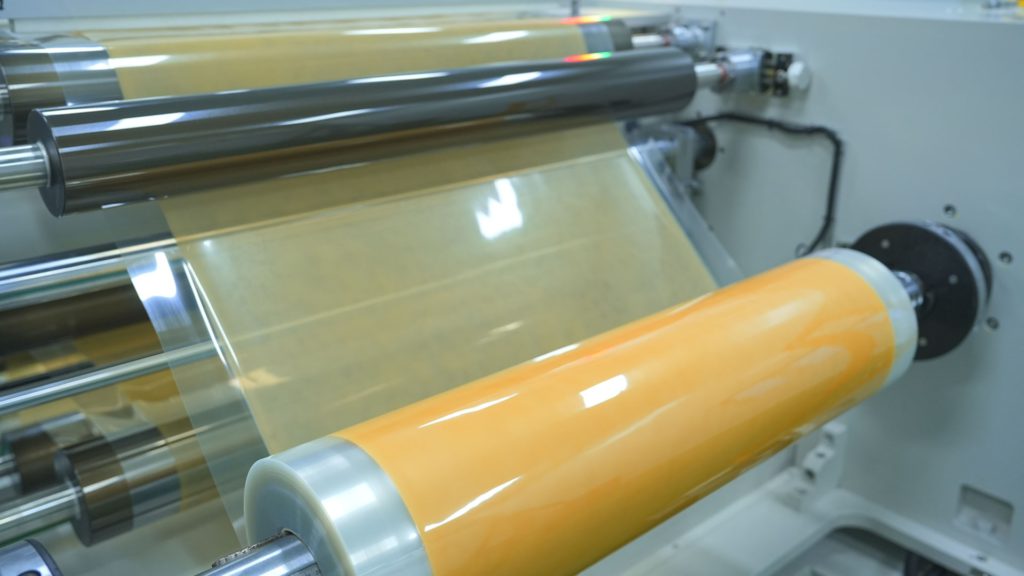 Another key material for AOFBs is the anion exchange membrane (AEM). This material manages the activity of substances between the positive and negative electrodes, preventing short circuits and ensuring efficient ion passage during charging or discharging.
Time Energy Storage's AEM technology is jointly developed with a research team from the University of Science and Technology of China. According to Yang Zhengjin, the chief scientist at Time Energy Storage, this collaboration has enabled the large-scale application of AEM technology at approximately 80% lower costs than the average. Both entities are continuing their collaboration to develop the next generation of AEM technology, expected to offer higher energy conversion efficiency, shorter production cycles, and lower costs.
Xiang Zhanfeng, the deputy general manager at Time Energy Storage, also explained to 36Kr that the design of its AOFBs separates the power (battery stack) and capacity (liquid tank) components. This design, combined with the inherent qualities of the electrolyte, enables the company to produce energy storage systems that are not only scalable and durable but, most importantly, safe and secure.
The company's current client base primarily consists of large enterprises with substantial energy and power demands in the fields of electricity, oil, chemicals, and transportation. Their collective orders exceed 1 GWh.
Through collaborations with various research institutions, Time Energy Storage will focus on developing the next generation of electrolytes and other core materials for AOFBs, with the goal of achieving single-molecule multi-electron transfer and developing stable 50,000-cycle electrolytes. Both breakthroughs are likely to further enhance battery energy density, reduce costs, and extend the lifespan of AOFBs.
Time Energy Storage currently comprises an R&D team of over 70 personnel, with more than 40 core patents applied for. It recently completed a Series A funding round, raising a nine-figure RMB sum. This round was led by GL Ventures and saw participation from Bondshine Capital, along with other investors.
KrASIA Connection features translated and adapted content that was originally published by 36Kr. This article was written by Lu Yaning for 36Kr.