When 47-year-old Eshwar C., who has been driving petrol-guzzling three-wheeler passenger vehicles for 29 years, decided to buy an electric rickshaw last year, he reached out to a lending startup called Three Wheels United for financing. He already had experience with the company as he had taken out a loan for a four-stroke automobile, his second vehicle.
In the 12 months since Eshwar bought the e-rickshaw for INR 300,000 (USD 4,000), his daily savings have gone up by INR 200–300, or up to four dollars. "With frequent rises in fuel prices, one-third of my earnings would go into petrol. Plus, my previous four-stroke rickshaw required a lot of maintenance. Now, I can save all that money as the e-rickshaw only needs to be charged once daily, which costs very little," the driver told KrASIA. He charges his vehicle once a day for four hours for enough power to travel 130 km, he said.
Bengaluru-based fintech startup Three Wheels United has provided financial assistance to 3,500 commercial riders to buy passenger and cargo electric rickshaws. "We are a fintech company that provides financial assistance to drivers to buy electric vehicles so that they can increase their income," co-founder and CEO, Cedrick Tandong, who is a Cameroon-born French citizen, told KrASIA.
Charging up a dying ride
In 2014, when Tandong came to India as a management consultant for a French company, he sought opportunities to start a business that could help low-income individuals in the country. Three years later, he met Ramesh Prabhu, founder of Three Wheels United, which was about to shut down for good. "The company helped drivers get loans from banks to buy less polluting vehicles. By 2016, they had already assisted several thousand of them. But the model proved unscalable, so they had to fold. I saw an opportunity to scale that up," Tandong said.
Tandong partnered with Kevin Wervenbos, who was working with investors who wanted to shutter the company, to chart out a fresh plan for Three Wheels United. Having observed the Indian government's push for electric vehicles, and with the company's existing relationships with rickshaw owners, they decided it would be ideal to convince them to make the switch to plug-in options.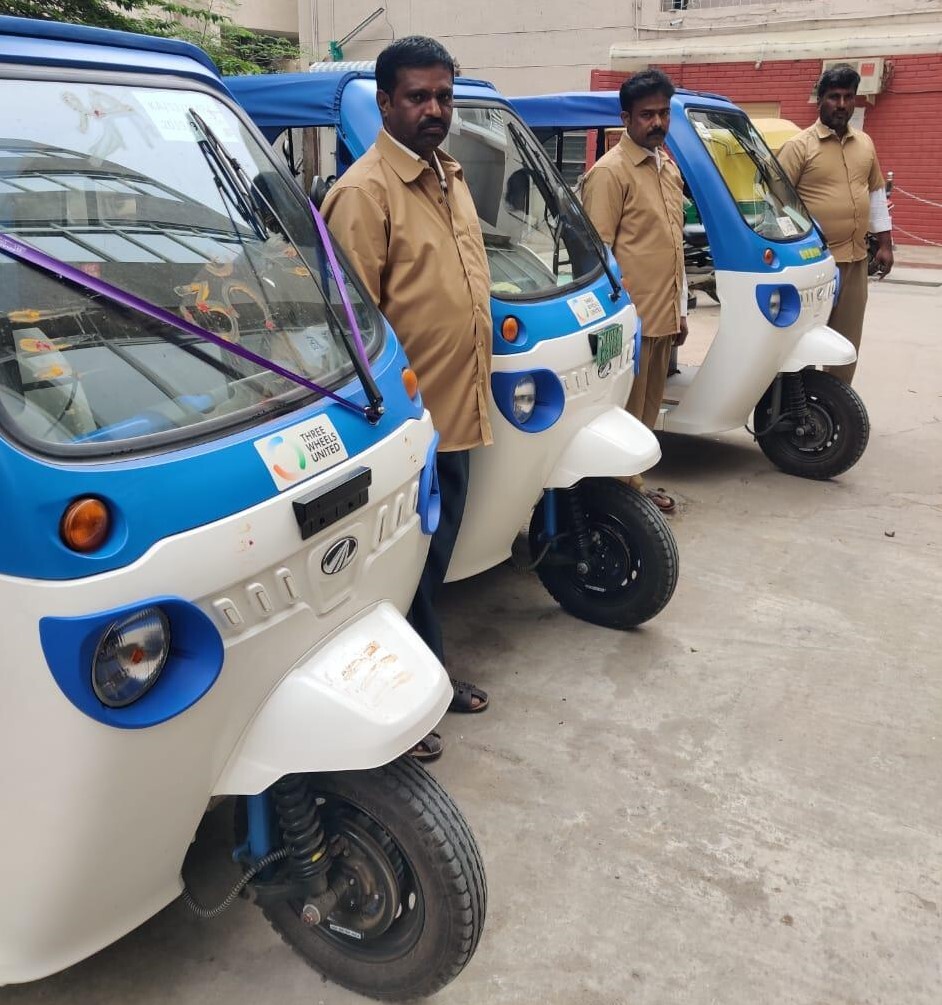 "We did the math and came to the conclusion that although buying an EV is expensive, in the long run, the total cost of ownership is lower than a fuel-based vehicle. More importantly, day to day operational cost for the rider is also lower," he said.
In 2018, Wervenbos and Tandong took over the business from its previous owner to offer financing for electric vehicles. The problem was that the rate of EV adoption was still dwarfed compared to internal combustion vehicles, making it difficult for the company to convince banks to back the loans.
"The unit economics of lending with the help of a third-party wouldn't have made sense. So, we set up a non-banking financial company to directly provide loans. Next, we built a technology platform to digitally process and manage loans," Tandong said.
The users who borrow money from Three Wheels United have to shell out for 23% interest and a four-year repayment period. The company has so far disbursed more than USD 6 million in loans. "We give 100% of the loan amount without asking for collateral." 
More than just financing
With the government promoting eco-friendly commuting alternatives—India has announced incentives for EV manufacturers as well as buyers—Tandong said there has been rapid adoption of EVs in the last three years. There are over 1.5 million e-rickshaws in India, and they make up 83% of the country's overall electric vehicle market. India will have over 4 million electric-powered rickshaws by 2030, according to a Statista report.
However, because of its high upfront cost, Tandong said rickshaw drivers are still hesitant about taking the plunge.
Three Wheels United claims it has partnered with auto manufacturers like Piaggio and Mahindra that manufacture goods carriers as well as passenger EVs, to provide better pricing and extended warranties. About 75% of the vehicles that the company has facilitated for its users to purchase are for carrying passengers. "In the next coming months, we will be mostly doing cargo," Tandong said.
Last year, the company rolled out a rental model for drivers who were still weighing whether they want to ferry passengers or deliver cargo. However, only cargo vehicles are up for rent, as Tandong said it ensures Three Wheels' customers make a higher monthly income compared to passenger vehicles. While he didn't specify how much that difference is, only 20% of its customers rent, while the rest own their vehicles.
"This gives the driver an understanding of how it works before they make a decision to buy. Since they are not confident about buying it, we are giving them an opportunity to rent it and see what it can do for their income," he said. 
Tandong said while his dream of starting a business to help low-income individuals was achieved, he didn't see a direct impact in the rise of their income because of EVs. He said in order to truly help drivers increase their earnings, merely giving them access to vehicle financing wasn't enough. The company, Tandong said, had to ensure the debtors get enough business, so that they not only make more money, but they are able to pay off their loans with interest without defaulting.
To this effect, the company has partnered with last-mile delivery startups to ensure their drivers get stable business as couriers if they choose to opt in. Without divulging details, Tandong said the earnings of a delivery person riding an EV varies from city to city, but the company tries to minimize the difference. Three Wheels United has managed to assist over 600 riders to work with its partners.
"We are trying to do more than just offer loans. These partnerships not only help drivers choose EVs over a fuel-based vehicle, but also ensure drivers come to us as we provide them with a minimum income guarantee."

This article is part of KrASIA's "Startup Stories" series, where the writers of KrASIA speak with founders of tech companies in South and Southeast Asia.