With autonomous transportation still sounding like a far-off pipe-dream to most people worldwide, it is hard to imagine that over 4,600 individuals have already ridden inside a robotaxi on the open streets of Guangzhou, one of China's most bustling urban centers—with trained human safety operators behind the wheel, of course.
The company responsible for this automotive innovation, Guangzhou-based WeRide, has achieved these results for their robotaxi business in less than three years since their founding in 2017.
To hail a ride, users only need to download the company's app, called WeRide Go, and request a robotaxi as one normally would with a traditional taxi. In the course of 8,396 robotaxi trips made from December 1 to December 31 of 2019, not a single safety incident was recorded, according to the firm, and 94% of these early adopters gave the experience five-star ratings.
However, robotaxi technology still has some limitations. WeRide's robotaxis need to be located within a 144.7 square kilometer area in the Huangpu and Guangzhou Development District in Guangzhou, the capital of southern China's Guangdong province.
WeRide is one of few companies worldwide that have offered robotaxi services to the general public by the end of 2019, along with Dublin-based Aptiv, which allows residents in Las Vegas to hail a robotaxi via the Lyft app since May 2018. Waymo, another competitor, has started to offer driverless rides as of October 2019 in Phoenix and Silicon Valley, US, to some paying customers and employees.
While Baidu was the first company in China to roll out robotaxi services—in September 2019, before WeRide—Baidu's services were available only to seed passengers who needed to apply via the Apollo website, handing in their private information including identity card numbers, while Guangzhou-based startup, Pony.ai, has been testing its robotaxi service in the city since late 2018, but such services are not currently available to the public.
In this competitive race, WeRide has set the ambitious goal of providing truly driverless robotaxi services—with no safety operators behind the wheel—to the general public by 2021, in a designated area in Guangzhou. The firm also plans to expand its driverless robotaxi service to a larger area within the city by 2023.
Currently, the company's vehicles feature level-4 autonomous driving, which is defined as fully autonomous in designated areas. The next step, level-5 autonomous driving, allowing cars to perform in all environmental and road conditions without human assistance, is still a goal which might be still some years away, as the company's CEO Tony Han admitted in an interview with state media CGTN.
Recently, KrASIA caught up with WeRide's chief operating officer Zhang Li to discuss how this young company has developed robotaxi operations and what challenges lie ahead.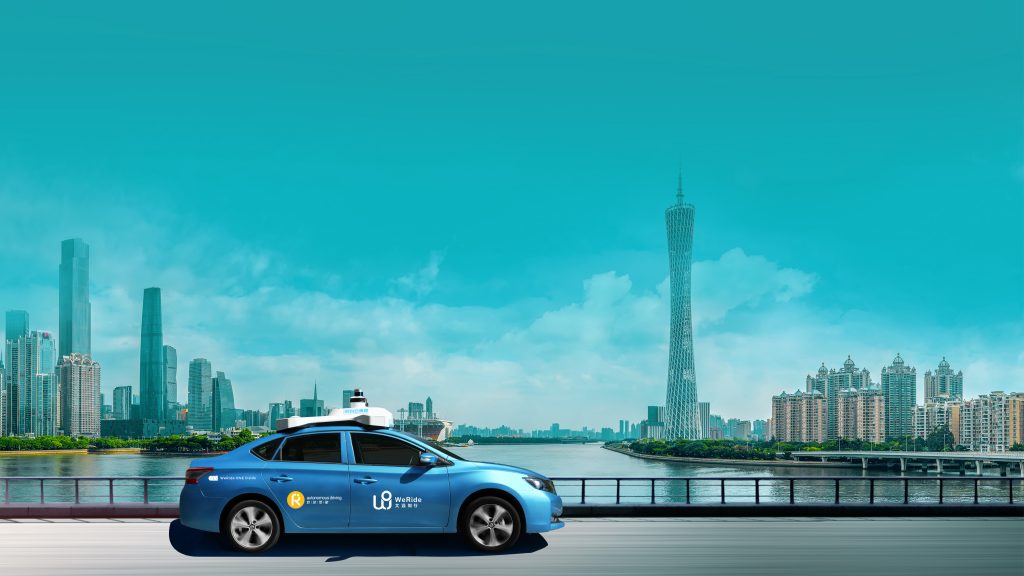 A triangle model of technology, automakers, and mobility platforms
Zhang said WeRide competes in the most challenging sub-sector of autonomous driving. Autonomous trucks are mainly on highways where there are no passengers, while self-driving logistics vehicles normally move slowly, decreasing the risks associated with citizens on the roads, he added.
To realize its vision of building the most trustworthy robotaxi service with no driver, WeRide has chosen a triangle model. Under this strategy, the firm purchases vehicles from traditional automakers, including Nissan and GAC, and reconfigures them with its suite of autonomous driving technology. In other words, the company does not supply autonomous driving technologies to automakers, but instead turns automakers into its suppliers, investors, and partners.
Alliance Ventures, the strategic venture capital arm of Renault-Nissan-Mitsubishi, became a strategic investor in WeRide in October 2018. 
WeRide has also teamed up with Baiyun Taxi, the largest taxi company in southern China, operating under state-owned Guangzhou Public Transport and state-owned real estate developer SCI (Guangzhou) Group to form a joint venture called WeRide RoboTaxi in August 2019. Zhang, who also serves as CEO of the joint venture, said that WeRide's capability to offer robotaxi services shows that the company has achieved breakthroughs in its technology, fleet, business model, and governmental support.
"If your technologies are not reliable enough, you don't have the confidence or the capability to run a robotaxi business," he added.
WeRide has a fleet of 120 self-driving vehicles, the second largest in China, with 40 cars being used for robotaxi operations while the remaining vehicles are employed for tests.
Learning on the road
In February, WeRide published a monthly robotaxi report providing data on operations including total mileage and average trips per day, the first of its kind in China. The company also analyzed its customers' demographics and preferred destinations.
This data is useful for improving the company's technology, as many unforeseen problems can arise during operations, Zhang, also a former Cisco China executive, explained.
For example, it is easy for a human driver to recognize a hailing passenger and stop the car to pick him/her up, but it is difficult for a robotaxi to find a suitable pick-up location since most streets are littered with motorbikes, cars, and bikes, which can impair the robotaxi's competence, Zhang said.
Pick-up and drop-off was never a research priority before this problem surfaced during regular operations, requiring robotaxi operators to take over the vehicle to handle the situation. WeRide's previous R&D was mainly focused on road conditions, he added.
Complex roads in Guangzhou have also posed more challenges to self-driving vehicles that could not be replicated in testing. For example, a motorbike carrying a huge basket would alter the object's profile, making it harder for the robotaxi's sensors to identify and categorize the obstacle, Zhang detailed.
The role of operators is still essential, as they report every encountered problem to the company's R&D team for assessment on whether the algorithms need to be adjusted accordingly.
Based on its current robotaxi operations, Zhang said the company could roll out truly driverless robotaxi services, without safety operators, by 2021, adding that "we're sure to be the first one to make it."
A conservative strategy amid the COVID-19 pandemic
Although the robotaxi service has proved to be attractive to many, startups in this sector need to deal with the current regulations, which bring some limitations. Also, firms mainly rely on investors' funds, as they cannot fully commercialize their services yet.
"China has not had a national law on which autonomous driving vehicles can hit the road and carry passengers," said Zhang. "However, local governments have come out with their own regulations under a national guideline put in place in May 2018 to guide road testing for smart and connected vehicles."
Local regulations evolve with the improvement in technologies, according to Zhang, who said he hoped regulations can become less strict as technology improves safety.
Zhang said the COVID-19 pandemic has slowed its fundraising plans, but added that he is confident that the company will secure its Series B round, although without providing a specific timeline.
He added that the venture capital sector is still keen on top-tier autonomous driving startups, citing Pony.ai's recent funding round led by Toyota, which catapulted its valuation to over USD 3 billion, and the strategic investment by Bosch Venture Capital in autonomous driving startup UISEE Technology in February.
Despite his confidence, Zhang said the company will tend to be conservative in spending. He confirmed that the firm has no plans in the near future to expand its fleet, but instead will rely on its current operations to sharpen its edge.
"As long as we can do well in Guangzhou, we can easily copy and paste this model to other places," he said.
This article is part of KrASIA's "Inside China's Startups" series, where the writers of KrASIA speak with founders of tech companies in the country