With government-issued flats, or better known as HDBs, currently housing eight out of 10 residents in Singapore, it should come as no surprise that many entrepreneurs are looking to tap onto this market.
One such entrepreneur is Rhonda Wong, the CEO and co-founder of local real estate portal Ohmyhome, a company she started with her sister Race in a bid to focus on the HDB buy, sell and lease market, one where people are not required by law to hire the services of a real estate agent.
Launched in September 2016, the platform allows users to upload listings and use the platform freely without the help of an agent. Ohmyhome also offers its users step-by-step DIY guides, be it selling, buying, renting or leasing.
However, users who might need some extra help around paperwork or unfamiliar terms can pay a fixed fee to enjoy additional services. These fees are often considerably low, compared to typical agent commissions.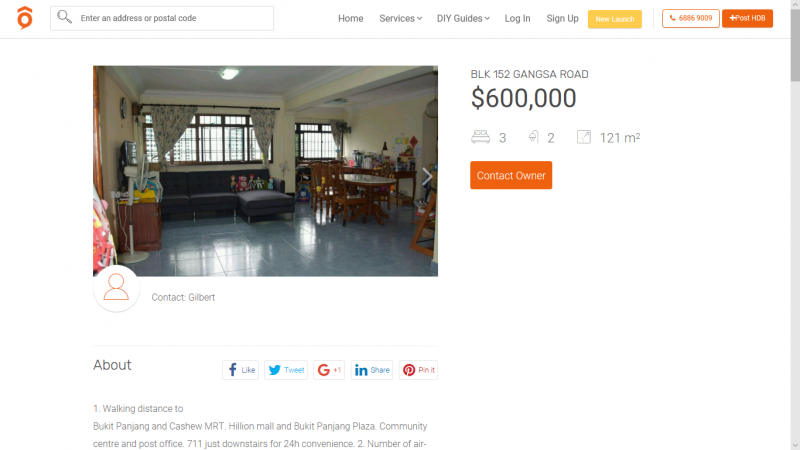 She claims that the company has transacted a combined value of more than S$500 million (around US$363 million), serving over 60 per cent of those buying and selling on their own, and five per cent of real estate agents buying and selling on behalf of their clients.
There are other companies in this do-it-yourself space, which aim to minimise the need for a middleman or an agent, like DirectHome, which was started by an ex-property agent, and Stacked Homes. Alternatively, portals like PropertyGuru and 99.co do exist, but appear to be more agent-focused with many listings being managed by these intermediaries.
Running a company close to 40 people across two offices, Wong tells us about early challenges, why they decided to start with HDB units, and where the company is headed.
The below interview excerpts are edited for clarity and brevity:
KrASIA: How and when did the idea come about?
Wong: Our friends and families approached us for help with transacting their homes as they encountered many problems, such as lack of knowledge and time, bad experiences with other housing agents, and more.
While they had our help, there are many others who did not. Hence, we tapped on our experiences in real estate and set out to make housing transactions smarter. The three major problems in the housing transactions market are transparency, speed and costs. Our technology addresses these problems and builds towards a simpler, faster and more affordable transaction experience for everyone; we aspire to provide a complete one-stop shop for all your housing needs.
KrASIA: Why focus specifically on DIY HDB transactions?
Wong: HDB is the foundation of Singapore and is the majority market segment – around 82% of Singaporeans live in HDB flats. We know that extending our quality services would benefit them greatly hence it made sense for us to start with serving them first.
KrASIA: Since launch, what are some of the biggest challenges faced and how did you resolve those issues?
Wong: We were first in the market to launch our hybrid Do-It-Yourself and fixed-rate agent model. Being new, there were a lot of people who were sceptical that services could be of quality and affordable at the same time.
To win over the sceptics, we took the time to introduce Ohmyhome's features and direct concept, and once they saw the simplicity and speed in our model, the support that followed was overwhelming. Nothing beats word of mouth and happy customers. Our customers who were impressed with our service spread the word, gave us positive feedback and referred their friends and family, allowing us to serve over 1,000 homes in less than 18 months.
KrASIA: Are you only focusing on Singapore? Are there plans to enter new markets?
Wong: Right now, we're focusing on Singapore only as there's still a huge market which we have just started to enter – private property new developments. That being said, it is only a matter of time we expand into the neighbouring countries as the problems that exist in the housing transaction market is similar across the world and our solution is one that is highly scalable.
KrASIA: What are some insights on user behaviour on the website that you can share with us?
Wong: On average, our users visit our website 1-2 times a day and spend 5-15 minutes on each visit searching for a home, reading articles and exploring our end-to-end services. On a daily basis, there are thousands on ongoing chats between our users and also between our users and our customers service team and mortgage specialist.
Editor: Ben Jiang