Indonesia-based freight logistics startup Kargo Technologies recently announced the close of its Series A funding round of USD 31 million, bringing the company's total capital raised to USD 38.6 million. The investment comes as the world contends with the COVID-19 pandemic, and Indonesia is struggling as hundreds of new cases are logged each day. Like many other startups, Kargo has had to switch gears and make adjustments to its operations. The company originally planned to use its new funds to double down on promotions during Ramadan, which is the busiest time of the year for retailers in Indonesia. Now, however, Kargo is in survival mode.
"We were going to do tons of marketing and invest more in branding to build our presence, but all of that is out the window now. For us, today, it's how do we make sure that the company survives and truckers on our platform stay busy," Kargo CEO Tiger Fang told KrASIA in a recent interview.
Ramadan starts this month and will end in late May. It will be followed by the Islamic holiday Eid al-Fitr. Kargo was anticipating a threefold jump as Indonesia's shipping volume usually swells significantly during these holidays. However, because the government has instructed the people of Indonesia to remain in their residences and is discouraging travel, the company has adjusted its expectations. "Many of our trucking partners are small companies, so our biggest focus is to make sure that everyone survives. That is why we are seeding a USD 1 million relief fund to support our truckers," Fang said.
The other major challenge for logistics companies during the pandemic, according to the entrepreneur, is that there will likely be a nosedive in demand for freight transportation. Firms that handle cargo for import and export deliveries, or work with hotels and restaurants, may see fewer shipments, which could lead to truck drivers being out of jobs. Therefore, Kargo's relief fund and similar initiatives will be crucial to ensure that essential supplies will reach their destinations during this critical time.
All of Kargo's employees are contributing a portion of their salaries to the relief fund. Some senior staff are taking pay cuts by up to 75%, while Fang himself is donating his entire salary for the next 12 months. Kargo also welcomes all organizations in need of a logistics partner to get in touch via its relief fund portal.
Looking inward, Kargo has slashed perks at the workplace to make sure their expenditure is as lean as possible. "We are very lucky because we now have over USD 30 million in our bank account, but we don't want to take this crisis lightly and we need to save up," Fang said.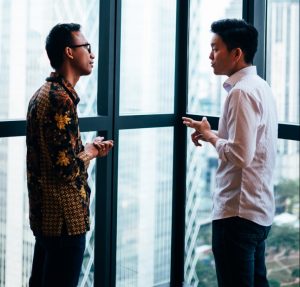 Dream Big
Kargo was founded in 2018 by Tiger Fang and Yodi Aditya, who serves as company's CTO. By then, the pair had already cut their teeth within the spheres of Southeast Asia's tech scene. Aditya had previously established another logistics tech startup, while Fang was one of Uber's earliest employees in Southeast Asia, launching its operations in Indonesia, Malaysia, and Thailand. Before Uber, Tiger worked at Lazada as the company's managing director, leading the firm's commercial developments in Thailand and Vietnam.
When Fang was involved in Uber's delivery service experiment in Surabaya, he realized that there is massive demand for digitized trucking and logistics services.
Indonesia's trucking industry is worth about USD 250 billion, and logistics costs count for around 25% of Indonesia's GDP. The sector is in need of streamlining, and Kargo is doing just that by providing a platform that enables shippers, transporters, and truckers to connect, transact, and track shipments. The central idea is to create a transparent and accountable supply chain.
Entering its second year of operation, Kargo now has over 5,000 shippers and 10,000 registered trucking companies on its platform, giving them access to about 50,000 trucks. Most of Kargo's business comes from major FMCG enterprises such as Coca-Cola, Unilever, and Mayora. It also serves small businesses and works with major logistics companies like DHL. "Fifty thousand trucks only make up less than 1% of all the trucks in Indonesia, so the market and opportunity is still wide open, and we want to have the biggest trucking network in the country," said Fang.
Despite recent challenges, the COVID-19 pandemic has also brought new opportunities for Kargo. The company is currently working with several charitable institutions, like crowdfunding platform Kita Bisa, to deliver meals and essential medical supplies to healthcare workers and patients at multiple Jakarta hospitals. "I have worked for several years in China, and through my connections, we are able to source some equipment. The supplies will be delivered in containers within ten days and our container trucks will pick them up at the port," said Fang. "Before this, we never really thought about supporting import and export activities, but now we are looking at this new opportunity."
Kargo is exploring other lines of business as well. Right now, as many transporters and drivers are struggling with diminished incomes, the company is offering loans in partnership with financial institutions. "This is something we started sprinting on very recently, and we obviously want to work with the right partners, including companies that can help us with assessing credit risk," Fang said.
Looking ahead, Kargo wants to expand its business beyond Indonesia and become a global partner for its customers. The company has logged good unit economics and a positive cash flow so far; even though its shipping volume has dipped due to the pandemic, the company is optimistic about reaching a sustainable operational level soon. "With this crisis, we'll see which companies have the right business model, operations, and executions. This is a real test for all of us, and we, at Kargo, have never been more focused on our mission to make sure that critical supplies are not interrupted," Fang said.
This article is part of KrASIA's "Startup Stories" series, where the writers of KrASIA speak with founders of tech companies in South and Southeast Asia.