MeToo, a consumer products company, has achieved annual sales exceeding RMB 100 million (USD 13.7 million) in Indonesia after expanding into the market less than two years ago. Its sales figures stem from selling just two mouthwash products, which have helped position MeToo as a prominent brand across the nation.
The e-commerce potential of social media platforms has been a key factor. According to 36Kr, media reports indicate that the monthly gross merchandise volume (GMV) of Indonesian e-commerce facilitated by TikTok reached USD 200 million in 2022, with its influence extending to other Southeast Asian markets.
As more Chinese companies expand abroad into new markets, they offer platforms with significant traffic that brands can leverage and potentially reap profits from. MeToo is a prime example.
Diving deep into local consumer needs
Wu Shaolong, founder of MeToo, visited Indonesia toward the end of 2021, together with his team. This move coincided with his realization that he had missed the golden opportunity to enter Douyin's e-commerce ecosystem, which had become highly competitive. Douyin is the Chinese equivalent of TikTok, primarily used by mainland Chinese nationals. After surveying several markets, including Europe, the Americas, and Southeast Asia, he decided to bet on Indonesia.
Wu believed that Indonesia, comprising half of Southeast Asia's population and a young demographic open to new products, was a suitable market. At that time, TikTok had also just launched in Indonesia, making it an opportune period of entry for sellers.
While Wu had envisioned establishing a low-sugar beverage brand similar to Yuanqi Forest, he realized that it would not have fit the consumption preferences that were prevalent in the Indonesian market. That was when the team stumbled upon another product that may offer a better fit: mouthwash.
Around 87% of Indonesia's population are Muslims and observers of Ramadan during which they take two showers and brush their teeth twice a day to maintain cleanliness, leading to a high demand for mouthwash. On average, each individual uses three to four 250-milliliter bottles of mouthwash per month.. MeToo analyzed similar brands emerging in China and found that, domestically, there were sales of mouthwash over Douyin were robust. However, there was a lack of mouthwash brands selling online in the Indonesian market, especially those related to oral care.
"During that period, mouthwash in Indonesia was mainly distributed through offline channels and had minimal online marketing. We saw it as an untapped blue ocean market, relatively competition-free, and believed that capitalizing on TikTok would lay the initial groundwork for establishing the brand and driving online sales," Wu said.
MeToo tailored its approach to cater to the preferences of the younger demographic. In Indonesia, mouthwash products are typically pungent and alcoholic, packaged and flavored in a monotonous fashion. MeToo sidestepped competitors by directing its focus toward the development of mouthwash with teeth-whitening attributes.
Flavors like white peach and lemon, along with probiotics as a distinguishing ingredient, were introduced with the aim of resonating with young consumers possessing significant spending power. The strategy was to position MeToo within the upscale segment, pricing its products at a 30% premium compared to competing brands like Listerine.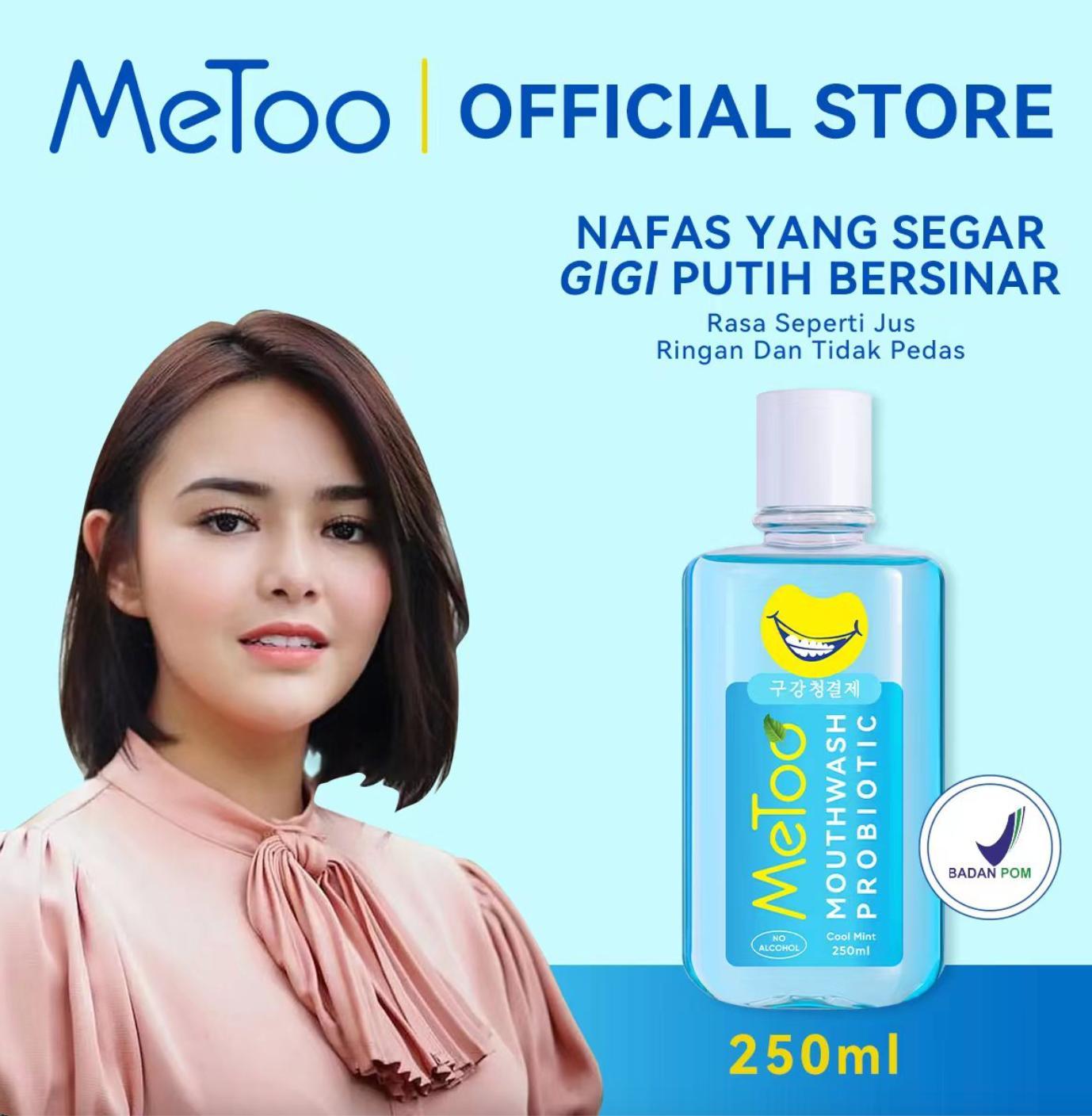 Transitioning from online to offline
The Indonesian consumer goods market has traditionally been monopolized by multinational conglomerates. For example, in the mouthwash category, Listerine commands an 80% share of the offline market.
Offline channels remain the primary focus of the Indonesian market. According to eCommerceDB, e-commerce accounted for just 9.6% of Indonesia's retail sector in 2022, and it is projected to rise to 11.6% by 2027. Tony Qu, founder of ATM Capital, stated that Indonesia offers three growth pathways: e-commerce, TikTok, and offline channels. Among them, offline channels are currently the least developed. MeToo's offline sales revenue is around five times that of online sales. It sells around 1.5–2 million bottles per month via offline channels, with its products available in approximately 60,000 stores.
MeToo's success in the offline space is attributable to its effective online presence. In early 2022, TikTok was a nascent platform in Indonesia, with competition moderate at that time. MeToo launched its products during the Ramadan period to capitalize on the surge in mouthwash consumption. MeToo also collaborated with TikTok during its Indonesia launch for an "influencer challenge" activityThe company invited celebrities and influencers to create and publish videos using templates featuring mouthwash animations, designing various mouthwash "scenarios" to engage users. This raised awareness about MeToo among the young Indonesian audience.
"Before the videos created in collaboration with TikTok were released, we spent about a month refining our marketing direction together and evaluating what might captivate the interest of the young Indonesian audience," Wu said.
In addition, MeToo also collaborated with local multi-channel network agencies. This was in response to Wu's observation that its Indonesian e-commerce operations teams were less mature and lacked the nous needed to collaborate with local influencers. "We revised many aspects of every officially released challenge video multiple times," Wu said.
This strategy paid off, with MeToo-tagged short videos accumulating nearly 30 billion views. The company also achieved a total online sales volume of two million units on TikTok in June 2022, becoming the best-selling mouthwash brand online.
Given that mouthwash is a relatively standard product category, expanding through offline sales soon became a primary focus for MeToo.
As TikTok Shop matured in the Indonesian market and began adjusting its commission rates for various product categories, operating costs for merchants increased. The potential for growth in single-product online sales is also limited.
Wu believed that TikTok is better suited for consumer brands in their initial stages of development, and long-term growth necessitates the establishment of an offline presence. The decision to center on mouthwash as its primary product was influenced by the mouthwash category's limited offline competition, making its entry viable. Had MeToo opted to target the beauty or skincare sector, establishing a presence in the Indonesian offline market would have been much more challenging.
Indonesia's offline retail space is predominantly controlled by mini convenience stores in a top-heavy distribution. Two major retailers, Indomaret and Alfamart, collectively account for 65% of Indonesia's retail market, managing around 20,000 stores each. On the other hand, the base of the pyramid is more fragmented, with Lotte, Watsons, and local chain stores each operating hundreds of outlets.
Instead of challenging well-established companies already in the offline retail space, MeToo focused on collaborations. It sought to work with international retail brands in Indonesia, hiring individuals with years of local sales and operational experience to support this approach.
Such collaborations made it easier for MeToo to penetrate the market, making its products available in approximately 60,000 brick-and-mortar stores. The channel now contributes around RMB 15 million (USD 2 million) in average monthly sales revenue, compared to the RMB 3 million (USD 410,000) garnered on average from online channels per month.
Beyond sales, MeToo also paid attention to offline marketing and operations.
As Indonesians are generally less prudent with financial savings, the end of each month—when salaries are typically credited—marks a crucial period of spending.
"The placement of products on supermarket shelves can change. We negotiate with supermarkets to modify shelf positions, tailor marketing strategies based on different locations, and, for example, during paydays, we can move our products from the third to the fifth shelf. We design different marketing materials, offer various discounts, and provide rebates to supermarket staff to help with our marketing efforts," Wu said.
According to Wu, looking beyond the supply chain, there are various operational aspects that require relearning when transitioning from the online to offline retail space. Both channels require different sales and promotional methods. Offline sales channels target specific customer segments, requiring deeper segmentation of sales strategies, with each channel running its own replenishment cycle.
When consumer brands delve into Indonesia's offline channels, there's no universal approach that guarantees success.
Nevertheless, MeToo's approach, combining online and offline strategies, has achieved annual sales exceeding RMB 100 million (USD 13.7 million). Yet, the company's ambitions extend further: they aim to achieve sales of over RMB 500 million (USD 68.8 million) with a single product. However, reaching this target by selling just mouthwash products will not be easy.
Wu's next venture involves the launch of a skincare line, with the initial product offerings including toners. This move follows the successful trajectory set by MeToo's mouthwash line.
"Our current advantage lies in building good relationships with offline distributors through mouthwash. They also believe that our Chinese team will have a lasting presence in Indonesia. If we manage to generate online traffic for the skincare line, expanding offline presence should also proceed smoothly," said Wu.
KrASIA Connection features translated and adapted content that was originally published by 36Kr. This article was written by Leslie Zhang for 36Kr.