Even in the age of digitization, business cards are exchanged from hand to hand. In most settings, the cards are still the most popular medium for relaying contact information, yet they are inefficient—it's easy to lose a loose card, and most of us don't take the time to transfer the names and numbers to our phones or computers.
Sansan, a Japan-based startup, wants to change all that. Founded in 2007 by CEO Chikahiro Terada, Sansan's platform enables companies to scan business cards and organize them in the company's cloud-based database. The platform also tracks changes in a person's details and delivers push notifications when someone in the company creates a new contact. It works like LinkedIn, but the updates are automated and sourced from business cards.
The company provides two types of subscription-based services. The first one, an enterprise-based option, lets the staff of a company access all the contacts in the firm's pool. The user-based service limits access to five people, but can be extended.
These services quickly gained popularity in Sansan's home country. Today, the company claims 80% of the Japanese market, serving more than 6,000 companies, including Lenovo and pharmaceutical company Merck & Co. The company claims to be one of Japan's most well-funded startups; it has courted over USD 120 million in investments, and went public in June 2019.
Sansan wants to translate that success over to other regions. After their Eight app penetrated the Indian market in 2018, the company is eyeing Southeast Asia next. In October last year, Edward Senju was appointed as Sansan's regional CEO for Southeast Asia, headquartered in Singapore.
In an interview with KrASIA, Senju outlined the challenges of entering the regional market, how COVID-19 might prompt digitization in Southeast Asian companies, and how the pandemic might change the way people form connections.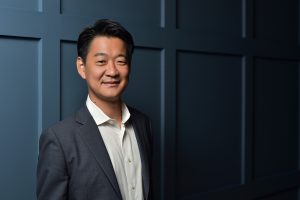 KrASIA (Kr): What are the challenges you faced when expanding your business in Southeast Asia? For some companies, contact sharing and management might be considered a simple task that doesn't require a high-tech solution.
Edward Senju (ES): The challenge that we face is this: using business cards as building blocks for a database is a pretty new idea for them. So that's the place where we have to start saying to people, "This is the most efficient way to build a database."
Additionally—this is the hardest thing—the way people do businesses is pretty different. In Japan, most of the business conversations are done via e-mail. But outside Japan, people use WhatsApp and other messaging apps. So changing our product to fit this market is the challenge we are facing. We have a specific team to deal with these additional requirements. We have done this WhatsApp integration and are trying to add Microsoft Outlook integration, trying to connect customers' information to this workflow.
Outside Japan, there are various ways to exchange contact information. We realize it's hard to know the exact title of a person, which is usually printed on business cards. So, it's important to understand what department they are working in and who they report to, and try to understand the structure. It's very important in this B2B scene. There are missing pieces if you only use WhatsApp and Outlook. We want to improve this.
Kr: Can you tell me about the need to digitize and adopt cloud-based solutions for businesses in Southeast Asia? How is it going to help emerging businesses in the region?
ES: Basically, we think it's important to understand the connections we have as a company. Everything starts from when people meet each other.
The difference between Japan and Southeast Asia is people change jobs often in Southeast Asia. That slows down company activity. But if companies keep track of connection, the handover will be very smooth.
That's one of the major reasons why SMEs use our service. They can maintain the relationship and understand what kind of people they have met as a company. That's what Sansan provides, especially in this region. People move fast between jobs, so the company owners are the ones who are suffering. We really want to help the owners to keep track of the connections that they have.

Kr: What do you think are the inefficiencies in how Southeast Asian companies manage their contacts? Are they similar to Japan's, or do they have problems that are specific to them?
ES: When people move, that's one point where we can bridge these connections and turn them into assets for the company. In addition to that, people tend to work in silence. Basically, every salesperson tends to hold onto every contact, and they don't share their contacts that much. In a sense, we can understand why people are doing that. But, we did a survey of 400 business owners in Singapore. If their staff share contacts, they get larger business outcomes—2.3 times more referral deals. Collaboration within the company is more efficient and brings about more business.
Kr: Why are cloud-based productivity apps important at this moment?
ES: The key concept of cloud service is that it addresses the pain point that other companies have faced before. Rather than creating the solution by yourself from scratch, it gives a ready-made best practice to you and can be accessed from anywhere, so it will leverage all the operations that you have. Companies should leverage all these best practices and implement things on clouds, I think.
Kr: How do you see the future of the SaaS sector in Southeast Asia? What are the challenges?
ES: In Singapore, the government is pushing companies to go digital and using cloud service will change their way of working. This movement can't be stopped. The SaaS market continues to capture the lion's share of IT revenue and is poised to grow. According to IDC, SaaS has positioned itself second largest in terms of spending on cloud services, with a share of 39%.
In this situation, the important part is to decide what kind of service they should use. How can they organize the data they have inside the company? SaaS services are pretty easy to implement, but hard to integrate.
This is another point: They have to think about how they can connect this data throughout the company as a whole. That's why we always think about how to integrate all this contact information. Contact information is key to B2B companies and has to be integrated with all other services that they have.
Kr: How can employees build new business relationships when remote work arrangements are the new normal?
ES: But there are changes as well, people are more used to talking online. When we have webinars from Singapore, it can be attended by people from around the world; the connection is from a wider spread. From the expanded market, we will form new connections. We also encourage companies to look inward at the connections that they already have and nurture them.

Kr: If everything is going to be digitized, will human contact remain significant as we transition into a new era of work impacted by COVID-19?
ES: People still want to meet people. It's a desire that we feel throughout this pandemic. We want to interact with people. I think this pandemic makes people realize the importance of meeting other people. When things finally settle, business expos will happen again, sales meetings will resume. We tend to do it online because it's more efficient, but now we want to face the customers more. Physical connections will still be as important as before.
Kr: Can you tell me about Sansan's expansion plans? Also, how has the pandemic affected your plans for 2020?
ES: Regarding the sales side, it doesn't change our current situation that much. Companies are still figuring out how they can work remotely and how they can work anywhere. Sansan makes a central database for a company and allows them to work remotely, and we receive many inquiries.
We are still focusing on getting as many SMEs on board as possible, so we can help them understand their customers. If we go to large enterprises, it takes more time to finish the deal and takes time to implement the service. But if we target SMEs, they understand the importance of this action. And if we handle many cases that we can learn from, I think we can enhance our products.
In addition to product development, we are focusing on the physical connection that physical business cards express. Exchanging business cards proves that one person has met the other person. Physical interaction is a really strong bond compared to inquiries from web forms.
Still, we want to actually deal with online meetings. We are thinking about ways to manage contacts even online. We are also looking into digital business cards.
The interview has been edited for brevity and clarity.