This entry is part of KrASIA's collaboration with Project Alpha of Amazon Web Services (AWS) and Singapore-based venture capital firm SeedPlus, featuring high-potential startups in Southeast Asia.
Managing a company's procurement process can be tough as there is usually a lot of paperwork and long coordination with suppliers and third parties. Inefficiencies can cost organizations lots of money and time, especially if unexpected problems occur.
Aware of this, two brothers Thinesh Kumar and Lakshman Das, along with their partner Dannis Raj, built a B2B e-procurement platform called Lapasar that connects corporations to suppliers of products and services across Malaysia.
The three previously worked together in Kumar's company that sold medical devices to hospitals and clinics before starting a new company named Tenderin Sdn Bhd which hosted Lapasar's platform.
KrASIA recently spoke to CEO Thinesh Kumar and COO Lakshman Das in Kuala Lumpur about their company's mission and strategies to capture the Malaysian B2B e-commerce market.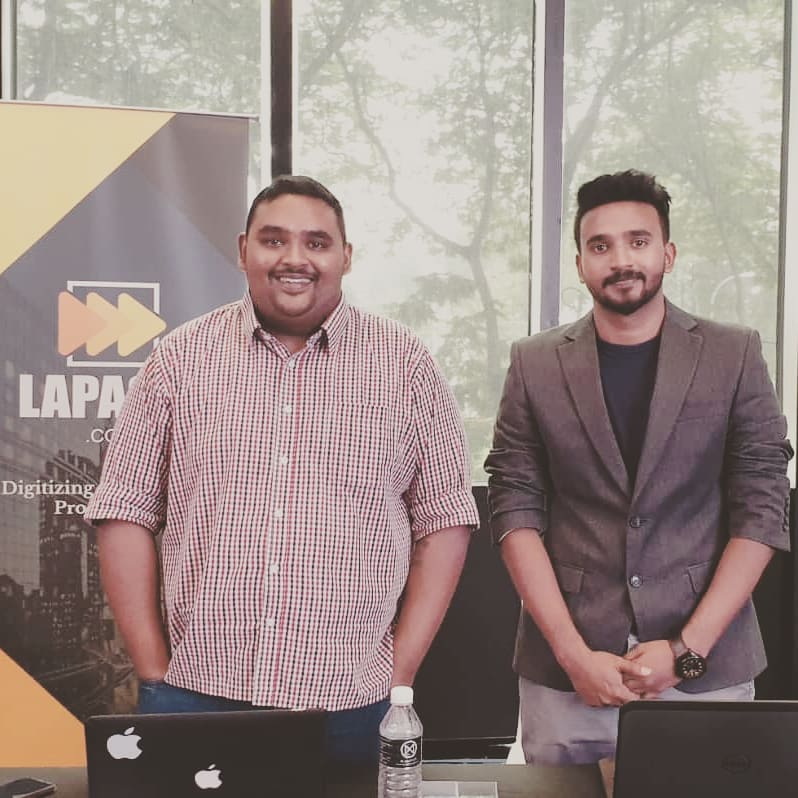 KrASIA (Kr): Both of you have a history in distributing medical devices, what drove you to build Lapasar?
Thinesh Kumar (TK): I started my first business in 2012 when I graduated from university. I've always been driven, so when a family member told me that selling medical devices was something I could do between classes, I started to do that part-time. By the time I graduated, I had enough capital to start my own company and hire a few employees. My brother joined the business and it kept on growing.
In 2016, we really wanted to push things forward so I submitted a tender for a large project. During the process, I realized how non-transparent procurement processes were. We then had the idea to create a platform that connected sellers or distributors to corporations without having to go through a complicated tender process.
We sold our medical distribution company which gave us enough capital to start Lapasar in 2016 until we got our first client in January 2018.
Kr:  What does Lapasar do and what are its key features?
 Lakshman Das (LD): To put it simply, Lapasar is very similar to what Lazada and Shopee do, only we target the B2B space. More specifically, we target government-linked companies (GLCs) and multinational companies like Telekom Malaysia and Tenaga Nasional Berhad.
We bring the convenience of B2C e-commerce services to our corporate clients where they can buy their office needs in large quantities by simply picking a product, adding it to a cart, and checking out, helping them save time and cost.
We launched an RFQ feature recently that allows a company to submit orders to one or more potential suppliers eliciting quotations and delivery times for a product or service, which solves a real pain point for companies. This way, purchases are able to be delivered within a day as opposed to a week or longer.
TK: Our mission is not only to simplify the way companies buy things but also to remove barriers for small businesses to get big clients. From the vendor's side, access to corporate clients can be challenging. The typical registration process can take up three to four weeks and it doesn't guarantee whether they'll get orders or not. Vendors can register on our platform and gain immediate access to large corporations in multiple countries.
Kr: How is Lapasar's growth so far?
LD: We officially launched 18 months ago. Our first client was Telekom Malaysia and now we have 15 corporate partners like Malaysia Airports Holding and Tenaga Nasional where one holding company may have 60 to 70 business units.
We have grown 30x from January to December 2018 and on top of that, we have a database of over 10,000 suppliers in 24 categories from basic office suppliers to industrial business suppliers. In this business, your supply base is critical.
Kr: As a young company, you've landed a number of big state-owned enterprise clients. How did you achieve this?
TK: During Lapasar's establishment, we made relentless phone calls. We'd pick up the phone and call prospective clients every day until we got a meeting. We also used LinkedIn which I think is a fantastic tool to connect with professionals.
LD: But what really worked was word of mouth. Our first client was Telekom Malaysia and when we served them well, they started to speak about us to other companies and it became much simpler from then onwards.
I think the toughest part to do was to get the first client. It took us a year to land Telekom Malaysia but things have moved very fast since then.
Kr: What were the challenges in introducing your services to clients in the first place?
LD: Gaining the client's trust was definitely the biggest challenge for us. Because these companies were so big and have been handling their procurement processes in a certain way for so many years when we showed up and told them there was a better way to do things, it took a lot of convincing.
While they missed the human touch and couldn't talk to the suppliers directly, they came around as they realized how easy and efficient the whole process was.
Kr: As a local startup, how do you see the Malaysian e-commerce sector developing?
TK: Currently, our indirect competitors are B2C marketplace platforms like Lazada and Shopee. Although they may offer B2B service too, I think we have a better position in this segment because we have access to government-linked companies and corporate vendors.
When it comes to foreign competition, larger foreign players are dominating e-commerce in Malaysia and it is difficult to fight them because the local market is small and those platforms are backed by large conglomerates like Lazada that is backed by Alibaba.
I think what local startups need to do is to find a less crowded niche vertical to try to dominate. That is why Lapasar chose B2B e-commerce because this space is still underserved and less crowded than the B2C e-commerce sector, so we still have the opportunity to grow.
Kr: What's next for Lapasar?
TK: For the next twelve to 24 months, our priority is to bring our users' purchasing experience to the next level.
We plan to provide an end-to-end supply chain solution that includes logistics, warehousing, a wholesale market, and a payment solution. Moreover, after we reach 300 clients in Malaysia, we plan to enter Indonesia. Like Malaysia, we believe Indonesia's B2B e-commerce space is still underserved and has a huge potential to grow.
For the "Startup Stories" series the writers of KrASIA speak with founders of tech companies in Southeast Asia.