The consistent growth in China's home appliance market over the past decades has told the story of China's rising middle class and urbanization. As more Chinese people moved to cities and increased their disposable income, per capita expenditure of private households on home appliances and consumer electronics climbed from around RMB 110 (USD 15.70) in 1990, to RMB 1,629 (USD 232.56) in 2018.
Over that period, a number of local champions have risen, offering affordable products to notoriously price-sensitive Chinese consumers, while also imbuing the latest generation of home appliances with intelligent connectivity to create Internet of Things (IoT) ecosystems within the home.
Here are six of the top Chinese appliance manufacturers.

1. Xiaomi
Background
While Beijing-based Xiaomi (HKG: 1810) is well known in China and abroad as one of the world's largest smartphone makers, the company also boasts a wide array of home appliance products including rice cookers, air and water purifiers, fans, lamps, alarm clocks, smart lighting solutions, and more.
Xiaomi Appliances
As of the first quarter of 2020, Xiaomi's IoT ecosystem included 252 million connected devices and constituted over 25% of the company's total revenue for the quarter. Revenue from Xiaomi's IoT business segment increased 7.8% in the March quarter despite an overall macroeconomic downturn caused by the pandemic. Amid a slumping global smartphone market, Xiaomi may rely even more on its intelligent appliances going forward.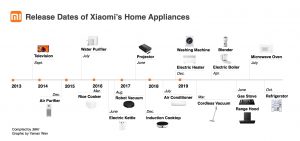 2. Midea
Background
He Xiangjian founded Midea (SHE: 000333) in 1968, more than 40 years ago, with a starting capital of RMB 5,000 and has since grown the company into an empire employing nearly 135,000 people with a presence in over 200 countries as of 2019. In 2014, Xiaomi invested in Midea, the world's largest home appliances manufacturer according to Euromonitor International Limited.
Midea Appliances
Headquartered in Foshan, the company generated USD 40.5 billion in 2019 with main products including commercial and residential air conditioners, along with refrigerators, washing machines, and dishwashers.
Midea's smart home division focuses on connecting entire sections of the home, with an intelligent health system to monitor air temperature and humidity, formaldehyde concentration, and other environmental factors.
In June, He, one of China's richest people, was the target of an attempted kidnapping in his hometown of Foshan, Guangdong province.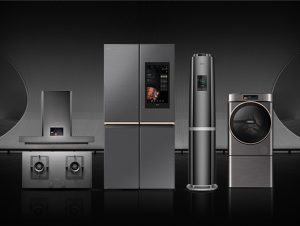 3. Haier
Background
Another Chinese appliance company with a long history, Haier, was founded in 1984 in Qingdao, Shandong province, as Qingdao Refrigerator Co. The firm has evolved into a global giant with annual revenue of USD 27.7 billion in 2019. In June 2016, Haier bought General Electric's (GE) appliance business in an acquisition worth USD 5.6 billion.
Haier Appliances
Haier's main products include refrigerators, kitchen appliances, and laundry machines, among others.
Haier Group spun off Haier Smart Home (SS:600690) subsidiary, which is pursuing an initial public offering in Hong Kong, according to a Reuters report. Haier's Smart Home business was a key participant in the 127th Canton Fair last month, the first time China's largest trade show was held online, as the company has attended the Canton Fair since 1988. Haier leveraged livestreaming from its showrooms across the world to connect with customers.
Haier's IoT ecosystem earned them a place in BrandZ's Top 100 Global Brands in 2019. In 2019, Haier Smart Home's revenue from its ecosystem increase 68% year-on-year while net profit increased.
GE Appliances, now a Haier company, just announced a USD 62 million investment to expand appliance production at its 750-acre manufacturing complex in the US.

4. Gree
Background
Founded in 1985, Gree Electric Appliances (SHE: 000651) is the world's largest residential air conditioner manufacturer. Based in Zhuhai, Guangdong province, the company has grown to generate RMB 198 billion (USD 28.27 billion) under the leadership of chairwoman Dong Mingzhu, who has been influential at Gree since 1996 when the company went public.
Gree's products reach over 160 countries across the world and the company has won contracts for many international events including the 2008 Beijing Olympic Games, 2010 FIFA World Cup in South Africa, 2010 Asian Games in Guangzhou, and 2014 Winter Olympic Games in Sochi, Russia.
Gree Appliances
Dong is massively popular in China and recently began livestreaming on ByteDance's short-video app Douyin, and rival Kuaishou, in a bid to leverage e-commerce livestreaming sales channels. In one session on Kuaishou, Dong sold an impressive USD 44 million worth of products, while pledging to open a regular livestreaming channel to connect with customers and promote the company's products.
The company's IoT products include door sensors and smart air conditioners which can be controlled via smartphone. Dong also has larger ambitions for her smart devices ecosystem, as she told Nikkei Asian Review that Gree needed to develop its own computing chips for self-sufficiency in IoT development. In December 2019, the company announced an investment of RMB 3 billion in Chinese chipmaker Anshi.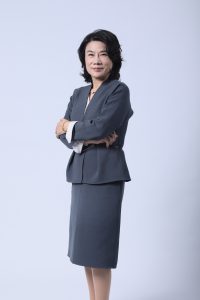 5. Hisense
Background
Hisense Group (SSE:600060), also based in Qingdao, Shandong province, specializes in consumer electronics and home appliances. Hisense was founded in 1969 as Qingdao No. 2 Radio Factory by city authorities and has grown into a sprawling enterprise that generated RMB 33.8 billion (USD 4.83 billion) in 2019. While Hisense is a state-owned enterprise, its many subsidiaries are publicly traded.
Hisense Appliances
With products ranging from televisions to refrigerators available in over 200 countries around the world, Hisense boasts 13 manufacturing facilities in China and also has production operations in Hungary, South Africa, Egypt, Algeria, Slovenia Serbia, France, and Mexico. In June, the firm established a global research and development (R&D) center for cooking and dishwashing appliances in Slovenia's Velenje, where its local subsidiary Gorenje is based.
Hisense has looked to increase the connectivity of its appliances, launching a line of smart home products in 2017 that are compatible with Amazon's voice assistant Alexa, including refrigerators, washing machines, and air conditioners.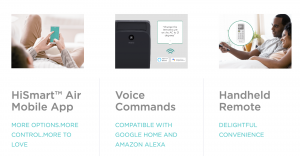 6. Skyworth
Background
Founded in 1988, Skyworth (HKG:0751) is an electronic appliance maker based in Shenzhen, Guangdong province, that employs over 40,000 people around the world. In 2019, the company generated RMB 37.3 billion (USD 5.33 billion) in total revenue, with its major products including kitchen appliances, refrigerators, air purifiers, televisions, and more.
Skyworth Appliances
Sktyworth's major products include kitchen appliances, refrigerators, air purifiers, televisions, and more. The company's overseas revenue for its smart appliances business, not including TVs, increased by 55.4% during 2019. Skyworth also offers commercial solutions like security cameras and locks, air conditioning control systems, and lighting solutions. At the 127th Canton Fair, Skyworth used digital tools like livestreaming and virtual reality to launch new TV products.
Skyworth's smart living products were also on full display at CES 2020, where it gained notoriety for its Swaoit Panel, which aims to be a detachable screen that adapts its function depending on which appliance it is connected to.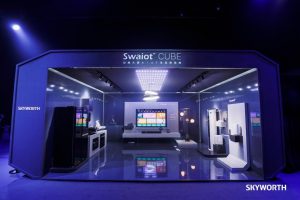 China's IoT future
China's IoT market is the largest in Asia and is expected to grow at an average annual rate of 22.7% from 2019 to 2025. Meanwhile, China leads the world in the consumption of household appliances, making the intersection between appliance products and connectivity inevitable.
These six brands are leading the way with enough capital resources to invest in R&D, while the sector has plenty of worthy competitors globally like German firm Bosch and South Korean company LG, among others. With the early adoption of widespread 5G networks, futuristic visions of completely intelligent homes are within reach for Chinese consumers.