This is the first of a two-part series chronicling investors' renewed focus on consumer brands, a long-neglected sector in China's toC investment circles. This issue examines the growing interest in consumer brands among venture capitalists (VCs) in China and the DNA of a successful consumer brand investor.
The pace is set: 2020 is the year VCs battle for the last frontier in business-to-customer (B2C) investment, continuing a run that began last year when consumer brands like Pop Mart, HeyTea, Perfect Diary, Saturnbird, and Genki Forest lingered on the lips of investors, amidst a capital winter that befell the technology sector in China.
In 2019, sugar-free flavored drink brand Genki Forest and artisanal instant coffee brand Saturnbird successfully completed two consecutive rounds of financing. New beauty brand Moody completed two rounds of funding totalling RMB 60 million (USD 8.6 million) between April and June this year, all in less than half a year since the brand's debut.
Similarly, convenience food developer Baijia Foods completed a Series B round, with financing worth RMB 200 million (USD 28.8 million) in June, a significant increase from its Series A funding of RMB 110 million (USD 15.8 million) in February.
Leading the Series B financing for Baijia Foods was Hillhouse Ventures, which was established with an initial capital of RMB 10 billion (USD 1.4 billion) in February this year as a subsidiary of Hillhouse Capital, focusing on  early stage funding. To date, its B2C portfolio is mainly vested in consumer brands, including popular beauty brand Perfect Diary. Hillhouse Ventures also lead the Series C funding of HeyTea, which is now valued at more than RMB 10 billion (USD 1.4 billion).
Meanwhile, Sequoia China, an existing investor in Pop Mart, co-led Pop Mart'spre-IPO financing in May. The VC also announced that it had invested in Saturnbird and Chinese fast-food chain CSC in the first half of this year. In the second half, it is expected to lead a new round of financing for Genki Forest with Genesis Capital. Both Hillhouse and Sequoia also invest in Junlebao Dairy.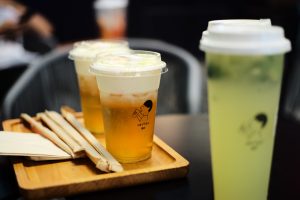 "Suddenly, almost all prominent investors are seeing brands," said Stefanie Ying, founder of Mumian Capital, a boutique financial consultancy founded in 2015, with a core focus on consumer lifestyle brands.
Ying is one of the most sought after financial advisors for investors looking for B2C opportunities this year.Prior to 2019, the pool of investors whom Ying could approach was very limited, as VCs had little interest in consumer brands. That changed with the high profile funding rounds led by Hillhouse and Sequoia in household names like HeyTea and Pop Mart. Since the middle of last year, mainstream VCs, which have never participated in brand investment before, are engaging Mumian through various channels. The B2C capital market, which has been going through a wintry streak, seems to have regained the fervor of the Telecommunications, Media, Technology (TMT) era.
"It's like consumer brands are the last frontier in toC investments," Ying observed.
The tipping point for consumer brand investment
In the past, many investors did not consider consumer brands at all.
"In investors' minds, consumption was important but investing in platforms was more their style. Consumer brands were just not sexy enough," said Ying who was herself an early investor in the new economy before founding Mumian Capital.
In a sense, that is a reasonable line of thought for VCs. Internet platforms can scale quickly to achieve explosive growth that brings a hundred-fold return on investment in a short time. In contrast, it would be considered an achievement for consumer brands to generate RMB 100 million (USD 14.4 million) in revenue within three to five years. Therefore, investing in consumer brands is totally incompatible with VC thinking.
However, the capital winter that had engulfed tech startups in the second half of 2019 sent VCs looking elsewhere.
"The opportunities of the internet era are basically gone—potential unicorns are becoming increasingly difficult to find. VCs are looking in new directions, to find companies with exponential growth potential," observed Ye Chunyan, a partner at Loyal Valley Capital.
Ying believes that with the transformation of content distribution channels, the upgrading of supply chains, and a new generation of consumers, domestic consumer brands will be experiencing rapid growth. Mumian has facilitated a series of high profile consumer brand investments, including Saturnbird and Greek yogurt brand Lepur.
"There are still a few top players in the category that cannot be publicly disclosed but their valuations are already at the level of unicorns," Stefanie said.
"If you benchmark the US, right now China has far fewer consumer brands of the same size. In the future, we will see the birth of consumer brands worth tens of billions of dollars in China," Ye said.

At the end of 2019, Loyal Valley exclusively led nearly USD 100 million in investment before the listing of retail toy brand Pop Mart. This would be Loyal Valley's first benchmark investment after exploring the consumer field for more than a year—one that marks the VC's new investment cornerstone—the mainstream youth.
Ye was drawn to Pop Mart at the start of 2018 while seeking new investment targets that extended from her portfolio of internet cultural entertainment companies like Bilibili, ByteDance, and Netease Cloud Music.
Pop Mart was the clear leader in its category, drumming up market enthusiasm with a series of international toy fairs in Beijing and Shanghai and doubling projections with nearly RMB 100 million (USD 14.4 million) in net profit.
However, Loyal Valley missed the first round of investment when Pop Mart released 5% of its stock to investors in 2018. Ye had offered a lower valuation based on various reservations, which were later debunked by Pop Mart's meteoric rise.
"We underestimated the ceiling of the industry, and the core competitiveness of Pop Mart as the pioneer of the blind box category," Ye Chunyan shared. "Blind box" refers to packages with unspecified products inside, creating an element of surprise. The buying enthusiasm of young people further strengthened her determination to invest in this company in subsequent rounds of financing.
The Pop Mart stock that Loyal Valley missed was quickly snapped up by Black Ant Capital, a young and aggressive consumer fund.

Becoming the VC that brands trust
Established in 2016 with a sole focus on consumer brand financing, Black Ant Capital occupies a unique position the in consumer brand investment space. Its three founders—He You, Chen Feng, and Zhang Peiyuan—are young post-80s generation with substantial operational and investment experience in consumer internet and consumer brands.
The firm's ability to empathize with brand founders, its experience in developing consumer brands, and the structure of its consumer-facing portfolio services are three core competencies that put the firm ahead of its peers.
For instance, Feng has personally seen through the entire lifecycle of a brand he founded—a good experience that complements the team's ability to empathize with founders' vision and assist them in building strong brands through structured post-funding services based on Black Ant's rigorous experience in the consumer industry.
A financial advisor familiar with Black Ant Capital shared, "Black Ant has established its own brand in the consumer brand financing circle. It is well poised for future competition."
Black Ant's experience and expertise are not easily duplicated, but they form valuable insights for VCs navigating China's challenging consumer markets, which we will explore in Part 2 of this series.
Next release: Navigating challenging consumer market dynamics
The original article was written by Chen Zhiyan for 36Kr.