As the e-commerce and fintech industries mature in Indonesia and India, many tech startups are targeting family-owned neighborhood stores that are the backbone of everyday grocery supplies. There are approximately 3.5 millions warungs in Indonesia and 15 million kirana stores in India, and most of them are still operated manually. But that is now changing.
A number of tech startups have entered this space over the past few years, equipping small stores with various services, from online wholesale purchasing capabilities to digital ledger functionality. The shop owners are also able to act as "banking agents" by helping customers with online bill payments and fund transfers. This is particularly useful in developing countries, where a large portion of the population remains unbanked.
India and Indonesia share many similarities when it comes to how warungs and kiranas operate, as well as how startups are trying to digitize them. However, the industry looks different in each country.
Krishnan Menon, co-founder and CEO of Indonesia's BukuKas, told KrASIA that there are variations in how locals perceive digital adoption and credit, as well as how they interact with each other. He said the key difference is Indonesia's highly fragmented digital payments sector.
"In India, UPI constitutes the rails on which many players that are focused on SMEs have been structuring their offering. Meanwhile, in Indonesia, this standardized infrastructure is not there, making adoption of digital payment lower as of today and people's reliance on cash is higher," Menon said. However, he believes that while this difference creates some challenges for digitization, it also presents many opportunities to innovate and develop new solutions.
Menon said that since the digitization of MSMEs is in its early days in Indonesia, it creates a huge opportunity compared to India, where it's much more evolved with the likes of Paytm, PhonePe, and Khatabook already having a major presence.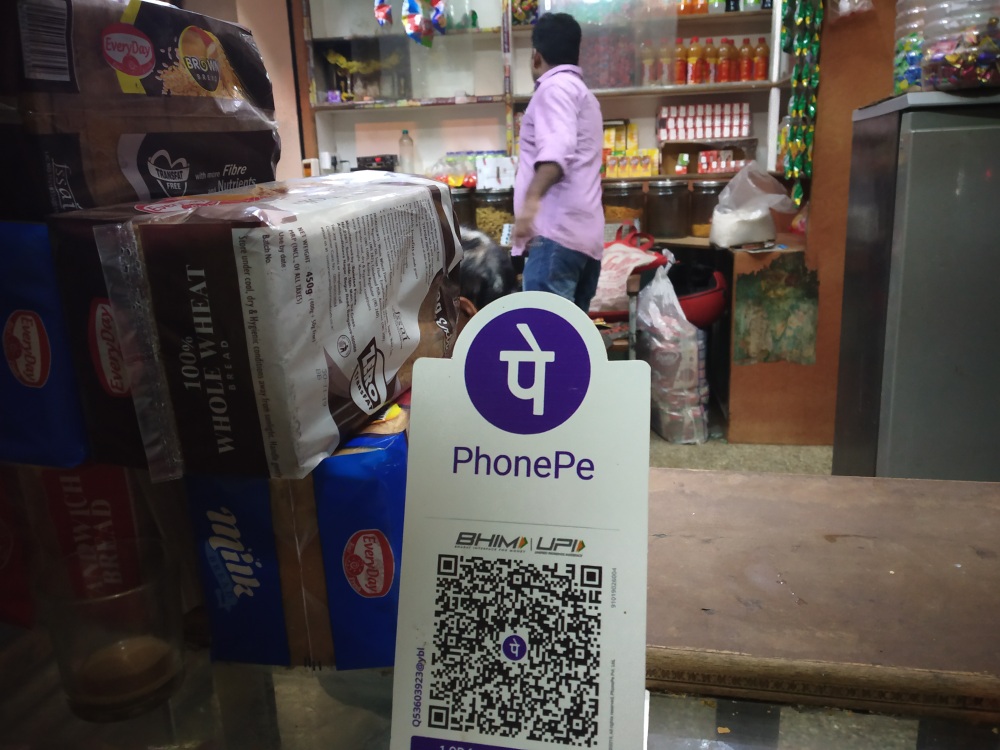 Flush investments
Mom-and-pop stores get multiple repeat customers in a week, as they are the sole providers of everyday essentials in their neighborhoods. Since their operations have remained relatively unchanged for years or even decades, startups see huge potential in digitizing these businesses—and in turn gaining access to the shops' customers.
"The digitization of kirana stores is a massive opportunity which is seeing acceleration during COVID-19, as unorganized retailers look to build omni-channel capabilities to serve customers. There are several businesses looking to tap this opportunity coming from diverse angles, such as bookkeeping and collection software, to Shopify-equivalent customer-facing models," said Shweta Bhatia, partner at Eight Roads Ventures India. The global fund, which operates in China, Southeast Asia, India, Japan, Europe, Israel, and the US, has invested in Bengaluru-based delivery company Shadowfax, a startup that uses space in kirana shops and their staff to complete last-mile delivery.
Other Indian digital startups in this space that are well-funded and have prominent backers are Bengaluru-based B2B e-commerce company Jumbotail and its competitor ShopX that has raised a total of USD 54 million from Fung Group. Meanwhile, Bookkeeping startup Khatabook has backers such as B Capital, Sequoia India, GGV Capital, Tencent, RTP Global, and Falcon Edge Capital, among others. It has raised a total of USD 87 million and is valued at USD 275–300 million.
Indian investors coming into Indonesia
VC funds in the two countries are cognizant of startups' digitization efforts and have placed bets in several companies. Sequoia Capital, which invests in Southeast Asia and India, is one of the most active investors behind these startups. It poured in USD 9 million along with Credit Saison for Indonesian bookkeeping startup BukuKas. In May, it wrote a check for USD 25.4 million that was issued to Gudang Ada, with participation from Alpha JWC. In the following month, Sequoia India linked up with Lightspeed India to invest USD 10.5 million in Ula.
These startups are less than a year old. But with significant funding from those big-name investors, they have shown promising growth, accelerating the digitization of mom-and-pop stores outside tier-1 cities in Indonesia.
Take Indonesia's BukuKas as an example. Founded in December 2019, the startup claims to have 800,000 merchants on board, of which 73% are located in 753 subdistricts across urban and rural areas. BukuKas said that it has spent months speaking to thousands of small business owners in every region of Indonesia to understand their pain points before designing a user-focused product to address those problems.
Meanwhile,  Ula said that its business has grown ten times in five months since it launched in January 2020. The startup predominantly services East Java, but plans to expand its business across Java Island using its latest funding.

In addition to VC funds, entrepreneurs who moonlight as angel investors are also angling for a share in this sector. The founders of Indian e-commerce startup Snapdeal participated in Indonesian startup BukuWarung's pre-Series A funding round, while Amrish Rau, the CEO of India's POS startup Pinelabs, as well as Sandeep Tandon, co-founder of Freecharge, invested an undisclosed amount in BukuKas.
Absent revenue models
Currently, the only revenue model for B2C and B2B startups in India and Indonesia that are digitizing neighborhood shops is through margins from each sale of FMCG products that takes place on their platforms.
All startups that empower traditional kiosks have their eyes on the same outcome—they want millions of kiosk partners to use their services daily. This goal seems feasible if they offer a variety of financial services, including loans or insurance coverage that warungs can utilize in the long run.
"There's no money in digitizing stores, but you get access to their data, which you can use to offer them credit. Since the kirana is just borrowing to purchase goods, non-performing assets default cases are very low. Additionally, the margins in short-term credit are very attractive," Sanjay Swamy, managing partner and co-founder of early-stage VC fund Prime Venture Partners, told KrASIA.

Commission from financing services is generally higher than the sales margin of FMCG products or other transaction fees. In a recent interview with KrASIA, Payfazz CEO Hendra Kwik said that the firm only takes a 0.5–1% commission on every payment-related transaction, but it can get a variable commission of between 4% and 10% per year from lending partners using its platform.
Ant Financial, which offers a bouquet of financial services—including lending, insurance products, wealth management, and more—is one of the most prominent examples of how a company should develop a variety of financial products to become profitable.
However, as of now, the main aim of these startups is to bring on board as many retailers as possible—and in the process get as much data as possible. This, they say, will help them come up with a robust revenue model. Naresh from Khatabook said the company has not thought of a concrete monetization route to take, but it would revolve around lending.
"We are actively exploring a path to monetization—and see a lot of opportunities going forward as we expand on our product lines and value-added services to improve merchant profitability and cash flows," said BukuKas' Menon. "However, at this stage, our biggest focus is on building a strong brand that leads the charge in digitizing Indonesia's SMEs, enabling them to keep pace with and take advantage of the country's rapidly evolving ecosystem," he said.
Read the first part of this series here.