2020 has undoubtedly been a challenging year for the hospitality industry due to the COVID-19 pandemic. Countries around the world closed their borders, restricted travels, and banned public events to limit viral transmission. As a result, the hotel industry was turned upside-down, with occupancy rates dropping sharply and unprecedented declines in profit.
Many hotels and hospitality businesses had to take dramatic measures by putting their employees on unpaid leave or downsizing their organizations altogether. Tech-enabled hotel startups in Asia have also not been immune. Amit Saberwal, founder and CEO of Southeast Asia's budget hotel network RedDoorz, admitted that the pandemic has hit his business hard. Now, the company is adapting to the "new normal" imposed by the pandemic.
The firm rolled out several initiatives during the lockdown period. For instance, through the Red Heroes campaign, RedDoorz provided free temporary accommodation for frontline healthcare staff and emergency first responders, and Hope Hotline is a mental health support program for the firm's employees.
In June, in collaboration with the Indonesian Public Health Association (IAKMI), RedDoorz launched HygienePass, a cleanliness and sanitation certification program for the hotel industry that has also been implemented by other hospitality operators that not affiliated with RedDoorz across the country.
Saberwal explained to KrASIA that he also had to make some sacrifices in order to keep the business running. After announcing aggressive expansion plans last year to increase the number of properties to 4,500 by the end of 2020, he admitted that the target is now being revised.
"We have more than 1,800 properties in over 150 cities across the region, with the majority in Indonesia and the Philippines. Unfortunately, any pre-COVID property projections we were aiming for are not realistic anymore," said Saberwal. Yet, he affirmed that RedDoorz's aspiration to go public between 2022 and 2023 hasn't changed and is still one of the company's main goals.
KrASIA recently talked to Saberwal about the pandemic's impact on RedDoorz's business and future plans.

KrASIA (Kr): This year has been tough for the hotel industry, including RedDoorz. What are some of the most difficult measures you had to take in order to weather the crisis?
Amit Saberwal (AS): In February, when the first signs of trouble appeared, we scrapped plans to launch in Thailand, furloughed or let go of some of our employees, and reduced costs aggressively, including cuts in senior management pay, followed by company-wide salary reductions. This pragmatic and proactive approach helped us navigate the crisis as we adapted to the "new reality" of our industry. We reinstated salaries to their normal level in July as the teams worked really hard and met all targets.
We are mindful of the fluidity of the situation and I am confident that we are emerging as a leaner, smarter company, as staff numbers have been reduced to 950 recently, while our goal has not changed—to achieve profitability in the near future. That has always been the plan for 2020.
Kr: RedDoorz reportedly adjusted its business model, switching from a minimum guarantee to a revenue-sharing model with property partners. Can you please explain how this changes things for everyone involved?
AS: We have adjusted our commercial agreements with our hotel partners, shifting from fixed-payment agreements to a more flexible revenue-sharing model for all properties. Under the new scheme, we will share a variable percentage of revenues with our hotel partners, depending on the amount generated over a period of time.
We are actually seeing more new hotels joining RedDoorz, and this number has increased steadily month-on-month. Independent and unbranded hotels can stand to benefit tremendously by joining the RedDoorz network, and we are pleased to see the continuous, growing supply and footprint that our team has been able to acquire and retain in Indonesia, especially amid the global pandemic.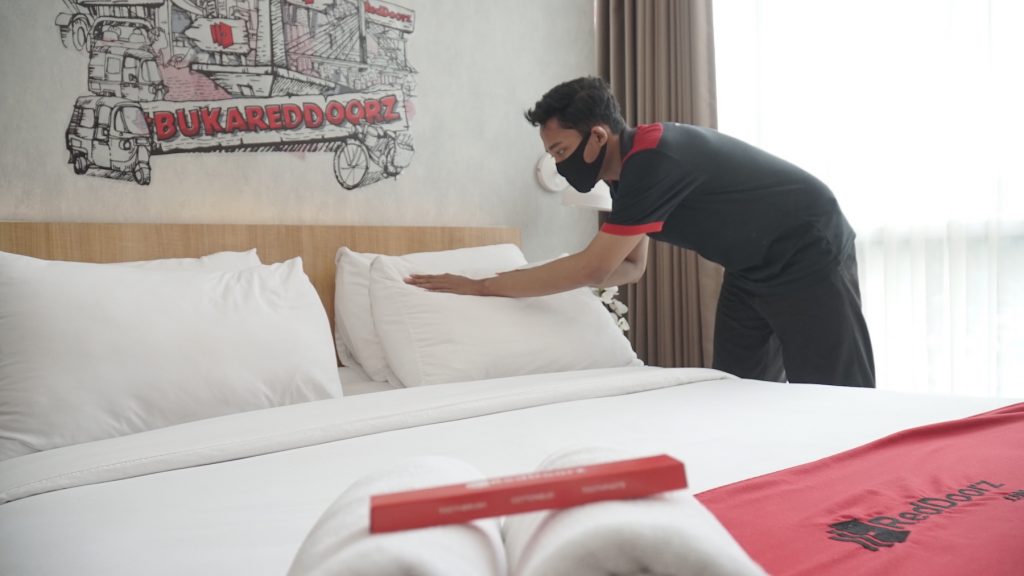 Kr: How is RedDoorz recovering after most lockdown measures ended in the firm's operating markets? How are recent initiatives helping the brand?
AS: We were entering positive recovery territory, with occupancy rates climbing week-on-week before the recent lockdown measures in Jakarta were announced last week. We are still observing how the situation develops, but things are starting to look better across our markets. We are fortunate to have an extensive supply in second- and third-tier cities in Indonesia, so even with the recent lockdown in Jakarta, the recovery is helped by growing demand in smaller cities.
Our new programs were received very well by consumers, local authorities, and our hotel partners. Some of these initiatives didn't have a commercial or recovery goal per se. For instance, we launched Red Heroes to help frontline workers in the initial stages of the pandemic as more of a corporate social responsibility initiative, and we are grateful that we could play a small role in helping these people.
Meanwhile, HygienePass has allowed our property partners make guarantees to draw back customers to their premises. The program continues to be one of extreme importance as it has been able to build consumer confidence in times of uncertainty. The certification is open for adoption by any hotel business in Indonesia as it aims to establish a new robust standard of cleanliness and hygiene that can tackle the realities of COVID-19 at the hotel level. We have more than 400 HygienePass-certified properties in Indonesia alone, and most of them have seen an increase in occupancy rates after they implemented the certification.
Kr: Domestic tourism is currently in demand in Southeast Asia. How is RedDoorz responding to this trend?
AS: RedDoorz has always focused on the local market, with our business in countries like Indonesia and the Philippines being primarily geared toward domestic travelers. We believe domestic travel will see a big surge in our region in the future—this will be the first travel vertical to pick up before large-scale international travel can resume. The recovery has already started to happen in cities like Jakarta and Bandung, which are big domestic destinations for us.

Kr: What is your post-pandemic strategy to reach profitability? Are you planning to raise new funding anytime soon?
AS: I believe good companies will emerge after this crisis and become the unicorns of tomorrow. We have a strong chance to be one of those companies—everything we've done during the pandemic has made us a mature and smart organization. We continue to execute our mission and have a good domestic story to leverage across our markets. I'm confident there will be capital available for companies that adapt, survive, and could go into growth mode quickly when the environment allows it.
Kr: As an entrepreneur, what has been the biggest lesson you've learned when dealing with this crisis?
AS: The crisis brought on by the pandemic has certainly caused a significant impact on our world. Personally, it has been one of the most difficult times in my career so far. I'm grateful to be surrounded by a loving and supportive family, and a resilient RedDoorz leadership team who have made this period more bearable. That being said, the biggest lesson I've learned throughout this crisis was how to further hone and develop my ability to adapt and to remain fully focused on execution. These have been one of the few most important elements, which has allowed me to not only scale the business, but also to establish strong fundamentals.