Sometimes, it just takes a simple thought to change how millions, even billions, of people consume. Think back to the early days of Uber, when using an app to call for a ride was a fresh concept. The germ of an idea created massive businesses on the other side of the world, including Didi in China, Grab in Singapore, and Go-Jek in Indonesia. In the same vein, there might just be similar movements in Southeast Asia, where companies that are creating new business models will bring about fundamental changes in tomorrow's habits. For the latest entry of "Venture Voices", KrASIA's writers got in touch with VCs in Bangkok, Singapore, and Jakarta to ask them one question: what's the most surprisingly popular vertical in your country?
Marie Deleon, the investment manager at Beacon Venture Capital in Bangkok, told us:
Blockchain has proven to be a surprisingly popular vertical in Thailand. Beacon VC has met with a number of Thai startups based around blockchain technology, spanning exchanges, enterprise solutions, and institutional-grade trading tools. It's an area that's still in the early stage, but the number of Thai startups in this space is growing rapidly.
As it turns out, there's top-down support in the country for firms that utilize the cryptographically secured links of blocks:
Part of the reason for this is that Thai government has been very proactive in coming out with regulations in support of this industry, allowing investors to explore the space with more confidence. As the venture arm of one of Thailand's largest banks [Kasikorn], we find this vertical very interesting as blockchain technology has potential to help the banking industry become more efficient.
Over in Singapore, James Tan, a co-founder of Quest Ventures, looked at a compilation of services that were defined by a code that they all adhered to:
One of the sectors that we have invested in and are tracking closely is the broad Islamic digital economy, which encompasses everything that we have in the 'general' digital economy but with an adherence to Islamic principles.
Tan is specifically interested in how these rules apply to lending.
According to a 2017 report from IMF, there is a funding gap of USD 80 billion for small and medium enterprises in Indonesia. While SMEs make up more than 95% of the number of businesses in Indonesia, less than 15% of them have access to bank financing. This lack of access is often the result of a lack of fixed asset as collateral, a lack of operating history, poor operational efficiency, or poor financial reporting.
With the entry of multiple international players in P2P financing and rampant unethical business practices, Tan says:
A deeper adherence to Islamic principles will be helpful in weeding out unsavoury players in the world's largest moderate Islamic market.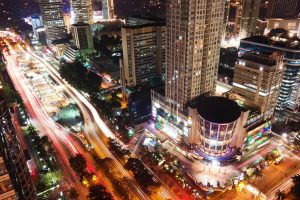 And what about this week's guest from Jakarta? Dondi Hananto, a partner at Patamar Capital in Jakarta, had this to tell us:
The sector that will continue to develop is fintech due to large market opportunity, as less than 50% of Indonesian population has access to banking services. The interesting fintech categories to watch are mobile payments and lending.
Touching on lending, Hananto said:
The Indonesian Financial Services Authority (OJK) recorded 99 licensed platform per February 1st, 2019. Although that seems promising, can they actually manage to make the lending profitable? Although the platforms are equipped with AI-based machine learning, providing digital loans in Indonesia is still risky.
Looking ahead, things may change as Indonesia's GDP increases.
I think the next [popular] verticals will be micro-insurance and micro-investment products. Fintech still has a long way to go in Indonesia.
Krongkamol Marie Deleon (Joy) is the investment manager of Beacon Venture Capital, a corporate venture capital fund of the leading Thai commercial bank, Kasikorn Bank. Joy joined Kasikorn Bank in 2015 following her graduation from Brown University, working her way up from an interest rate management specialist to an investment manager. Following her stint at Korsikorn Bank, Joy returned to school at The University of Chicago Booth School of Business for her MBA in Finance. As the investment manager at Beacon, Joy makes investments in portfolios on behalf of clients. Beacon invests in a range of startups, from fintech startups to those in consumer internet and enterprise technology verticals. 
Quest Ventures was established in 2011 in Beijing by James Tan and Yunming Wang. The duo led 55tuan to become a Nasdaq-listed public company. Quest Ventures began by investing in Chinese startups as well as Singaporean startups with a strong China focus. The firm is now known in Asia's digital commerce space as an early-stage investor.
With strong background in banking and multi-finance companies, Dondi Hananto joined Patamar Capital in 2014. Patamar invests in businesses with social impacts that focus on education, healthcare, agriculture, financial services, and distribution platforms. The firm currently operates in India, Indonesia, the Philippines, and Vietnam. Besides being an active practitioner of impact investing, Hananto also serves on the board of UnLtd Indonesia, an incubator for social enterprises in Indonesia. 
This article is part of "Venture Voices", a series where the writers of KrASIA speak with venture capitalists based in Southeast Asia to get their takes on topics of interest.