When The Sandbox was first released in 2012 by game studio Pixowl, it was in 2D and designed for smartphones. Despite the pixelated characters and buggy movements, The Sandbox was a groundbreaking game for its time. It first introduced the idea of an open-world game where users weren't limited to what they could build or design. Since its inception, the idea behind The Sandbox hasn't changed, but the visuals and capabilities of what its users can do within the game have.
In 2018, The Sandbox was acquired by Animoca Brands, a Hong Kong-based blockchain firm, and has since been scaled up to a 3D world-building game built on the Ethereum blockchain. In the updated version, users can purchase a piece of digital land, which they can populate with digital assets such as animals, characters, or buildings in the form of non-fungible tokens (NFTs). NFTs are digital certificates of authenticity made using blockchain technology, and are used to ascertain the legitimacy and ownership of digital content. With these tokens, virtual landowners are able to create and design their own digital experiences which they charge other users to play. These 3D games can be crafted by any user, even without coding knowledge or tools.
It's not hard to see the appeal of a virtual world like The Sandbox: it allows its users to monetize not only their digital assets but also their gaming experiences. On top of this, investment in digital real estate can be profitable. Similar to the property market in the real world, prices of digital land plots are subject to the laws of supply and demand. According to a recent report by London-based Center for Finance, Technology, and Entrepreneurship (CFTE) on real estate prices in the metaverse, virtual land prices have grown considerably from an average of USD 100 per plot of land in January 2021 to USD 15,000 in December 2021.
Virtual worlds like The Sandbox are drawing users and investors not just because they are "play-to-earn" models that generate profit. In Decentraland, another virtual world platform also powered on the Ethereum blockchain, users can build and design their own digital real estate at will. On top of that, they can interact and socialize with each other.
There are plenty of virtual activities that users can partake in. They can tour a museum filled with user-made digital art, play soccer in virtual zones such as Moonshot Stadium, which was conceived and built by fellow gamers, or just hang out with other users in virtual clubs.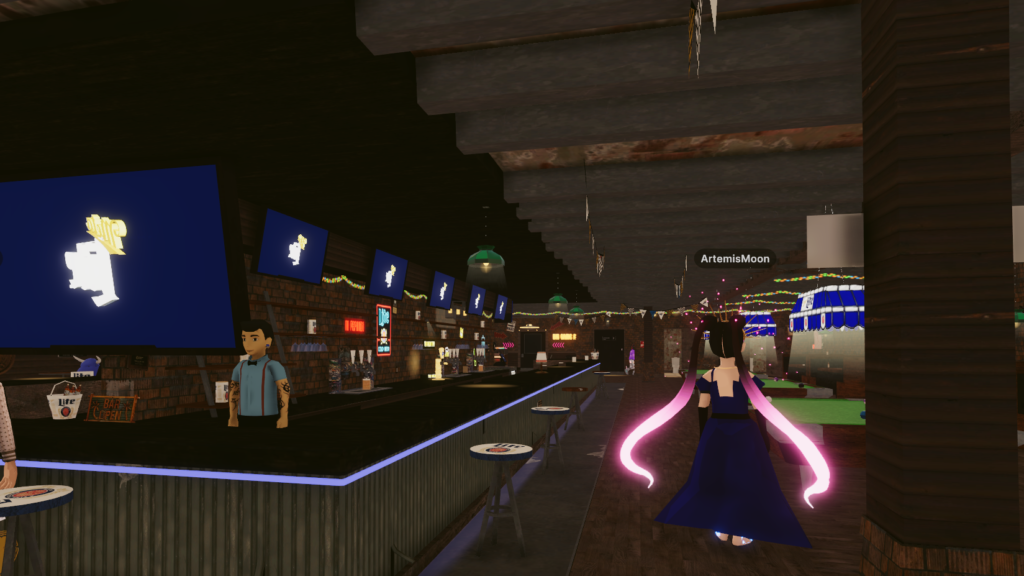 Gamers in Decentraland also get to flex their creativity. Users who do not have any coding knowledge can easily build and design their own virtual properties through The Builder function, a simple drag and drop tool. Alternatively, professional gamers can write code using Decentraland's software development kit to craft their own interactive games, animations, and scenes.
What these metaverse worlds have in common is that they are built and managed by their own community of users. In ecosystems of user-generated content such as The Sandbox and Decentraland, users not only get to own a piece of the metaverse but also collaborate together to build a community based on their shared vision.
For now, companies are looking to deepen their engagement with these digital worlds and their communities. For instance, Warner Music Group is currently developing WMG Land, a musical theme park and concert venue within The Sandbox, which will allow music fans to engage with their favorite music artists. Decentraland will host its first Metaverse Fashion Week starting March 24, allowing users to shop for clothes for their digital avatars.
Though early in its development, the metaverse might already have a hand in shaping the future in the real world. Last October, South Korean automotive brand Hyundai launched its first virtual experience content showcase, Hyundai Mobility Adventure, on popular 3D gaming platform Roblox. Users were able to see a preview of Hyundai Motor's "future mobility solutions," featuring their latest cars and racing technologies. In particular, the virtual space, which doubles as a platform to receive feedback from users, allows the company to gauge the response to its prototypes and newer products. This in turn could shape the company's future automobile offerings.