With a population of 600 million, an internet economy that has a value of USD 100 billion, and venture capital funding of more than USD 37 billion across more than 3,000 startups between 2016 to 2019, Southeast Asia has emerged as the third pillar of growth in Asia after China and India.
That's why we at Greenhouse refer to countries in the region as "fast-growth markets," but more commonly the region is known as a cluster of "emerging economies."
According to a report by Ernst & Young , fast-growth markets are economies that do not yet meet the criteria to be considered "developed." Such countries have lower liquidity levels, less established markets, and lower levels of per capita income than developed markets. Yet, these economies will grow larger and have a significant impact on global trade and economics.
In my experience, many of these markets are doing a remarkable job in transitioning from commodity and manufacturing to technology and higher value-added, production-driven economies.
For example, companies in Southeast Asia have moved straight to e-commerce and e-banking models, bypassing the establishment of brick-and-mortar outlets, leapfrogging what happened in developed countries, and thus introducing many investment opportunities.
However, expanding operations into emerging markets can be risky and presents high costs in terms of time and capital.
What makes a company successful when entering fast-growth markets?
Breaking into a foreign market is hard. Breaking into an emerging economy is even harder. Yet, people manage to do it all the time. In fact, in 2018, more than 250,000 businesses were incorporated across Southeast Asia.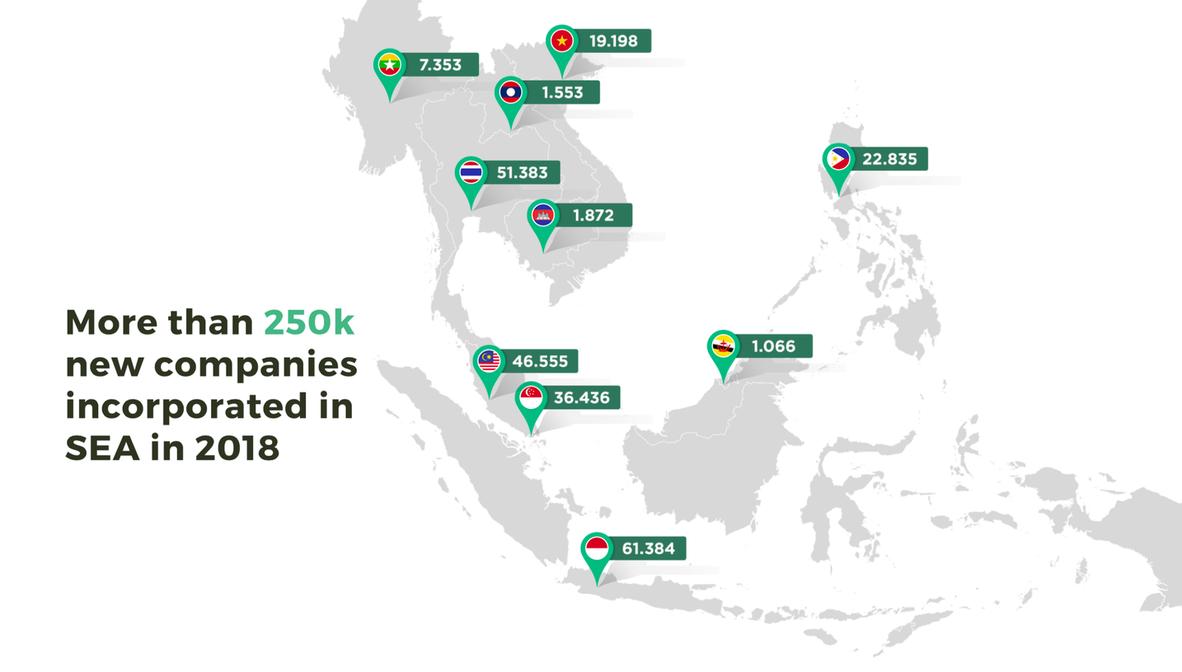 The reasons for expansion vary depending on the business, its scale, current needs, and emerging opportunities abroad. To narrow down the main reasons, I looked into a recent study where Velocity Global asked about 500 companies from the US and the UK to rank the main reasons businesses examine new markets.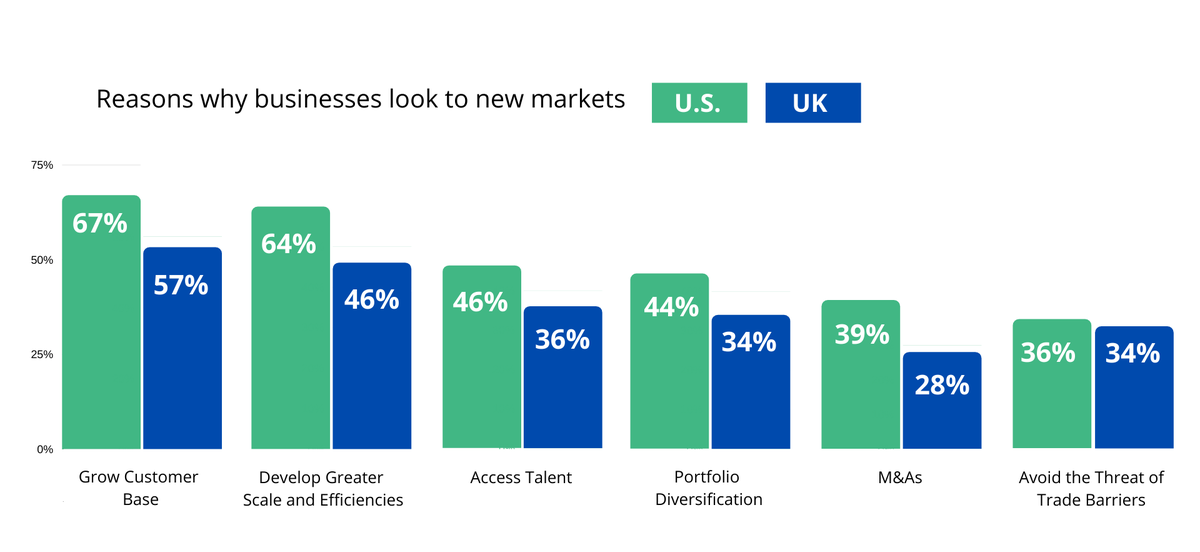 Then I narrowed down the scope and looked into what the study concluded about landing in Asia, where some of the world's most exciting fast-growth markets like Vietnam, Indonesia, and the Philippines are located.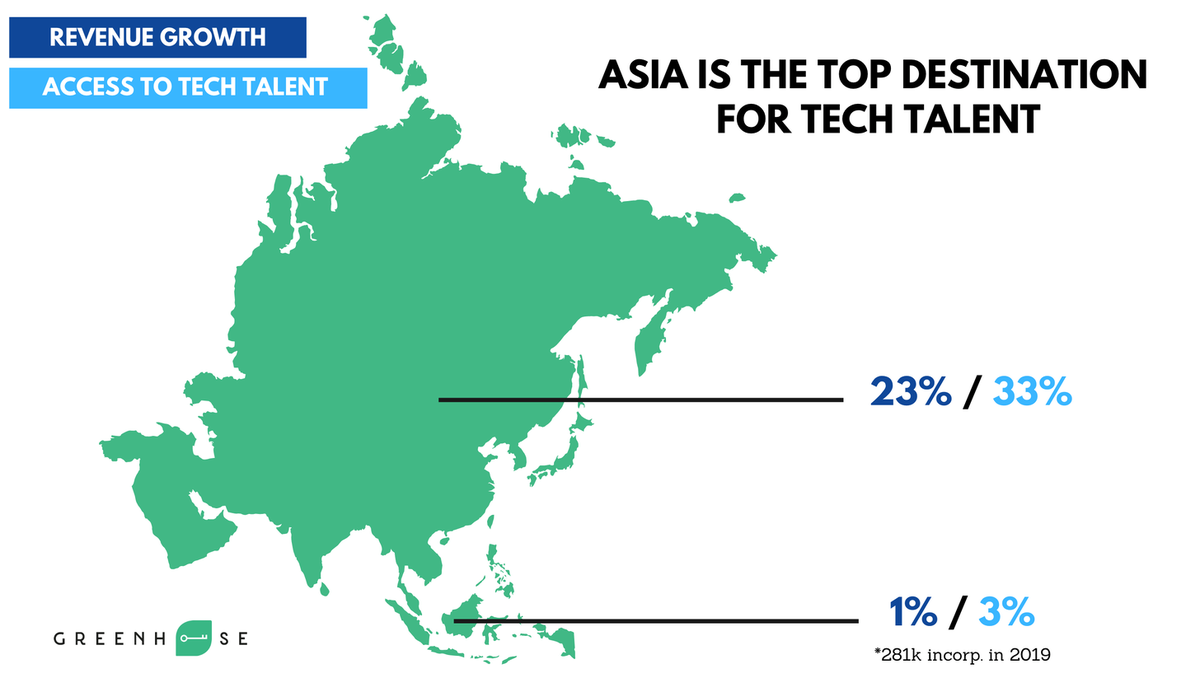 As it turns out, western companies consider Asia mainly to access tech talent. Or perhaps, the right terminology here would be more affordable tech talent.
Observing many companies that are expanding across Southeast Asia, I built a mental model to assess the likelihood of success when entering a fast-growth country, also known as "market-product fit." The market-product fit is not binary, but covers a spectrum of weak to strong. Markets don't sit still; they evolve. The same is true for companies' products and value propositions.
Hence, the model considers three scenarios:
Extreme headwinds: a weak market-product-fit.
Extreme tailwinds: a strong fit.
In-between: companies with business models or products that can attain a strong fit, but the effort may not justify the reward.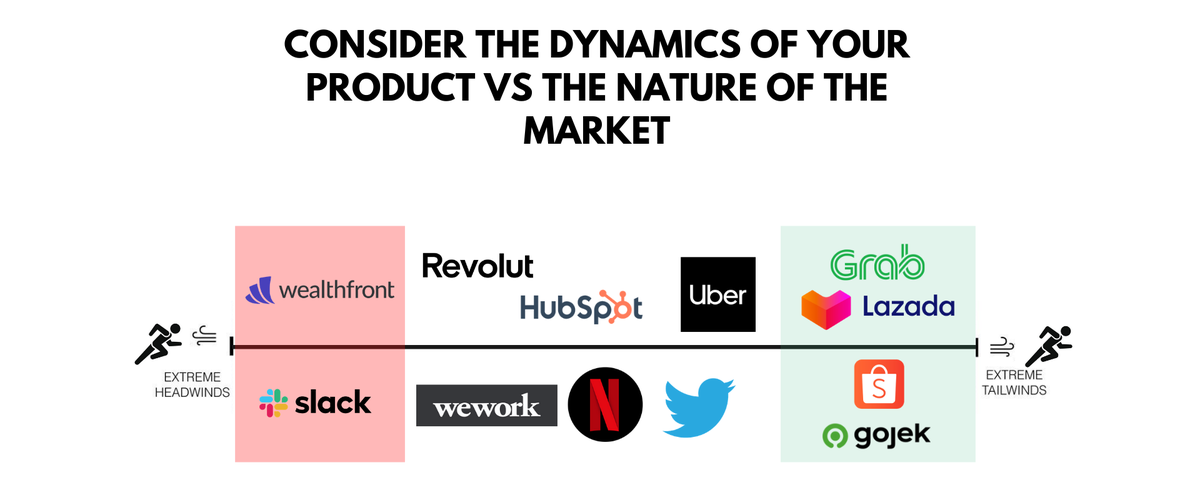 Before I dive into my thoughts here, I would like to clarify that this is not based on any research, and it reflects mainly my observations and experience. I am focusing primarily on the compatibility of fast-growth markets—like Indonesia, Thailand, Vietnam, and the Philippines—with well-known products to make the examples easy to understand.
Extreme headwinds
The least fitting models fall here due to large discrepancies in customer behavior at home compared to fast-growth markets. I have chosen Wealthfront and Slack as two examples of companies that may fall into this category.
Without a doubt, Slack is one of the most popular communication tools among tech circles in developed markets. Yet, it's not as common in countries like Indonesia and the Philippines. In my experience, a platform like WhatsApp is better positioned to succeed even though it's designed primarily for one use case—everyday personal communication. The convenience, ease of use, a critical mass of users, low friction, and no cost whatsoever have positioned WhatsApp as the dominant platform for everything ranging from personal chats to important updates between buyers and sellers. As a result, Slack struggles to capture a considerable share of the market, and most probably, their resources would be better spent in developed countries.
Weahlthfront's ideal customer profile is 25–35 years old and works as an engineer at a startup that is about to be acquired or go through an IPO. Such a niche segment works very well for markets like the US, where we see many startup exits and very mature startup ecosystems. In turn, if you look at Indonesia or Vietnam, the number of exits is low, and most engineers do not receive stock options.
Hence, the question such companies need to ask themselves is this: Are we willing to adapt our product significantly to serve a much more price-sensitive and fundamentally different market?
Extreme tailwinds
The majority of your target customers' habits in the new market are similar to those at home, or even better suited to your product or service.
Here, I will give examples of e-commerce and ride-hailing companies:
E-commerce brings prices down, which goes hand in hand with price-sensitive behavior, which is common in fast-growth markets.
Ride-hailing replaces the lack of the transportation infrastructure, and creates jobs for a large working class that requires little or no knowledge and investment on their end. There is no need to have a university degree to be a Grab driver; you only need to buy a scooter.
In-between
Some of your products work well, others need tweaking. Here, I have listed many well-known companies because they operate with different degrees of success across the region.
Companies like WeWork, Netflix, Hubspot, and Uber have premium products that are marginally better than local competitors, but they face a lot of pressure to offer discounts.
In other cases, like Twitter, some markets' behavior clicks well with the product, like in Indonesia. Elsewhere, the platform struggles to overcome established players, like Facebook in the Philippines.
When it comes to fintech solutions like Revolut, such companies face a lot of resistance and regulations from local governments, which prefer locally grown startups over foreign businesses.
It all boils down to effort versus rewards. Would it make sense to enter a market that lacks a basic infrastructure because of a promise of revenue growth in the future?
That's a hard question to answer, and every company faces unique circumstances. Sometimes, early bets have huge payoffs almost immediately, but more often than not, it's a long game, and companies need to be prepared for everything to take longer, from securing the necessary licenses to finding and recruiting great talent. Yet we have all seen cases like McDonald's, KFC, Spotify, TikTok, DJI, Airbnb, and AWS that have done pretty well in Southeast Asia, despite the challenges. Always consider which way the wind blows.
---
Disclaimer: This article was written by a contributor. All content is written by and reflects the personal perspective of the writer. If you'd like to contribute, you can apply here. 
Viktor Kyosev was born in Bulgaria, educated in Denmark, and holds international experience across six countries. He started his career in the hospitality industry, where he spent seven years working across several large international hotel chains and later pivoted his journey to entrepreneurship and startups. Viktor worked as the head of marketing and business development for a travel startup in Jakarta and later joined Greenhouse as one of their first employees. Currently, he is the COO at Greenhouse, overseeing business development and day to day operations at the company.